5 Amazing Places to Visit Around Dublin
To those who decide to spend a few days in the Irish capital, I always recommend putting some time aside to visit one or two places around Dublin. Just under 90 minutes from the city centre, picturesque villages, centuries old castles, colourful gardens and an exceptional monastic settlement await.
Easily accessible in public transports, these five stunning places around Dublin don't require renting a car. They are ideal destinations for a short day trip. Even a half-day would suffice to enjoy those great places so close to Dublin. Don't forget to pack comfortable walking shoes, you might need them. 
Disclaimer
This post may contain affiliate links. If you click on a link, I earn a little money at no extra cost to you.
Best Websites to Plan Your Visit to Dublin
Getting There | Check out Skyscanner, a powerful search engine and comparison site to find the best flight deals. From continental Europe, I always fly with Aer Lingus. If you are travelling from the UK or France, you can also sail to Dublin with Irish Ferries.
Howth
Located just 30 minutes from Dublin city centre on the DART, the village of Howth is no doubt the most popular coastal destination around Dublin. People come here to breathe fresh sea air and to get away from the city's hustle and bustle for a few hours.
With its small harbour, its playful seals and its 19th century lighthouse whose door has been painted bright red, Howth has kept the appearance of a picturesque fishing village.
The long walk along the granite pier which protects the harbour from the waves' endless battering is one of the main attractions. At its farthest end, Howth's pretty lighthouse with its flowered windows is the ideal spot for a photo or two. Walkers take the time to enjoy the view over the sea where an island called the Ireland's Eye, a wildlife sanctuary, can be observed in the distance.
Restaurants nestled around the harbour attract seafood lovers. Come summer, terraces and tables fill up quickly for a lunch or dinner al fresco. Less refined but no less tasty, fish and chips are a popular grub. People queue outside chippers Leo Burdock's and Beshoffs before settling on the nearby lawn or a bench for an improvised picnic. Watch out for the seagulls!
Open at the weekend, the market in Howth attracts the crowd. Here, you will find local crafts and European street food. The cupcakes from Buns are delicious!
Howth is also the starting point for a walking trail that runs all around the Howth peninsula. As you make your way along the Howth Cliff walk, you can enjoy panoramic sea views and discover the Baily lighthouse, one of several lighthouses in Dublin Bay, built on a rocky outcrop towering above the sea.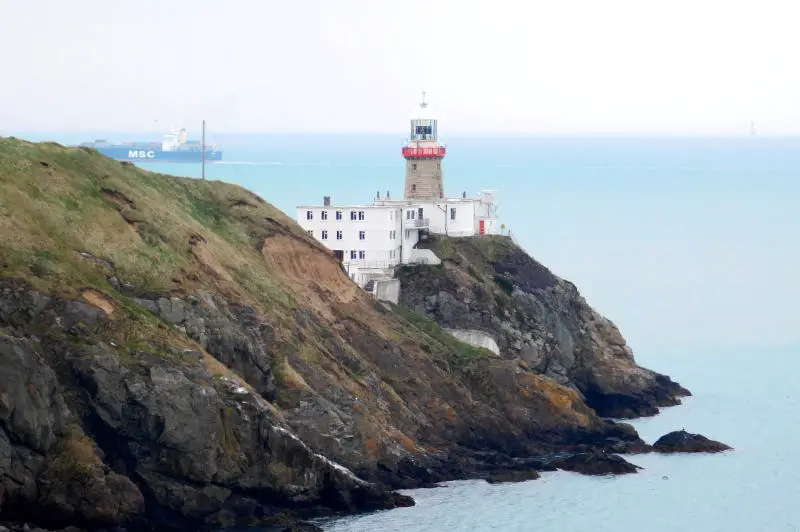 How to Get to Howth
You only need to take the DART northbound (heading to Howth) from one of the train stations in the city centre (Pearse Station, Tara Street Station or Connolly Station). Howth is the very last stop on the train line. Departures are frequent all day long.
You can buy your return ticket from the ticket machine, or better still, use your Leap Card for a discounted fare.
Malahide Castle
Found 30 minutes north of Dublin, Malahide Castle boasts an incredible 800 years of family history, inevitably intertwined with the history of Ireland. 
Having arrived in Ireland during the 12th century Norman invasion, the Talbot family established their new home in Malahide. The Talbots were one of the most powerful families in the region for decades, updating their castle as centuries went by. The castle remained in the family until Rose Talbot sold it to the Irish State in 1975 and emigrated to Australia.
From outside, the thick towers and crenellated walls covered in thick ivy give Malahide Castle a convincing medieval appearance. Inside, however, what the guided tour offers to visitors is a journey through time across different time periods.
The Oak Room, richly adorned with splendidly carved, wooden panelling, transports visitors back to the 16th century, whereas the withdrawing rooms, decorated in elegant rococo style, let us catch a glimpse of the 18th century. Under the impressive beams of the gothic-inspired Great Hall, paintings and portraits of distinguished family members cover centuries old walls and keep a watchful eye on their visitors.
Outside, the castle is surrounded by a magnificent park, woodland and botanical walled garden with a pond and greenhouses. Filled with palm trees and other exotic plants, the garden is not to be missed.
How to Get to Malahide Castle
Malahide is located 20-30 minutes north of Dublin by train. You can board either the DART or the commuter train from Pearse Station, Tara Street Station or Connolly Station. Departures are frequent all day long. You can purchase your train ticket at the ticket machine or use your Leap Card.
Malahide Castle is situated a 10-minute walk from Malahide train station. The castle is signposted as you exit the station.
Malahide Castle & Gardens // Malahide, Co. Dublin // Buy your ticket here.
You might also be interested in:
– 15 Sights in One Day | A Self-Guided Walking Tour of Dublin
– Dublin's Best Hidden Gems for Nerdy Travellers
– 4 Working Distilleries in Dublin You Need to See
– 20 Real Money Saving Tips to Visit Dublin on a Budget
Powerscourt Gardens
An 18th century country house, Italianate terraces, a Japanese garden; in Ireland, you won't find gardens more grand than those of the Powerscourt estate. Located in county Wicklow, an hour south of Dublin, Powerscourt Gardens are one of the most remarkable sites in the East of Ireland. That would be a real pity to miss it.
The entrance to the gardens is through the house built for the 1st Viscount Powerscourt in classic Palladian style, then a popular architectural style amongst the Anglo-Irish high society.
Once at the back of the house, visitors are immediately taken by the panoramic view opening up in front of them, the Sugar Loaf Mountain dominating the landscape in the distance. You can do nothing but follow the long flowered terraces "à l'italienne" down to the Triton lake, where a fountain sprays water high above the pond.
The Powerscourt estate is vast. The gardens spread on 47 acres of beautifully maintained land. From a century-old Japanese garden to a walled garden hiding the most vivid flowers, the domain puts up a real show with surprises to be found at every turn of its winding paths.
Surfing on the latest wave of Irish whiskey's renewed popularity, Powerscourt has opened its own distillery. The new venture opened its doors to the public in 2019 and offers guided tours.
Lastly, Powerscourt is known for its waterfall. At 121 metres, it is the tallest in Ireland. The waterfall is situated 6 km from the gardens, and you will need a car to reach its dedicated car park.
How to Get to Powerscourt Gardens
Powerscourt can be reached by public transport from Dublin city centre. You can catch bus 44 on O'Connell Street, heading to Enniskerry. The journey will take roughly an hour to the village of Enniskerry.
From the village, Powerscourt is a 10-minute walk.
Powerscourt Estate // Enniskerry, Co. Wicklow // Buy your ticket here.
The Village of Trim and Its Anglo-Norman Castle
Colourful pubs, an old stone bridge and ruins of a 12th century fortress await visitors in Trim, a picturesque village located just an hour north-west of Dublin, in county Meath.
Trim is famous for its castle, the largest Anglo-Norman castle ever built in Ireland. Erected by Hugh de Lacy on the river Boyne, the fortress was to help him assert its control over the kingdom of Meath that he had received from the English king, Henry II.
Largely neglected as centuries went by, the structure didn't change much once completed after 30 years of hard labour. Although today in a state of ruins, Trim Castle remains an extraordinary example of what the first Anglo-Norman castles looked like. Its keep with its unusual cruciform shape still stands tall today. A guided tour (tickets are sold at the entrance) brings visitors to the very top of the tower, where panoramic views over the surrounding countryside await.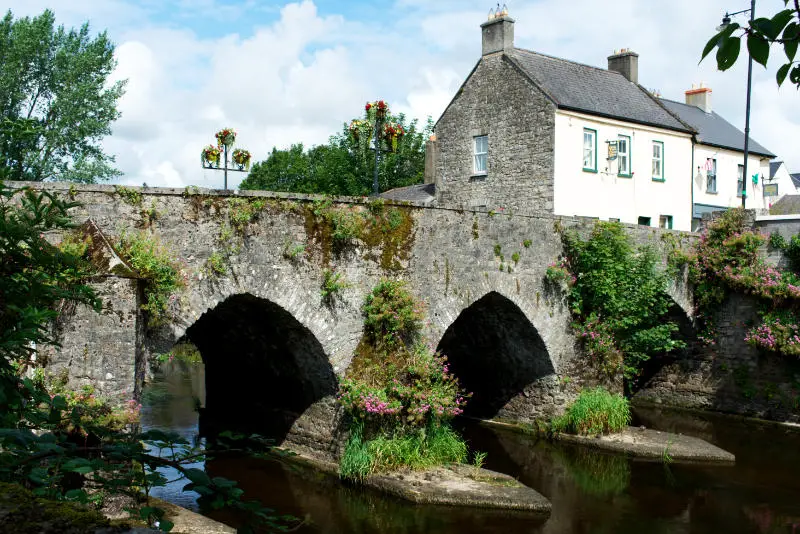 On the opposite bank of the river, a path leads to the ruins of an Augustinian monastery. At the centre of the village, the stone arches of an old bridge span over the Boyne, while a pub clad in purple stands over the water. Trim, the picture-perfect Irish village you shouldn't miss. 
How to Get to Trim
Trim can be reached by public transport from Busaras, Dublin's central bus station. A bus departs for Trim every hour, therefore booking is usually not necessary. Buy a ticket for bus 111 from Buseireann. You will be in Trim in an hour.
Glendalough and Its Monastic Settlement
Translated as "the Valley of the Two Lakes", Glendalough in Co. Wicklow is the place chosen by Saint Kevin to withdraw from the world and found a monastery in the 6th century. Miracles attributed to St. Kevin and his holiness attracted numerous disciples and pilgrims to Glendalough, turning the monastery into a real centre of power.
The ruins that remain of this ancient monastic site reveal the existence of no less than five churches. One of them had even been elevated to a cathedral. A round tower, a typical stone structure found in Ireland, still reaches for the sky. Devised as refuge, round towers appeared during the same period that saw Vikings raiding the Irish coast for the first time.
Around these religious buildings, you have to imagine lots of single huts. Contrary to monasteries on the continent where monks lived and slept under the same roof, monks who belonged to the first Celtic monasteries had each their own dwelling.
Located within the stunning Glendalough valley, the site also attracts visitors in search of lush and magnificent landscapes. Choose either to stroll around the Lower Lake for an hour or to hike several hours to the top of the valley, you won't be disappointed by Glendalough's natural wonders.
How to Get to Glendalough
A private bus company operates daily between Dublin city centre and Glendalough information centre: St Kevins Bus Service. The journey time is around 80 minutes.
With a late morning departure for Glendalough and a return in the late afternoon, this will allow you enough time to visit the monastic settlement and explore the valley for a little while. Make sure to be back on time to the Information Centre car park to board the bus back to Dublin, or else you could be stuck in Glendalough for the night.
These five places are my favourite destinations around Dublin, where you can swap for a few hours the city's hustle and bustle for a more quiet setting. Located just a few kilometres outside Dublin, these places are also your chance to explore a different side of Ireland without the need to travel to more remote locations. Accessible by public transport, these stunning places are easy to get to, and it would be a real pity to miss them.
If you would like to discover more of the "garden of Ireland", I would suggest embarking on a road trip around Wicklow, one of the most picturesque counties in Ireland.
Disclaimer: This post may contain affiliate links. If you click on a link, I earn a little money at no extra cost to you.
RELATED POSTS