Where to Stay in Waterford, Ireland | The Fitzwilton Hotel
I was heading to Waterford for a weekend of sightseeing in Southeast Ireland. Exploring Ireland's oldest city was on the program: museums, historical landmarks and… more museums! And I was counting on a good night sleep between these two days of intense cultural enlightenment and sightseeing.
Location and comfort were therefore high on my priorities when searching for the right (I mean "affordable") hotel in Waterford. All the usual hotel comparison sites checked out (sigh of relief) and I finally made up my mind! The Fitzwilton Hotel it was.
The Fitz…what? I admit, this hotel had not one of the most memorable names. I had to clear my head of all the Fitzwilliam, Fitzgerald and Fitzsimons and make room for the Fitzwilton. And repeat the name a hundred times until it stuck with me…
A quick look at the hotel's website and I was sold though. The Fitzwilton Hotel branded itself as a contemporary in style, comfortable four-star hotel a short walk from Waterford train and bus stations. Just what I needed for my sightseeing marathon weekend. And it wasn't overpriced, so the piggy bank got to live another day.
Disclaimer
This post may contain affiliate links. If you click on a link, I earn a little money at no extra to you.
The Fitzwilton Hotel's City Centre Location
Travelling from Dublin to Waterford by train, the hotel's location couldn't be more suitable.
No dragging the suitcase around for hours or spending hard-earned money in taxi fares, the Fitzwilton Hotel was a five minute walk from Waterford train station, just across the main bridge. And who could possibly miss it?! It's purple facade was very noticeable.
The downside? The Fitzwilton Hotel wasn't located in the Viking Triangle, the historic and certainly most picturesque part of the city. No breathtaking view either. However – Waterford being very walkable – the museums, pubs and restaurants were just a ten minute stroll away and the view wasn't on my must-have list anyway! As long as the room was delivering on the comfort, I was bound to be satisfied.
A Well-Earned 4-Star Hotel In Waterford
On entering the room, I wasn't disappointed. The room (a double) had everything you would expect from a four-star hotel.
Spacious and comfortable, clean and tidy, the Fitzwilton was scoring high. Free WiFi access was available throughout the hotel and the usual complimentary tea had not been forgotten.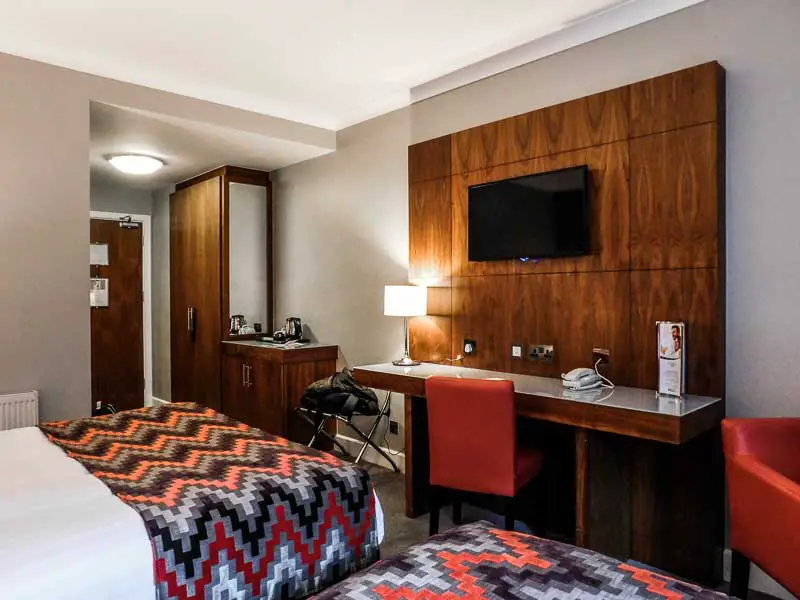 The bathroom didn't let me down either. No water trickling down the shower head or leaking under the bathtub. It was everything a bathroom should be: sparklingly clean and stress free. The heated towel rail placed just above the bathtub received a round of applause.
Not everybody's taste I would agree but I liked the modern decor that boldly mixed the colours orange and gray. I wasn't however keen on the traditional wooden furniture that I thought didn't really blend in with a more current boutique feel that the hotel seemed to be going for. But again, it is certainly a matter of personal taste.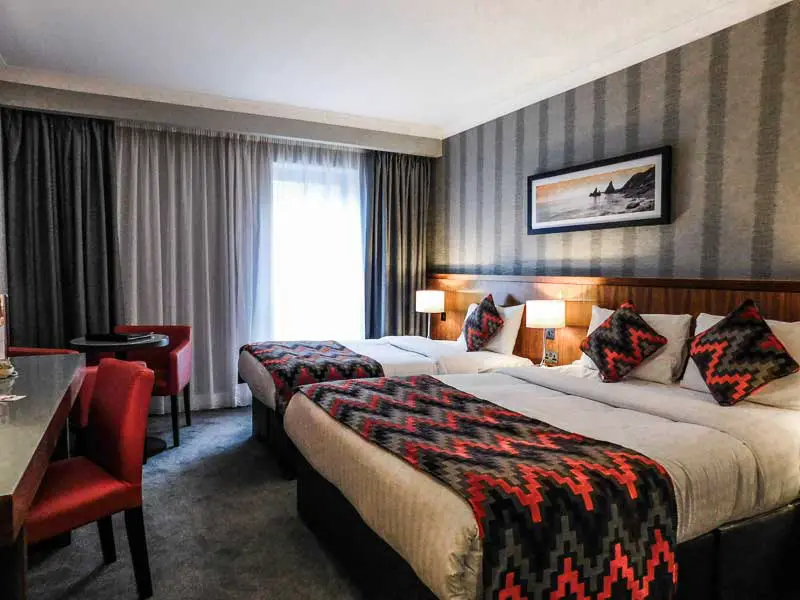 Unfortunately for me, my room overlooked a busy road and no double glazing! Sigh of despair… Thankfully the traffic calmed down quite a lot in the evening and I slept like a log.
The Verdict
The Fitzwilton Hotel was a win. The location was spot on for someone who just got off the train and didn't know his surrounding very well.
The hotel advertised a four-star experience and it delivered without my bank account sending a distress signal. The staff was welcoming and efficient from check-in to check-out. I got back on the train to Dublin a satisfied customer and I can tell you now, I remember the hotel's name!
THE FITZWILTON HOTEL
Address: Bridge Street, Waterford City
Check rates and availability here.
Still not sure where to stay in Waterford? More options on Booking.com
Disclaimer: This post may contain affiliate links. If you click on a link, I earn a little money at no extra cost to you.
RELATED POSTS