The Best Irish Craft Shops in Dublin for Unique Souvenirs & Gifts
Before heading home after a few days in Ireland, you might wonder what the best souvenirs to take home might be and where to find them. If, like me, you are not too fond of tacky souvenirs shops and would prefer to buy local, you will be glad to know there are some great Irish craft shops in Dublin to do just that.
The country is full of small producers, artists and designers inspired by nature, the history of Ireland and its culture. From Irish-made contemporary ceramics to handmade knitwear or prints that perfectly encapsulate the Irish landscape, you can find unique and meaningful souvenirs in Dublin to buy in the city's best craft shops.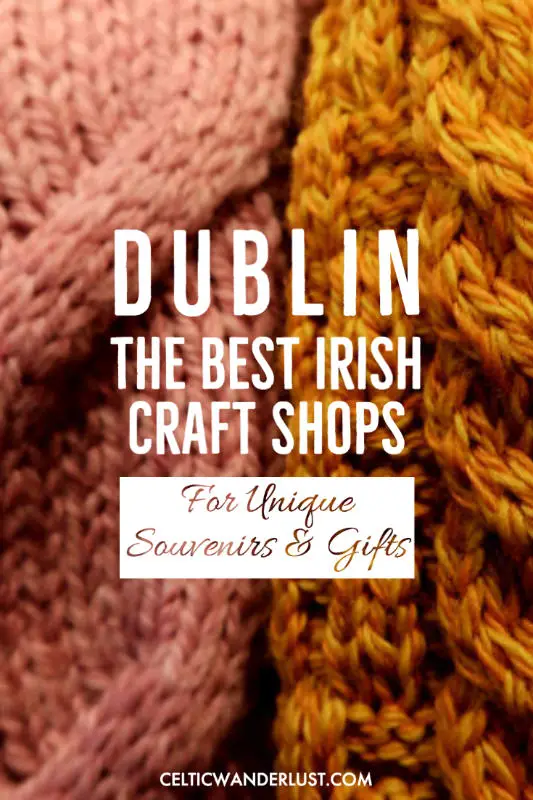 Disclaimer
This post may contain affiliate links. If you click on a link, I earn a little money at no extra cost to you.
Top Resources to Plan Your Visit to Dublin
The Best Irish Craft Shops in Dublin
Avoca Handweavers, 11-13 Suffolk Street
Avoca Handweavers on Suffolk Street is one of a dozen Irish craft shops opened by the local brand over the years around the country. Simply known as Avoca, the company traces its origin back to 1723 when a weaving mill was set up along the Avoca River, in the village of the same name, in county Wicklow.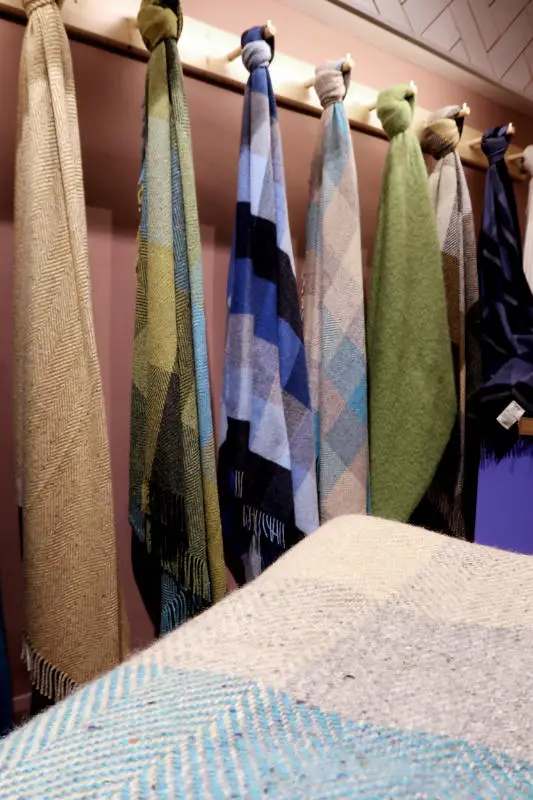 The weaving mill is still producing Avoca's high quality woollen scarves and throws. If you're planning a Wicklow road trip, why not stop by and witness the weaving process yourself. In their shop in Dublin, their soft and unique pieces hang on the walls and cover the shelves with hues ranging from pastel green to deep red. Although a little pricey, a scarf by Avoca will be a lasting investment, reminding you of your trip to Ireland for years to come.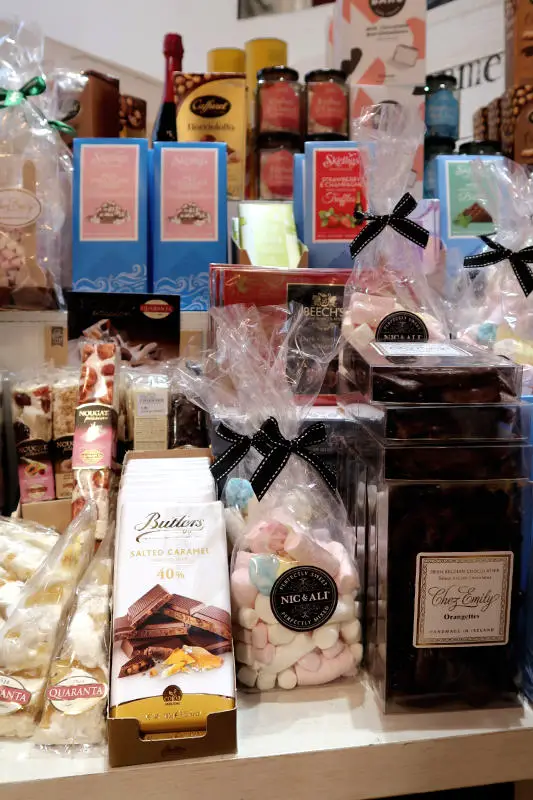 Expanding their business, Avoca has also become a retail shop for locally made skincare products. Irish brands such as The Handmade Soap, Voya and Green Angel can be found there. Those with a sweet tooth won't miss a chance to bring back delicious jams, cookies and chocolate from local Irish producers in the food section of the basement. 
Kilkenny Shop, 6 Nassau Street
If you'd rather do more sightseeing than spending your time shopping, Kilkenny Shop on Nassau Street should do the trick. This one-stop store for unique Irish souvenirs is the Mecca for everything crafty, from jewellery to prints and pottery designed by Irish artists.
Throws and scarves by McNutt are especially worth a look (and a touch!). Established in 1953 in Donegal, the company blends tradition with modernity thanks to its modern design inspired by the rough landscape of Northwest Ireland. Made from high quality, Irish wool, McNutt's weaves will provide warmth to your future travels.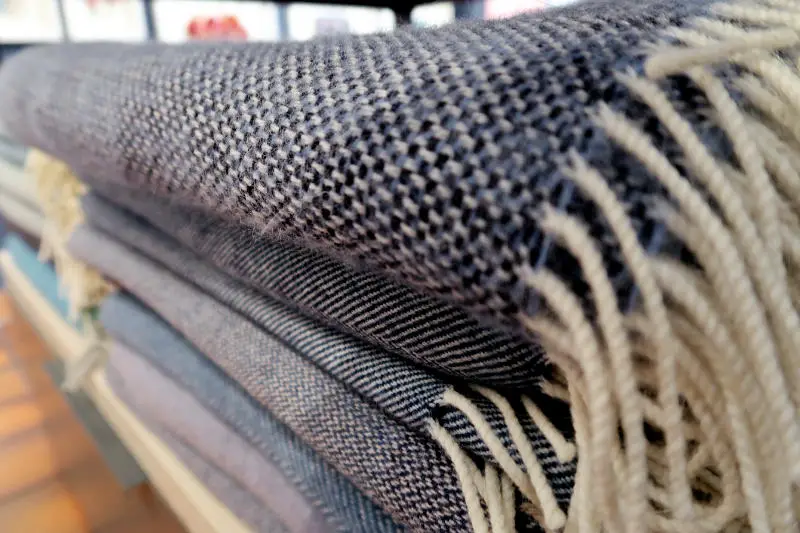 If it's tableware you are after, you'll find unique pieces on the shelves of Kilkenny Shop. Based in county Kilkenny, Nicholas Mosse is a well-known Irish potter that creates handmade ceramics inspired by local wildflowers and hedgerows. Sponging, a technique dating back to the 18th century, is used by Mosse to apply his pattern on each of his pieces. For contemporary tableware, check out creations by Meath based potter Thomas Diem. His simple and minimalist style reinvents traditional jugs and mugs in a striking way.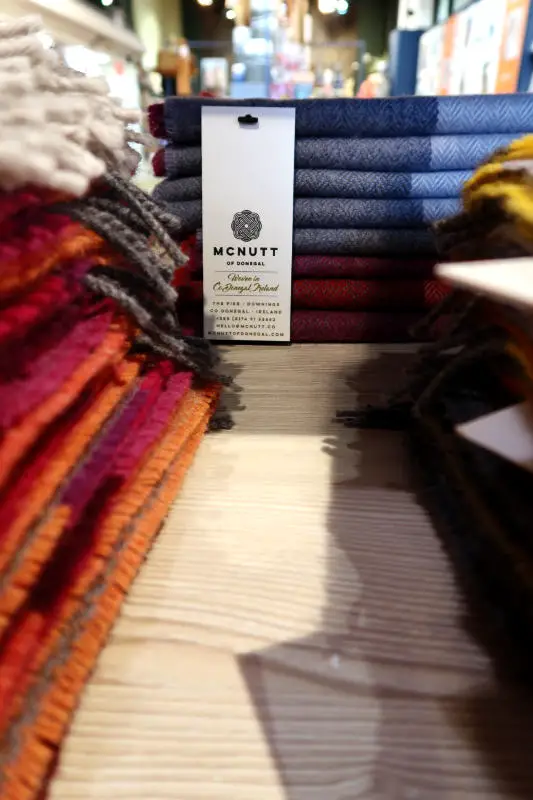 To hang on your wall, Kilkenny Shop has prints you can easily slip into your suitcase. Several Irish artists are showcased, like printmakers Jando, a husband and wife duo who features local landmarks on their prints with a modern and vibrant twist. A great and funky souvenir to take home!
A large range of Irish skincare brands like the Handmade Soap Company, Green Angel and more are also available in store. If you would like to splash out, pieces of jewellery and crystal by Irish designers are on show.
Aran Sweater Market, 115 Grafton Street
Originating from the Aran islands, off the West coast of Ireland, the Aran sweaters are woollen garments, handmade in Ireland by skilled knitters. They are famous for their intricate cable patterns decorating the body and sleeves that can take up to 60 days for a knitter to complete.
However, these patterns are inaccurately given a religious significance or said to be inspired by the Celts. Historians place indeed the origin of the Aran sweaters at the end of 19th century at the earliest, when the Congested Districts Board brought fishermen and their wives to the islands to help alleviate poverty. From Britain and Ireland, they took with them an existing tradition that was adapted locally.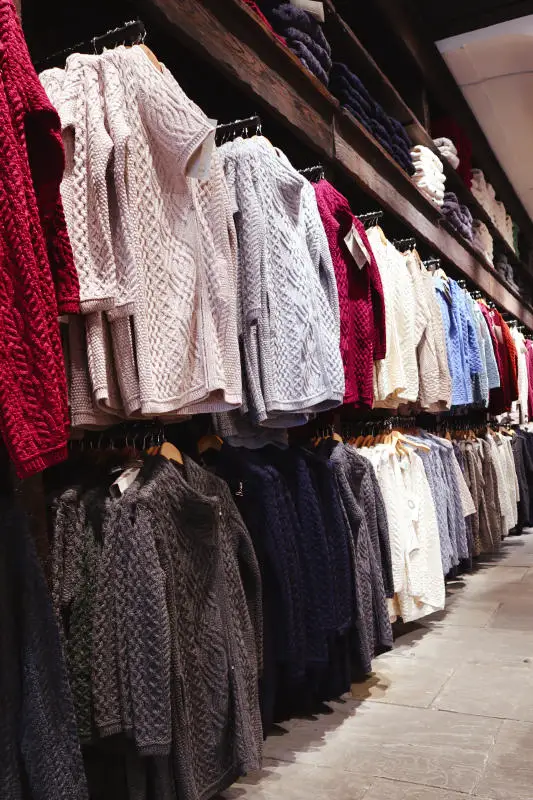 The Aran Sweater Market was set first on the Aran Islands in the 1990s and has become a well-known international brand. Their design is inspired by traditional stitches and patterns used and created by islanders in the last century. Their shop in Dublin is a unique opportunity to put your hand on a quality, Irish-made Aran sweater, scarf or shawl if you don't have the opportunity to travel all the way to the West of the country.
Originally of a cream colour, the sweaters can now also be found in different earthy hues from rusty red to dark grey or yellow ochre, the perfect colours for your autumn outfit. From cardigans to ponchos, different styles are available for men and women, in their shop on Grafton Street. These unique Irish garments will keep you warm for years to come.
Jam Art Factory, 14 Crown Alley & 64/65 Patrick Street
Jam Art Factory opened its first shop on Patrick Street in the Liberties in 2013 with the aim to showcase contemporary Irish artists through prints and other media. They have since opened a second shop in Temple Bar and have become a go-to address for quality and modern prints by home-grown artists.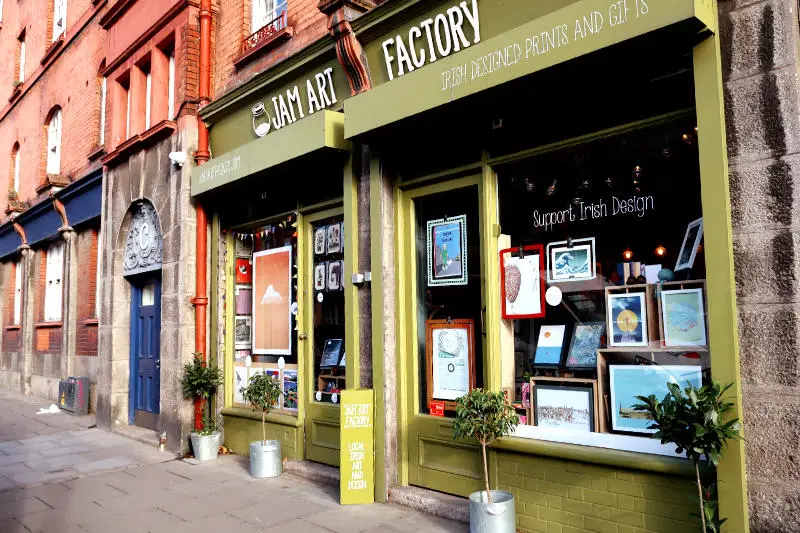 At Jam Art Factory, you will find prints by artists using traditional and modern techniques showcasing Dublin's landmarks but also famous locations found around Ireland. From Dublin's pubs to the Old Head Lighthouse in Kinsale or Malin Head in Donegal, they capture the beauty and character of Ireland better than a photograph. 
With their unique collection of prints by hand-picked Irish artists, the owners of Jam Art Factory have filled their shops with the perfect souvenir item that will brighten your wall and your day. 
You might also be interested in:
– The Story Behind the Claddagh Ring, Ireland's Most Romantic Piece of Jewellery
– 4 Working Distilleries in Dublin You Need to See
– Ireland Travel Books | The Best Guidebooks to Plan your Irish Adventure
– 20 Real Money Saving Tips to Visit Dublin on a Budget

Irish Design Shop, 41 Drury Street
Located in the heart of the Creative Quarter near Powerscourt Shopping Centre, this tiny craft shop on two floors has a lot on its shelves to look at. From ceramics to homeware, from jewellery to textiles, the Irish Design Shop showcases Irish craft in all its forms.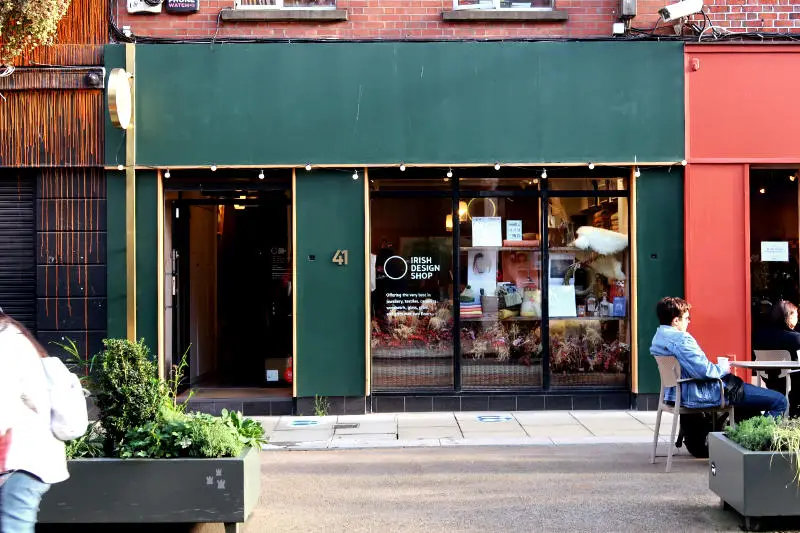 Curated by the shop's owners, the products on show are made by some of the best Irish designers. From luxurious woollen scarves from John Hanly's mill in Tipperary to beautiful, handmade terracota jugs and mugs from Helen Faulkner's studio in Belfast, the Irish Design Shop is filled with great finds from the four corners of the island. 
Arran Street East, 43/44 Arran Street East
The pottery can easily go unnoticed. Hidden away in a quiet and unremarkable street of Dublin North, Arran Street East's white, unassuming facade blends in with the neighbouring industrial buildings, more common in this part of town. Halfway down the streets and just a throw-away from Bohemian Capel Street, the little studio shop is worth a detour. 
Established in 2015, Arran Street East's clean and minimalist style has already been featured in international lifestyle magazines like Vogue Living, Elle Decoration and Country Living. Its contemporary but simple design brings both modernity and vintage to traditional tableware such as mugs, jugs and bowls. 
Handmade using traditional techniques in their workshop at the very same address, Arran Street East's quality and beautiful ceramics are real works of art that should find a place on your kitchen's open shelves, for everyone to see.
Design Lane, 2 Essex Street West
Located in Temple Bar, Dublin Cultural Quarter and the city's most visited neighbourhood, Design Lane couldn't have picked a better location for its Irish craft shop. Working as a cooperative retail space, the shop showcases over 40 Irish artists and designers.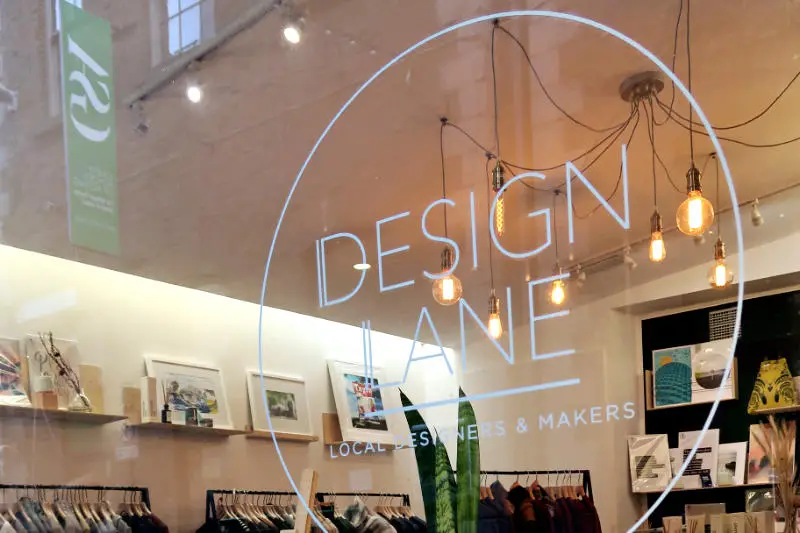 From prints to clothing, jewellery to knitwear, Design Lane offers a large range of Irish-made products to explore. Julie Dillon's hand-knitted, colourful sweaters and cardigans for kids can be the perfect gifts for the grandchildren, unless you prefer to treat yourself with Irish-made cosmetics.
A world away from cheap products sold by souvenirs shops in the neighbourhood, Design Lane should be on your to-do list when visiting Temple Bar if you wish to bring home locally made and unique gifts.
Cleo, 18 Kildare Street
Tucked away in an old Georgian house, around the corner from St. Stephen's Green, Cleo is a family-owned business, currently run by the third generation. The little shop specializes in handmade Irish clothing from small producers, guided by the family's love for traditional textile craft.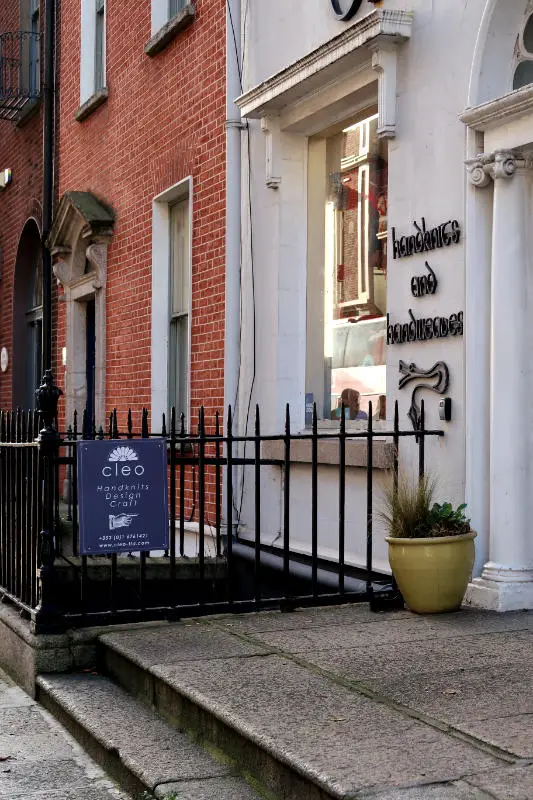 Cleo doesn't have an obvious shopfront, although it makes the best of its single window at the front, while signs in different languages welcome shoppers to cross its threshold. If the door is not open, visitors are invited to ring the bell, so you can be let in.   
Inside, the shop seems about to burst, filled to the brim with cardigans, sweaters, jackets, hats and socks of the best quality wool. On its shelves, you will find high-end products by Irish brands like Inis Meáin whose creations, made in the Aran Islands since the 1970s, are inspired by the local environment, or Fisherman Out of Ireland whose sweaters and beanies are knitted in a small village in Donegal.
Where to Find the Best Irish Crafts Shop in Dublin
I hope you will find the perfect gift or souvenir to bring home thanks to these great Irish craft shops in Dublin. As much as I like finding unique products inspired by the local culture for my own home, buying local is also rewarding. As you purchase a handmade woollen sweater from a family-run business, remember that you help directly support the local economy, small producers, traders and their families.
Disclaimer: This post may contain affiliate links. If you click on a link, I earn a little money at no extra cost to you.
RELATED POSTS