Ireland Travel Books | The Best Guidebooks to Plan your Irish Adventure
Looking for the best guidebooks to plan your trip to Ireland? I went browsing the travel section at my favourite Dublin bookstore for well illustrated guidebooks full of practical tips. After some research, I found the best Ireland travel books out there for you (and me!).
In this list, I have included some of the obvious bestsellers that have inspired my Irish travels for the last 10 years. But my knowledge of Ireland has grown, and I sometimes feel the need of more specialised travel guidebooks in topics I'm more interested in. I have therefore included lesser known, niche travel books for those of you with more specific interest, such as Irish heritage or Irish whiskey.
From top sellers to pocket-size travel books, I hope you'll find in this list something that will suit your needs and help shape your own unique trip to Ireland. Because there isn't just one way to discover Ireland but your own way.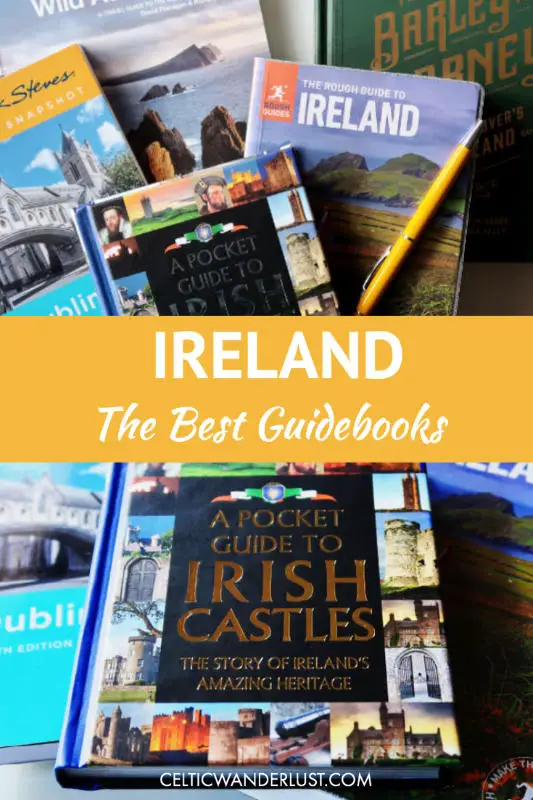 Disclaimer
This post may contain affiliate links. If you click on a link, I earn a little money at no extra cost to you.
A Pocket Guide to Irish Castles
There was a time when thousands of castles dotted the Irish landscape. Some are still proudly standing while some lay now in ruins. But they all have fascinating stories to tell and nuggets of Irish history to share.
This is exactly what A Pocket Guide to Irish Castles does. County after county (Northern Ireland included), the book introduces its readers to more than 70 beautifully illustrated castles. This pocket guide provides the reader with enough information, so you can understand their historical significance without feeling overwhelmed by too many details.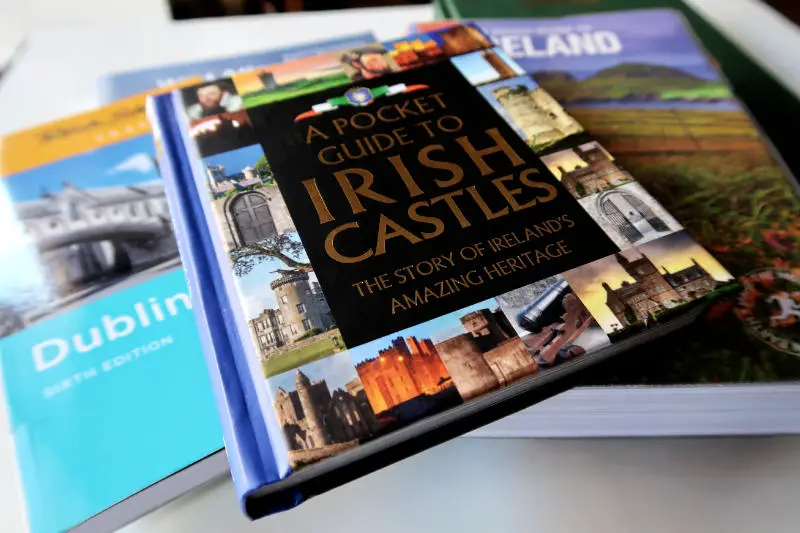 For those with a love of castles or interest in Irish History, this little guide will take you to some of Ireland's most interesting historical sights. Thanks to its compact size, you can take it on the road and look up information whenever you need. No Wi-Fi needed.
You might also be interested in:
– 20 Real Money Saving Tips to Visit Dublin on a Budget
– Where to Stay in Dublin | A Guide of the Best Neighbourhoods
– How to Get Around Dublin by Public Transport
– Irish Pub Etiquette | How to Avoid a Cultural Faux Pas
The Rough Guide to Ireland
Probably one of the most complete travel books out there, this very detailed guide will suit independent travellers who want to wander on their own. With more than 600 pages of information, you'll find anything you need to meticulously prepare your very own trip to Ireland and Northern Ireland.
The Rough Guide to Ireland starts with answering your most basic questions from how to get there to public holidays, from travelling by train to attending a festival. Then comes a wealth of information (I mean a LOT of info) on just about anywhere on the island of Ireland.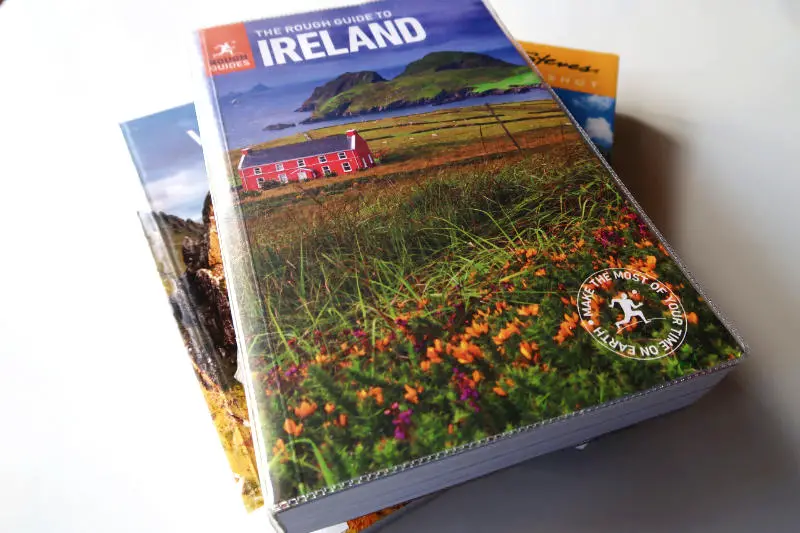 The book covers everything from accommodation, entertainment, shopping, eating to all the sights you shouldn't miss along the way. From Dublin to Co. Kerry, from Cork to Belfast, the Rough Guide has crammed into a single book tons of tips and up-to-date information. This guide also comes with useful maps and inspiring photographs.
If you like planning your holidays in detail, the Rough Guide to Ireland won't disappoint. But if you're finding the amount of information overwhelming, do not worry. The Rough Guide has also prepared a list of its favourite highlights and a selection of handy itineraries to help you decide where to go and what to see.
Rick Steves Snapshot Dublin
Rick Steves is a famous American travel writer and TV personality that knows his stuff about Europe. If you're planning a trip to Dublin, his compact travel guide is for you.
The book covers every sight you might stumble upon during your visit. From the more confidential GAA museum in Croke Park to the famous Book of Kells in Trinity College, you'll find useful information about everything you might want to see in Dublin.
Rick Steves's guide also comes with heaps of recommendations about where to eat, sleep and find entertainment in the city, from live music to good old pubs. Historical snapshots and handy maps of different parts of Dublin are also included.
Rick Steves finally covers destinations for great day trips near Dublin. The author focuses on Dun Laoghaire and Howth, two popular coastal towns in Dublin Bay. He has also included in his guide the ancient sites of the Boyne Valley and the great fortress of Trim. The book concludes with some of the best sites in the Wicklow Mountains, not forgetting to mention the monastic settlement of Glendalough too.
From Barley to Blarney : A Whiskey Lover's Guide to Ireland
This well illustrated book is the perfect introduction to Irish whiskey and to all the distilleries that dot the Irish countryside. If you like mixing whiskey and travel, this "whiskey lover's guide to Ireland" is for you. It is my definite go-to on the subject.
From Barley to Blarney takes the travellers on the road, from one distillery to the next. The book features Ireland's historic distilleries such as Midleton and Bushmills, but also the latest to open in the wake of the Irish whiskey revival.
Covering the island's four provinces, the book offers historic, insightful snapshots of each distillery visited by its authors, alongside beautiful photographs on glossy paper. As if exploring dozens of distilleries was not enough to experience Irish whiskey, the book's authors also paid a visit to some of the most iconic pubs in the country. If you were wondering where to have your mandatory glass of Irish whiskey during your trip, you'll find great recommendations in this book.
As a bonus, the book concludes with a series of delicious cocktail recipes so you can enjoy Irish whiskey at home and impress friends and families with your mixing skills. Sláinte!
Exploring Ireland's Wild Atlantic Way
Planning to travel the Wild Atlantic Way extensively? Then this book is for you. Exploring Ireland's Wild Atlantic Way is the much detailed guide you need to visit the epic west coast of Ireland.
Taking visitors from south to north, the book's authors have meticulously recorded everything you need to see along the famous 2500 km touring route. From Kinsale in Co. Cork to the shores of Lough Foyle in Co. Donegal, this book will tell you where to go for the most inspiring sea views and formidable beaches. And thanks to plenty of detailed maps, you shouldn't get lost on the way!
Because the Wild Atlantic Way is not just about seeing but also about doing, this guidebook is a great inspiration for coastal walks and other outdoors activities. From surfing in Lahinch to pony trekking, from riding Ireland's only cable car to puffin watching, this book tells you all about experiencing the Irish west coast to the fullest.

Furthermore, the book comes with spectacular and dramatic pictures that will send any readers packing for their next Irish adventure. Also, this guide will easily find its place in your suitcase thanks to its handy A5 format.
Ireland's Best Trips | 34 Amazing Road Trips
Going on a road trip across Ireland is one of the best ways to discover the country's most remote and picturesque locations. Whether you are planning a two-day or two-week road trip, you'll enjoy this travel guide by trusted publisher Lonely Planet.
Coming with a handy pull-out map in case your GPS lets you down, Ireland's Best Trips lists 34 incredible road trips to discover Ireland on your own terms. From cross-country itineraries to back roads circling around lakes and peninsulas, this guide takes road hungry drivers to Ireland's best locations.

Each trip comes with a road map and a list of highlights to explore along the way. Quick detours have also been included if you feel like exploring more. Feeling famished behind the wheel? Don't worry, this guide book comes with recommended restaurants to keep your energy levels high. Places to stay along the way have also been included.
For road trippers who don't feel like following the book's suggested itineraries from start to finish, or simply want to see more of beautiful Ireland, Lonely Planet has cleverly interlinked all its road trips. You loved the Ring of Kerry? Head north where Dingle Peninsula's blue waters await. Or drive south to county Cork's stunning coastline. The choice is yours.
Ireland's Ancient East | A Guide to Its Historic Treasures
Following the success of the Wild Atlantic Way, the Irish tourism board came up with a new concept to promote the other side of the country. In 2016 it launched Ireland's Ancient East, a marketing campaign of sorts to shed a light on heritage sites loosely located in the east of Ireland. The history nerd in me was immediately hooked.
With thousands of historical sites to choose from, the author of this Ireland's Ancient East guidebook had the excruciating mission to only feature a few. From county Monaghan in the North to east county Cork in the South, a hundred historical sites made the list nonetheless. Enough to keep the visitor busy, that is certain.

If you love a good old castle, a lush botanic garden, an eerie ruined abbey or a mysterious Megalithic tomb, this travel guidebook is for you. Inside, the author has included not-to-be-missed sites such as the Rock of Cashel and Blarney Castle. He has also made the choice to feature his favourite hidden gems like Gaulstown Dolmen.
Each chosen site has an insightful description explaining its history and providing key facts to allow visitors to better understand the place they are visiting. Each of the 100 sites comes with its own photographs and a flash card with useful information such as opening times, entry fee, directions and even facilities on site.
Lonely Planet's Ireland
This list wouldn't be complete without mentioning Lonely Planet's travel guide to Ireland. Lonely Planet's guide books have been a trusted resource of mine for a decade and thanks to consistent updates over the years, their guide to Ireland remains one of my go-to's.
This book has over 700 pages of information from must-sees to itineraries, outdoor activities to local specialities. You'll find detailed information on what to see, where to eat, sleep and shop about almost everywhere in Ireland, the northern counties included. The short, to the point but still evocative descriptions written in Lonely Planet's unique style are a constant invitation to travel.
To help you navigate the country, the book features handy local maps, including a pull-out map of Dublin at the back. Each and every place listed by the authors has also its own "Getting There and Away" section containing useful info if you are planning to make your way around Ireland by public transport. Together with The Rough Guide to Ireland, Lonely Planet guide to Ireland is one of the most exhaustive guidebooks on the market.
Ireland's Best Walks | A Walking Guide
If dramatic scenery is what you are hoping to find in Ireland, then Helen Fairbairn, an accomplished hiker and author of Ireland's Best Walks, will tell you exactly where to go to find it.
Helen Fairbairn has selected more than 60 routes from easy coastal paths to more arduous mountain walks to help you discover Ireland's most panoramic and inspiring views. She will take outdoor enthusiasts to sea cliffs, horseshoes, deserted islands, the country's highest summits and more.
All featured routes have been carefully categorized according to their level of difficulty. Distance, ascent and time to accomplish each of them have been included so you can easily choose a walk depending on your level of fitness. The author gives each time detailed directions so you can follow along, book in hand. A small map provides a general view of each route with its start and finish points. Finally, the guidebook comes with dramatic photographs that would entice anyone to head to the outdoors.
Disclaimer: This post may contain affiliate links. If you click on a link, I earn a little money at no extra cost to you.
RELATED POSTS