Beyond the Cityscape | The Best Seaside Towns Near Dublin
Are you craving the delightful sea breeze and a chance to witness fantastic views over the Irish Sea? Look no further than the best seaside towns near Dublin. Malahide, Dalkey, Howth, and more are idyllic destinations for a day out and about, offering a refreshing escape from the bustling Irish capital while remaining easily and quickly accessible by public transport.
Get ready to uncover their rich historic heritage and immerse yourself in their breathtaking natural beauty. Join me as we embark on a journey through these unforgettable coastal towns, where history and captivating landscapes intertwine to create unforgettable experiences.
Disclaimer
This post may contain affiliate links. If you click on a link, I earn a little money at no extra cost to you.
Best Resources to Plan Your Visit to Dublin
Getting There | Try Skyscanner to find the best flight deals. From continental Europe, I always fly with Aer Lingus. For travellers from the UK or France, sailing to Dublin with Irish Ferries and Stena Line can also be an option.
Planning | Lonely Planet Dublin city guide is one of my favourite guides. For an extensive list of things to see in Dublin, I recommend getting The Rough Guide to Ireland.
Travel Insurance | Heymondo has a 5% discount on travel insurance for readers of Celtic Wanderlust! Check it out!
The Best Seaside Towns Near Dublin | Map
Howth | The Fishing Village with Amazing Views
Nestled at the north end of Dublin Bay, lies the picturesque fishing village of Howth. Located just 30 minutes north of Dublin by public transport, this charming coastal town offers stunning sea views and delectable seafood restaurants popular with Dubliners. It is no doubt one of the best places to visit around Dublin.
A leisurely stroll around Howth's quaint harbour and along its protective pier is a must-do activity in Howth. The 19th-century lighthouse, with its cute red door, serves as a picturesque focal point along the way. 
Once at the lighthouse, you'll be treated to breathtaking views of Ireland's Eye, an uninhabited island and wildlife sanctuary. The rugged coastline of Howth peninsula, along with the colourful boats mooring in the harbour, create a postcard-worthy scene, making the pier walk an unforgettable highlight of any visit to one of the best seaside towns near Dublin.
Exploring Howth and its surroundings wouldn't be complete without embarking on the popular 10-km loop trail that wraps around the stunning Howth peninsula. The walk offers awe-inspiring sea views at every turn, making it a must for nature enthusiasts.
While the trail entices with its natural beauty, my weakness for delectable treats often leads me astray. Whenever I visit Howth, I find myself irresistibly drawn to the vibrant food market (open on weekends only). It is there that I succumb to the temptation of homemade brownies and cupcakes crafted by local artisans. Don't miss it!
Departure: Pearse Street Station, Tara Street Station or Connolly Station, Dublin
Arrival: Howth Station
Time: around 30 minutes, the train is direct.
Departures are every 20 minutes.
Bray and Greystones | The Laid-back Seaside Resorts to Unwind
When it comes to the best seaside towns near Dublin, Bray and Greystones are two popular coastal destinations in the Dublin Bay area, especially on sunny weekends. Bray, a former holiday resort with timeless charm in county Wicklow, offers a laid-back atmosphere with its stunning pebble beach and serene panorama over the sea. On the other hand, Greystones exudes a vibrant energy, boasting a bustling main street where lively restaurants and charming cafés await.
The best part? These two coastal towns are conveniently situated close to each other on the DART line, making it possible to explore both in a single day!
One of the highlights of visiting the Bray and Greystones area is the spectacular 8-km long cliff walk connecting the two towns. This scenic trail along the coast offers an incredible opportunity to immerse yourself in breathtaking sea views over the Irish Sea. Best of all, you can complete this accessible hike in less than two hours, allowing for some time in Greystones. The cliff walk can sometimes be closed to hikers because of landslides though. Please visit Wicklow Tourism website for the latest information before heading out.
Once in Greystones, you can unwind by the seaside, and during the summer months, take a refreshing dip under the watchful eye of the lifeguards. As for me, I'm always on the hunt for the finest treats, and I can confidently recommend the delightful crêpes from La Pierre Grise, a French crêperie located near the newly constructed marina. A great way to end one of my favourite day trips from Dublin by train!
Departure: Pearse Street Station, Tara Street Station or Connolly Station, Dublin
Arrival: Bray Station or Greystones Station
Time: around 45 minutes, the train is direct.
Departures are every 10 minutes.
You might also be interested in:
– The Best Irish Craft Shops in Dublin for Unique Souvenirs & Gifts
– Huguenots in Dublin | What You Need to Know About the City's French Heritage
– Jam-Packed Dublin Literary Walking Tour for Book Lovers
– The Best off-the-Beaten Path Things to Do in Dublin
Skerries | The Family-friendly Beach Town
Located just 30 minutes by train to the north of Dublin, Skerries is another delightful seaside town that provides the perfect escape from the bustling city. With its long sandy beach, overlooked by windmills, the town exudes a charming Dutch village vibe. It is an ideal spot to dig your feet in the sand and even take a refreshing dip in the Irish Sea on a hot summer day.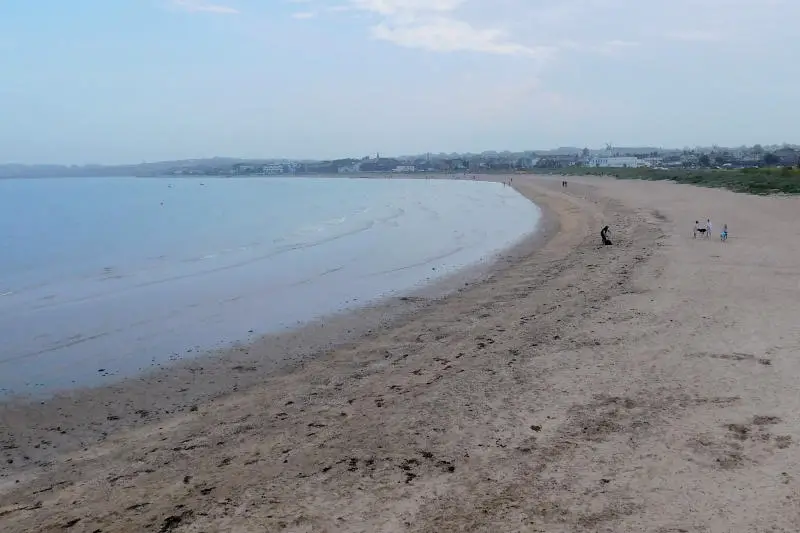 If you are feeling hungry, Skerries has you covered with a string of enticing seafood restaurants lining the harbour front. Or you might choose to treat yourself to some delicious ice cream instead.
When visiting Skerries, don't miss the opportunity to explore the nearby Ardgillan Castle, an 18th century manor house now in the care of Dublin City Council. The grand country house offers guided tours of its beautifully preserved interiors, from the former kitchen to the reception rooms, allowing visitors to step back in time. Or you might just want to sit in the drawing room for some afternoon tea with a Downton Abbey vibe.
The estate also boasts picturesque gardens and grounds that can be freely explored. The lush walled garden is my favourite part, but children will surely enjoy looking for the fairy doors hiding amongst the trees in the parkland. As you wander around the property, be sure to catch the breathtaking view over the sea. Ardgillan Castle is a must-see destination that perfectly complements a trip to Skerries.
Departure: Connolly Station, Dublin
Arrival: Skerries Station
Time: around 40 minutes, the train is direct.
Departures are every 40 minutes or so.
Dun Laoghaire | Dublin's Trendy Coastal Suburb
Just under 30 minutes from Dublin, Dun Laoghaire is a vibrant coastal town that buzzes with activity. Its modern marina is a hub for hundreds of pleasure boats and a gathering spot for enthusiastic kids preparing for sailing lessons. The town's sturdy pier, adorned with a 19th-century lighthouse, provides a picturesque setting for a leisurely stroll.
As you wander along Dun Laoghaire's seafront, you will stumble upon the People's Park. Established in 1890, the park's lush alleys offer a welcome respite from the beating sun during hot summer days, once you have grabbed an ice cream from the little shop around the corner, of course. At the top of the park, the tearoom provides a delightful vantage point to admire the beautiful garden and its fountain. But it's on Sundays that the park truly comes alive, hosting a popular food and craft market. Indulging in mouthwatering burgers and delectable vegan brownies has become a tradition for me whenever I visit the market.
Just a short 10-15 minute walk from the People's Park, lies the small Sandycove beach. The tiny croissant-shaped sandy beach provides a refreshing escape for local families when temperatures start to rise. However, the real excitement happens a bit further up the road at the Forty Foot—a popular diving promontory. The rocky outcrop attracts local youth, who daringly challenge each other to take the plunge into the invigorating sea waters. The Forty Foot is where the true action unfolds, for the pleasure of thrill-seekers and spectators alike.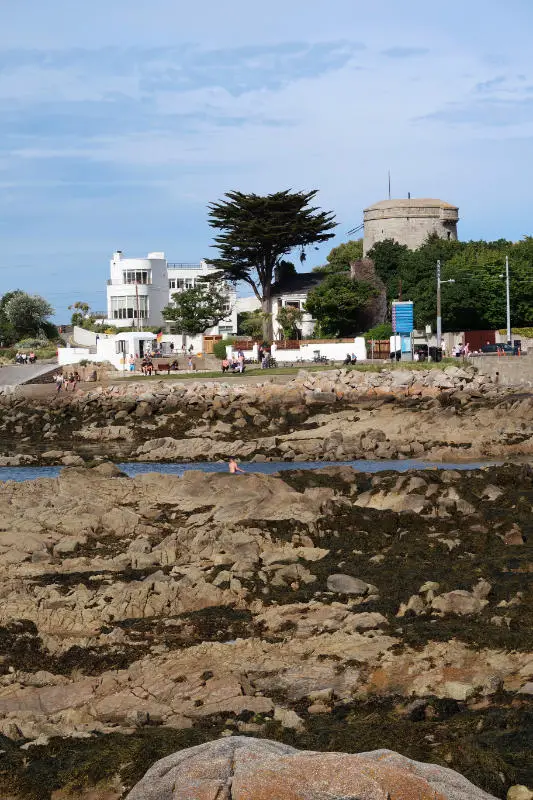 Departure: Pearse Street Station, Tara Street Station or Connolly Station, Dublin
Arrival: Dun Laoghaire Station
Time: around 30 minutes, the train is direct.
Departures are every 10 or 20 minutes.
Malahide | An 800-year-old Historic Family Seat
Located just 30 minutes north of Dublin by train, Malahide is undeniably one of the best coastal towns near Dublin. This picturesque destination offers a blend of history with natural beauty. The magnificent 12th-century Malahide Castle, with its medieval towers and ivy-covered walls, stands proudly amidst manicured lawns. The town's marina adds a delightful nautical touch, while the nearby sandy beach provides a serene spot to relax and unwind.
A visit to Malahide Castle is one of the best things to do on the East coast of Ireland. Built by the Talbot family following the Anglo-Norman invasion, it served as their residence for over 800 years. Stepping inside is like travelling back in time, with interiors dating from different eras. One of the standout rooms is the 16th-century Oak Room, adorned with richly carved wooden panels depicting religious scenes. The Great Hall is equally impressive, with its high ceilings, centuries-old exposed beams, and walls adorned with family portraits.
As you stroll towards the marina, the charming flowered streets of Malahide are lined with cosy restaurants and cafés, offering a perfect spot to refuel and unwind.
Continuing towards the sea, a walk along the Malahide estuary unveils a vast expanse of sand open to the wind, a haven for local fish and bird species, highlighting the area's ecological significance. With its rich heritage and seaside charm, Malahide is a coastal destination that appeals to both history enthusiasts and nature lovers alike.
Departure: Pearse Street Station, Tara Street Station or Connolly Station, Dublin
Arrival: Malahide Station
Time: around 30 minutes, the train is direct.
Departures are every 20 minutes.
Dalkey | The "Exclusive" Heritage Town 
Just 30 minutes south of Dublin by DART, Dalkey is a coastal town steeped in history that dates back to the Viking invasion of Ireland. Today, it has transformed into a coveted destination, adorned with multi-million euro villas that overlook the rugged seaside. Its attraction extends beyond picturesque landscapes, as Dalkey is also home to writers and numerous celebrities who enjoy the "live and let live" attitude of the locals. This charming town seamlessly combines rich history, stunning coastal views, and a touch of glamour.
Dalkey, a historic town perched on a hill with a centuries-old harbour at its foot, is perfect for a day of exploration. At the heart of this charming town lies Dalkey Castle, a 14th-century fortified townhouse, now home to a heritage centre. As you wander along the main street, you'll be greeted by a delightful array of shops, cafés, restaurants, and Irish pubs. The town's tiny harbour, nestled at the bottom of the hill, exudes undeniable charm. In the summer, locals can be seen leaping from the harbour's walls into the refreshing sea, seeking respite from the heat.
From Dalkey Harbour, you can choose to embark on a memorable journey with Ken the Ferryman to Dalkey Island for just a tenner. This uninhabited island, located mere hundreds of metres away in the bay, offers a peaceful retreat and holds intriguing secrets waiting to be discovered. Explore the island's treasures, including a Martello tower and the remnants of an ancient church, all set amidst serene surroundings.
Departure: Pearse Street Station, Tara Street Station or Connolly Station, Dublin
Arrival: Dalkey Station
Time: around 35 minutes, the train is direct.
Departures are every 10 minutes.
Sandymount | The Hidden Neighbourhood by the Sea
Just 20 minutes south of Dublin city centre by the DART, Sandymount is a delightful seaside spot that is definitely worth exploring. This quaint neighbourhood is known locally for its expansive sandy beach, which can be accessed during low tide, providing an ideal setting for a pleasant stroll by the seaside.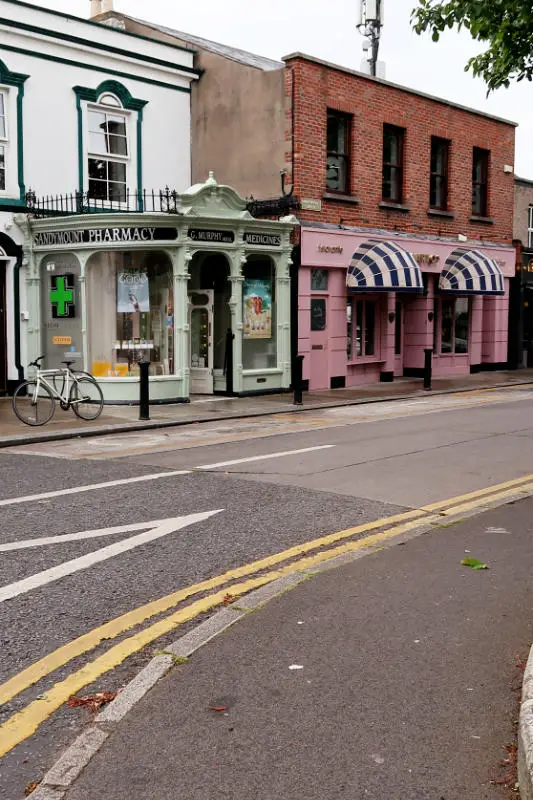 From Sandymount station, you have to find your way to Sandymount Green, a charming triangle-shaped park lined with mature trees, hidden at the heart of Sandymount. Surrounded by cosy pubs, inviting restaurants, and delightful cafés, this idyllic neighbourhood is truly a vibrant gathering place for locals to relax, socialise, and share the latest news. Whether you're savouring a refreshing pint at Sandymount House, a traditional Irish pub, or treating yourself to a delectable snack at Brownes, a bistro-inspired café serving only fresh food, the friendly atmosphere of Sandymount Green makes it a beloved spot for both residents and visitors alike.
If you are visiting Dublin on a budget, Sandymount sets the stage for a memorable walk to the iconic Poolbeg Lighthouse. This red-painted lighthouse stands proudly at the far end of a 6-km long seawall that stretches into Dublin Bay. Dating from the 18th century, the small Dublin lighthouse underwent remodelling in the 19th century, taking on its current cylindrical shape. Once there, you'll be rewarded with an unparalleled view of Dublin Bay.
Departure: Pearse Street Station, Tara Street Station or Connolly Station, Dublin
Arrival: Sandymount Station
Time: around 15 minutes, the train is direct.
Departures are every 10 minutes.
Up and down the coast near Dublin, seaside towns await your visit. Easy to explore by public transport, they have a lot to offer to visitors, including scenic walks and wonderful heritage sites, so don't forget to include one of them in your travel plan. If you're eager for more travel ideas and want to explore Dublin's vibrant city life, check out my complete Dublin city guide for a treasure trove of adventures awaiting you.
Disclaimer: This post may contain affiliate links. If you click on a link, I earn a little money at no extra cost to you.
RELATED POSTS