6 Easy Day Trips from Dublin by Train
Day trips from Dublin by train are an easy way to discover Ireland without the hassle and anxiety of driving in a foreign country. In 2.5 hours or less, you can comfortably reach by train different parts of Ireland for a day trip full of discoveries.
The Irish train network is not as extensive as some other European countries, but reaching major tourist destinations such as Belfast, Galway, Waterford or Kilkenny is rather trouble-free and straightforward. 
Whether you decide to head north, south or west for your day trip from Dublin by train, make sure to catch one of the first departures in the morning to make the most of your time there. Don't forget to book your train ticket early online for the best price, as same-day tickets at the train station can be more expensive. For closer destinations on the DART line like Howth and Bray, tickets are purchased at the station, just before boarding.
Disclaimer
This post may contain affiliate links. If you click on a link, I earn a little money at no extra cost to you.
Top Resources to Plan Your Visit to Dublin
6 Easy Day Trips from Dublin by Train | Map
Discover Belfast's Vibrant Atmosphere on a Day Trip from Dublin
There is a lot to see and do in Belfast, so much so that you might want to extend your stay and spend an extra day in the city. I even have a full itinerary ready for you, if you decide to spend 48 hours in Belfast. Nevertheless, with a journey time just above 2 hours, catching an early train will give you plenty of time to have a good look around the city in just one day.
The city highlights include the Titanic Museum, located just a 15-minute walk from the train station. Visitors from all over the world come to Belfast to discover the cutting edge engineering behind the Titanic and understand why it went so wrong. The recollection of the passengers' last moments on board is especially heart-wrenching. Be warned, though, a visit to the Titanic Museum could easily take you 3 hours if you are not careful with your time. Plus, booking ahead is advised.
On a dry day (even sunny, if you're lucky), you can walk to the Queen's Quarter, on the south end of the city centre. This leafy part of Belfast is home to the striking, 19th century Lanyon Building of Queen's University. The neighbouring botanic garden harbours a stunning Victorian glasshouse filled with lush vegetation and a colourful rose garden. The free Ulster Museum is also just around the corner.
In the city centre, Victoria Square is where all the action takes place if you are in Belfast to shop. You will find hundreds of outlets within this vast shopping centre, but also along the adjoining streets. If you seek to know more about Belfast's history, sign up for a free guided tour of the City Hall nearby for a visit of its grand interiors. 
The Cathedral Quarter is another highlight. This part of the city is filled with restaurants and bars that come to life in the evening time. During the day, it is a quiet, street art, open air gallery with vivid murals to be found all around the neighbourhood.   
Departure: Connolly Station, Dublin
Arrival: Lanyon Place Station, Belfast
Time: around 2 hours, train is direct to Belfast
Departures are roughly every 2 hours.
Dive into Waterford's Rich History with a Trip to the Viking City
Known as "Ireland's oldest city", Waterford has witnessed quite a few dramatic events since its foundation by the Vikings in 914. Among them, a marriage that would seal the fate of Ireland for centuries to come, and a failed siege by Cromwell. With a journey time of just a little more than 2 hours from Dublin, Waterford will thrill those with a taste for Irish history.
With just one day in Waterford, I would advise spending most of your time in the oldest and more interesting part of town, called the Viking Triangle. Here you'll climb the impressive Reginald's Tower, a medieval tower dating back to the Viking period now home to an exhibition retracing Waterford's Viking past.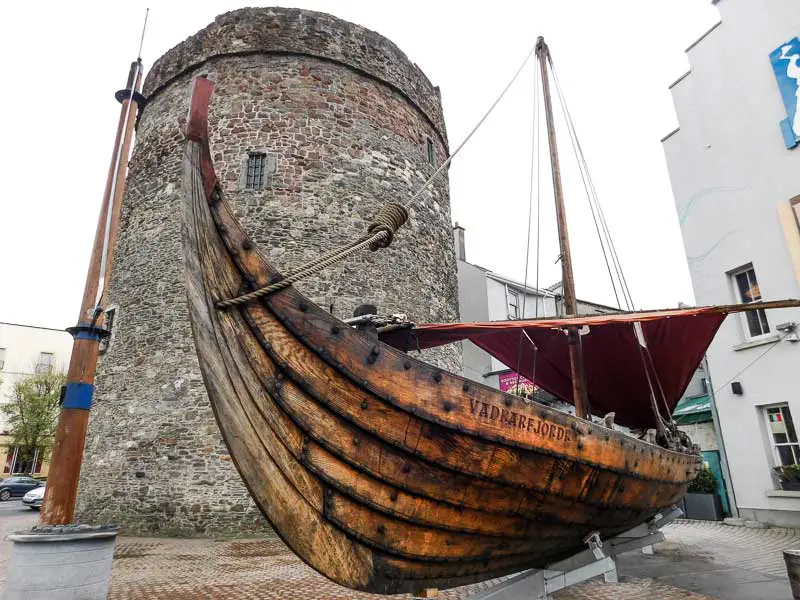 Just around the corner, Waterford's Medieval Museum is a real find. Its striking, modern architecture hides a museum filled with priceless and unique artefacts from medieval times, including 15th century cloth-of-gold vestments. A guided tour is a must to understand what happened in Waterford centuries ago that changed the course of Irish history forever. 
Among the best things to do in Waterford, the Bishop Palace next door from the museum is another heritage site that can't be missed. The Georgian townhouse was the house of the Anglican bishop. Its richly decorated interiors are like stepping back for a moment into 18th century Ireland.
A stone throw away, you'll find the Waterford Crystal Factory. From the exquisite chandeliers in Dublin Castle to international sport awards, the crystal produced in Waterford has put the city on the world map. A guided tour of its facilities will open your eyes to the skilled craftsmanship needed to create such high-quality pieces.
Departure: Heuston Station, Dublin
Arrival: Plunkett Station, Waterford
Time: around 2 hours, train is direct to Waterford
Departures vary from 1 to every 2 hours.
You might also be interested in:
– 20 Best Things to Do on the East Coast of Ireland, From North to South
– Unique Things to Do in Carlingford, Ireland + Top Tips to Visit
– 7 Great Things to Do in the Boyne Valley, Ireland's Historic Heart
– A 3-Day Epic Wicklow Road Trip Itinerary
Spend a Day in Medieval Kilkenny, Ireland's Best Heritage Town
An important centre of power ever since the 12th-century Anglo-Norman conquest of Ireland, Kilkenny has all the potential to become one of your day trips from Dublin by train: a sumptuous castle, a medieval cathedral, a round tower and more. This charming heritage town is only 1.5 hour from Dublin and will charm you with its bustling streets and narrow lanes dating from medieval times.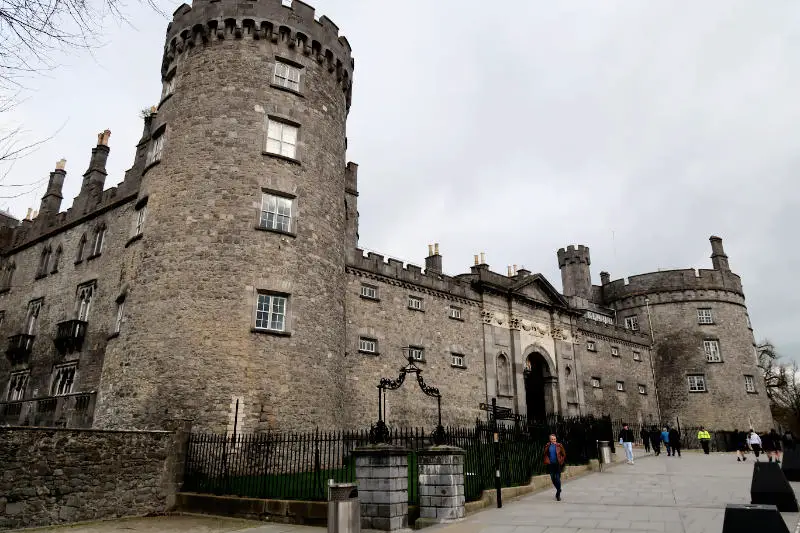 Kilkenny's must-see is its castle. A former 13th-century fortress built by the powerful William Marshall, the castle was sold to the Butler family at the end of the 14th century. Later transformed into a lavish Victorian residence with an open view over the park, this historical place is best explored with a tour guide to really understand its significance.
Built around the same period, St. Canice's Cathedral is an architectural jewel not to be missed. It is famous for its superb 14th-century stained-glass windows, and equally remarkable 17th-century tomb effigies representing Butlers' family members. Right beside the cathedral, a round tower, built by monks in the 9th century to seek refuge from Viking raids, is still standing and open to the public. A succession of steep ladders will get you to a viewing platform at the top!
From the castle and the cathedral, Kilkenny Medieval Mile hides more historical treasures and stories, including the first recorded trial of a woman for witchcraft. What could be best to discover them all than a guided tour by Kilkenny's Medieval Mile Museum! There are so many great things to do in Kilkenny that one day might not just be enough!
Departure: Heuston Station, Dublin
Arrival: MacDonagh Station, Kilkenny
Time: around 1.5 hour, train is direct to Kilkenny
Departures varies from 1 to every 3 hours.
Head West for a Day in Galway and Discover its Captivating Heritage
A day trip to Galway from Dublin has only one downside: catching the very first train at 7 in the morning. With a journey time of 2.5 hours, you'll be in Galway just in time for a late breakfast before heading out for a day of exploration.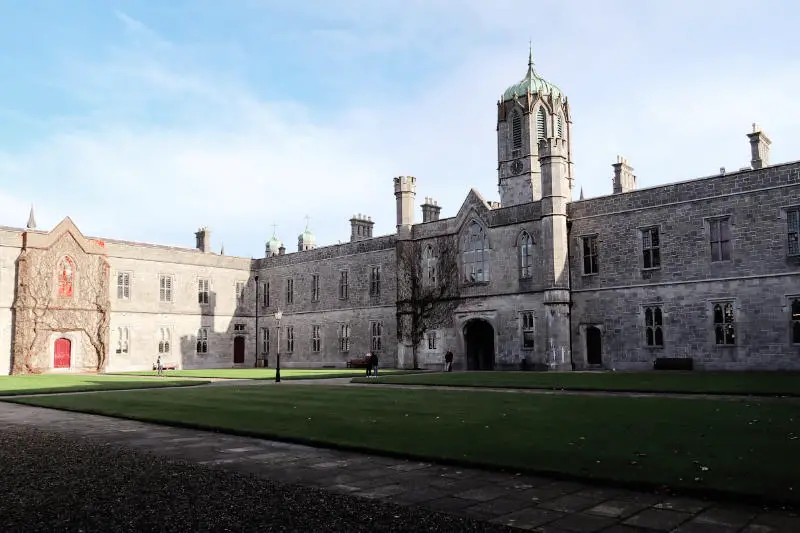 Galway's compact city centre means that you can visit the historic city on foot in just a few hours. I even put together this self-guided walking tour of Galway to help you figure out where to find the main attractions, including the 16th century Spanish Arch, the contemporary Galway Cathedral and the Gothic Quadrangle, Galway University's original building.
Galway's history goes back to medieval times and naturally, the medieval heart of the city, also called the Latin Quarter, is where you will spend most of your time. It is the liveliest part of Galway, its cobbled streets filled with colourful pubs, craft boutiques selling the famous Claddagh ring and Aran jumpers, cafés and restaurants. At the bottom of the Latin Quarter, Galway Museum hosts free exhibitions about Irish history and culture worth your time.
If you want to learn more about the history of Galway and hear interesting anecdotes, I recommend signing up for a guided tour with an experienced professional. Make sure to wear comfortable shoes and carry a rain jacket with you, the Galway sky being infamously unpredictable.
Departure: Heuston Station, Dublin
Arrival: Ceannt Station, Galway
Time: around 2.5 hours, train is direct to Galway
Departures varies from 1 to every 2 hours.
Spend a Day Out and About in Howth, a Picturesque Fishing Village on the Outskirts of Dublin
Howth is a charming fishing village just north of Dublin, popular with city dwellers seeking to escape Dublin's hustle and bustle for a day. Accessible in just 30 minutes by the DART, Dublin's coastal train line, Howth makes for one of the easiest day trips from Dublin by train with frequent departures all day long. It is also a great destination to enjoy some food al fresco and breathtaking coastal views.
Upon arrival in Howth, visitors are welcome by a popular food market just outside the train station (weekends only). Don't miss the delicious cupcakes there! Reputable seafood restaurants can also be found along the harbour if you are looking for a lunch with a view. Outside seating fills up fast during summer days.
People visit Howth for the village's incredible sea views. And a short walk along the pier to Howth lighthouse, one of the prettiest lighthouses in Dublin, gives you exactly that. You can decide to take it easy and admire the view from the pier, or head to the nearby cliffs if you are feeling more adventurous.
A walk around Howth Peninsula, also called Howth Head, guarantees unforgettable memories. The 10-km loop walk around the headland takes you on an adventure along wild cliffs with great views over the rugged coastline. Mid-way through the walk, the Baily Lighthouse appears, proudly standing on its rocky outcrop surrounded by the sea on three sides. Walking shoes are advised as the path is uneven and narrow.
Departure: Pearse Street Station, Tara Street Station or Connolly Station, Dublin
Arrival: Howth Station
Time: around 30 minutes, the train is direct
Departures are every 20 minutes.
Take a Walk from Bray to Greystones for Incredible Coastal Views
Bray and Greystones are two seaside towns at the very end of the DART line, south of Dublin, in county Wicklow. The train will take you to your destination in 45 minutes only. With scenic views over Dublin Bay to enjoy along the way, make sure to grab a window seat. Rather inexpensive, the DART is a great way to visit Dublin on a budget. 
Get off the DART in Bray. The sleepy coastal town used to be a holiday hotspot before low-cost airlines democratised air travel to warmer destinations. The town still comes alive at the weekend as Dubliners descend upon the seafront for some chill time along the long promenade stretching parallel to the large pebble beach.
As you head south along the promenade, you soon find yourself climbing up towards Bray Head. That's where the popular 8-km cliff walk from Bray to Greystones starts. The path leads to a breathtaking panorama over the Irish Sea. Though called a "cliff walk", the path is secure and the risk of falling into the sea is pretty limited. Stick to the path though and wear suitable walking shoes.
You will reach Greystones in under two hours. The town, formerly a fishing village, has undergone some important redevelopment in recent years with the creation of a brand-new marina. Its main street has never been so dynamic with a great range of restaurants and cafés perfect to rest your feet and recharge after your walk. You can also head to the beach if you fancy a swim! 
To get back to Dublin city centre, jump back on the DART in Greystones.
Departure: Pearse Street Station, Tara Street Station or Connolly Station, Dublin
Arrival: Bray Station
Time: around 45 minutes, the train is direct
Departures are every 10 minutes.
If you are planning to spend several days in the Irish capital, day trips from Dublin by train are great and easy ways to discover other sides of Ireland. You might have to get up early to catch the first train, but your effort will pay off. If your time in Dublin is limited, you can also take shorter day trips to the outskirts of the city. More amazing places to visit around Dublin, reachable by bus, await.
Disclaimer: This post may contain affiliate links. If you click on a link, I earn a little money at no extra cost to you.
RELATED POSTS