What to Do in Kilkenny, Ireland's Most Charming Heritage Town
As evidence of the importance of her town in Irish history, our tour guide proudly declared that only two "Parliament Street" existed in Ireland: one in Dublin and one in Kilkenny. Briefly the capital of Ireland between 1641 and 1649, Kilkenny had been a centre of power ever since the conquest of Ireland by Strongbow in the 12th century.
Marrying Isabel de Clare, Strongbow's wealthy heiress, William Marshall launched the construction of Kilkenny Castle and set out to attract rich merchants to his town. Successful in his enterprise, Kilkenny flourished. Today, the town is Ireland's medieval jewel, one of the prettiest heritage towns in the country.
"What to do in Kilkenny ?", you may ask me then. Fans of history and centuries-old monuments will surely not be disappointed. From castle to merchant house, cathedral to "leaning" tower, there is plenty to discover in this historic and bustling town. Let me guide you through the best things to do in Kilkenny.
Disclaimer
This post may contain affiliate links. If you click on a link, I earn a little money at no extra cost to you.
Best Resources to Plan Your Visit to Kilkenny
What to Do in Kilkenny | Map
Top Things to Do in Kilkenny
If, like me, you love heritage towns, you will be charmed by Kilkenny. With a history going back a thousand years, if not further, this town is heaven for history enthusiasts. So here are the best things to do in Kilkenny, Ireland's medieval heart.
Take a Guided Tour of Kilkenny Castle
From its humble beginning as a wooden fortification overlooking the River Nore, built by the Anglo-Norman invaders in the 12th century, Kilkenny Castle transformed into a mighty fortress in the 13th century. Under the command of the powerful William Marshall, a square-shaped, stone castle with 4 large drum shaped towers at each of its corners, emerged. Three of them are still standing today.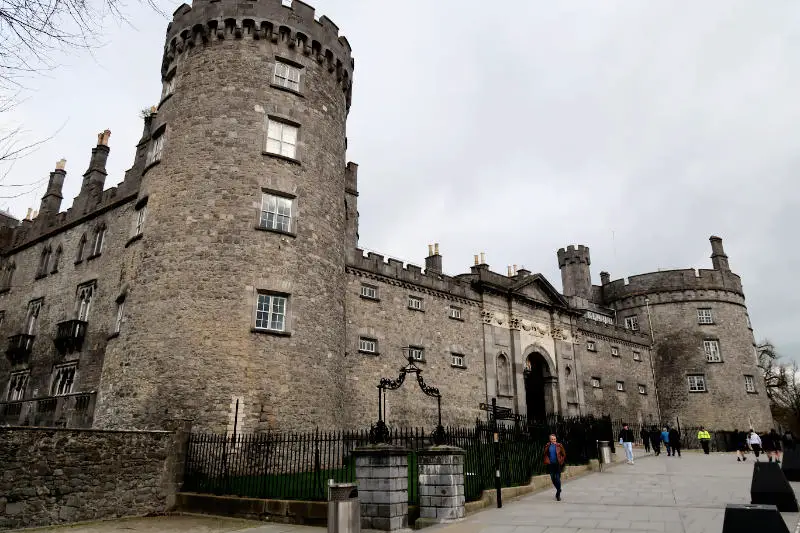 At the end of the fourteenth century, the castle changed hands. It was bought by the Butlers, one of the most influential families in Ireland, who transformed it into a Victorian residence.
The south wall, damaged by Cromwell's army in the 1650, was definitely demolished in the 18th century to open the view over the park.
With the Butler's money running out, the neglected castle was bought by the Irish state and brought back to life through extensive renovation. The guided tour is a must-do to appreciate the extraordinary work being accomplished to bring glory back to this historic place.
From elegantly furnished drawing rooms to impressive staircases, the tour gives visitors astonishing glimpses into the life of a powerful family closely linked to the English crown. Although lots of its content was sold by the Butlers, the castle has seen some of its original furniture being returned to it, while some were skilfully replicated. Pieces typical from the Victorian era were also added, reconstructing the decor and atmosphere of a wealthy and aristocratic family home.
Closing the tour with a bang, the guided tour finishes in the breathtaking Picture Gallery. Dating from the 19th century, the gallery features family portraits, a stunning hand-painted roof, a double marble fireplace, 17th century tapestries and much more. You cannot but feel dizzy from looking at so many priceless art pieces and sumptuous architecture. Kilkenny Castle is no doubt one of the most interesting places to visit in Kilkenny.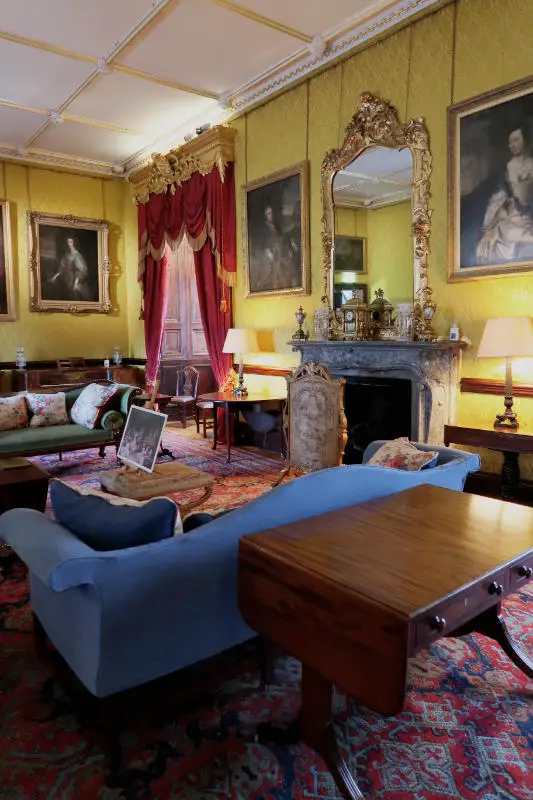 You can also visit the castle at your own pace with a self-guided tour. However, you would be missing out on the wit of the castle's expert guides who breathe life back into the old castle. 
Visit St. Canice's Cathedral
As Kilkenny fortress was being built, a new place of worship was being erected at the opposite end of medieval Kilkenny. St. Canice's Cathedral, built in Early Gothic style, was completed in 1285. The building stands on the ground of an early Christian monastery believed to have been founded in the 6th century by St. Canice; its church gave its name to Kilkenny, which means "Church of Canice" in Irish.
Although restored in the 19th century, the cathedral's medieval features have been remarkably preserved, making this historic site one of the top things to see while visiting Kilkenny. The cathedral is surrounded by secondary buildings forming the Close, including a 9th-century round tower, a graveyard with tombstones predating 1700, a period cottage from the 17th century and more.
You have to squeeze through a narrow wooden door to enter St. Canice's Cathedral. Once inside though, nothing can be less spectacular, starting with the polychrome marble floor extending to every corner of the church. Over your head, the ceiling's wooden beams remind you of an upside down boat hull, although rather more elegant with its carving.
As you stand in the nave, your eyes are irresistibly drawn to the magnificent East window. Tall and narrow, the three adjacent stained-glass windows are like arrows pointing to the sky, shining a bright light as the sun hits the cathedral from the east. Destroyed in 1650 by Cromwell, the 14th century panels were skilfully restored in the 19th century based on original drawings.
Provided with a map of the cathedral, visitors are enticed to look for hidden historical treasures. Among them, St. Kieran's Chair, a 12th century stone chair still used today to enthrone local bishops, and some of Ireland's finest examples of 17th century tomb effigies, also called recumbent effigies, representing members of the Butler family.
You can buy your ticket online to avoid the queues during peak season and even book a guided tour of the cathedral to know more about this architectural masterpiece.
Climb Kilkenny's 9th-century Round Tower
Standing right beside St. Canice's Cathedral, but predating it by nearly 4 centuries, St. Canice's tower is one of the very few round towers in Ireland that is open to the public. This is your chance to climb inside a quintessentially Irish landmark, do not miss it!
Although slightly leaning and having lost its conical top, the tower is in excellent condition. Built in the 9th century as a place of refuge against Viking raids targeting religious sites, St. Canice's tower is the oldest building in Kilkenny.
The construction towers at 30 metres with a viewing platform at the top. However, you will have to face your fear of heights and climb several rather steep ladders to get to enjoy the majestic view over the city. After successfully pulling yourself to the top floor, you will have to call upon hidden contortionist skills to squeeze through the narrow opening to the platform. Don't let all of this pull you off though, the view (and excitement) is well worth it. 
Tickets are available in the cathedral, or you can buy online to avoid queueing during peak season.
Take a Walking Tour Through Kilkenny's Medieval Mile
A mile separates Kilkenny Castle from St. Canice's Cathedral. In between, Medieval Kilkenny flourished, with rich merchants being invited to settle in the town by William Marshall, the new Lord of Kilkenny, as he married Strongbow's daughter and local heiress.
Starting at the Medieval Mile Museum, a tour led by expert historians and storytellers brings medieval Kilkenny back to life as we stroll around Kilkenny's narrow lanes and centuries-old streets. Known as the Medieval Mile Trail, this guided tour unveils exciting facts and stories, and now sits firmly on my list of the best things to do in Kilkenny.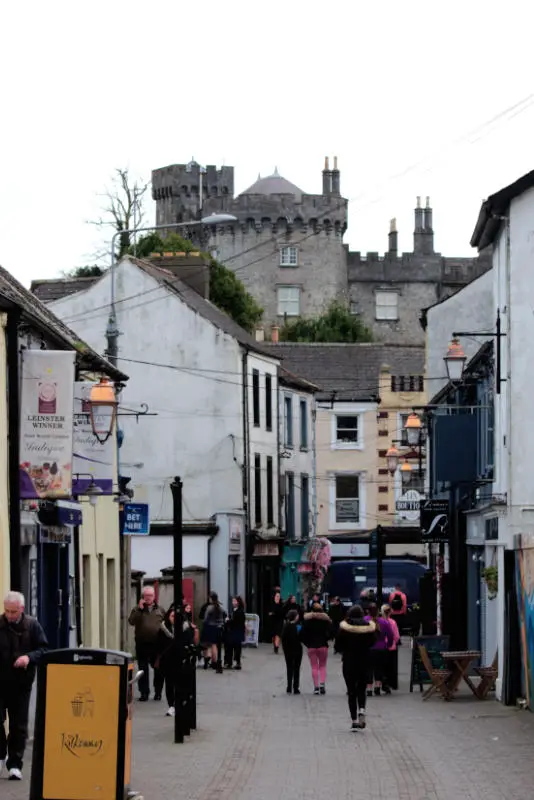 The streets laid out at the time of William Marshall having mostly retained their original plan, a vivid picture of medieval Kilkenny is quickly brought forth from the past by our guide. We hear stories of rolling barrels pushed up muddy St Kieran's Street as boats are unloaded, rich merchants families owning sumptuous townhouses with private gardens on High Street, and prisoners being fed from the street by family members through the bars of their cells.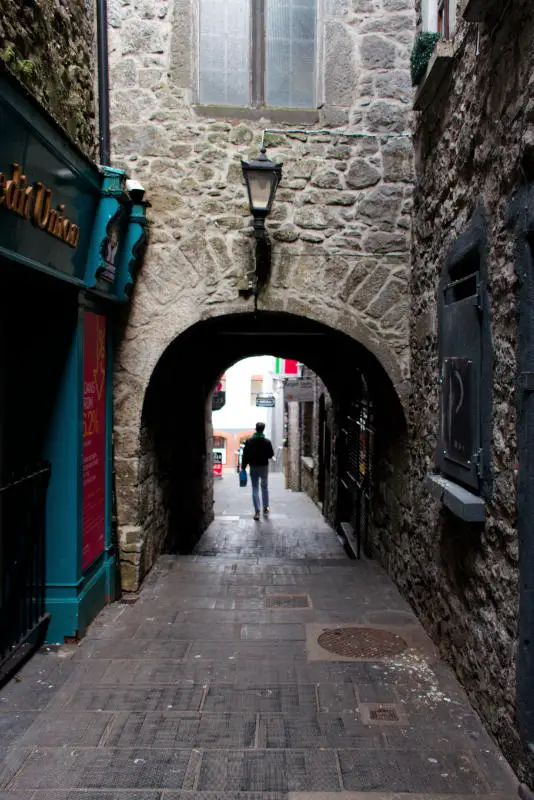 Even more captivating, we listen to the most famous story that came out of medieval Kilkenny. As we stand in front of the Kyteler's Inn, a popular restaurant which was once the house of Dame Alice Kyteler, we listen to the tale of her downfall. We are in 1324. Eager to make a name for himself, Bishop Richard de Ledrede condemned for the first time a woman to be burned at the stake for witchcraft. Alice Kyteler, made wealthy after the death of her four husbands, was drawing too much attention to herself. She escaped in time, but not her maid Petronella who perished in her place.
The tour returns to the Medieval Mile Museum, a former church transformed into a history museum worth exploring. Dating from 1202, St. Mary's Church was the church of the wealthy merchants living in the Norman side of Kilkenny. Amongst its treasures, the historic building features the exquisitely carved Rothe Chapel, and the Liber Primus, a priceless and rare manuscript which recorded town life in Kilkenny from the 13th to the 16th century. 
Medieval Mile Trail & Museum // 2 St Mary's Lane, High Street, Kilkenny // Book your ticket.
More walking tours available in Kilkenny:
Take a Peek Inside the Rothe House
The Rothe name popped up quite a few times during my walking tour along Kilkenny's Medieval Mile. The richly carved Rothe memorial in St. Mary's Church, paid by and erected for John Rothe in 1612, was just another intriguing reason to learn more about this family. And for that, visiting the Rothe House sounded like the right thing to do.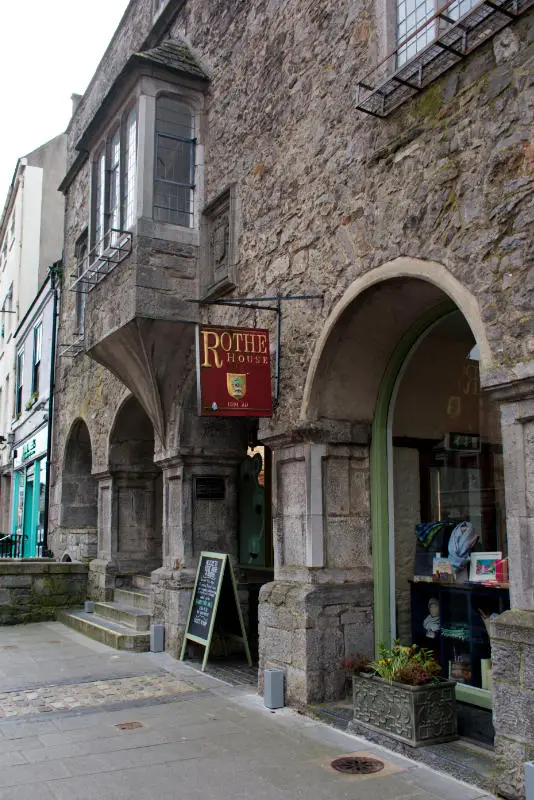 The Rothes were a rich and prominent merchant family in Kilkenny, which was also involved in local politics. A leading member of the community, John Rothe Fitz Piers bought a burgage plot, a narrow but long piece of land in the heart of Kilkenny, and built a house facing Parliament Street. Now known as the Rothe House, this architectural gem from the late 16th century is a window into Ireland's late medieval times.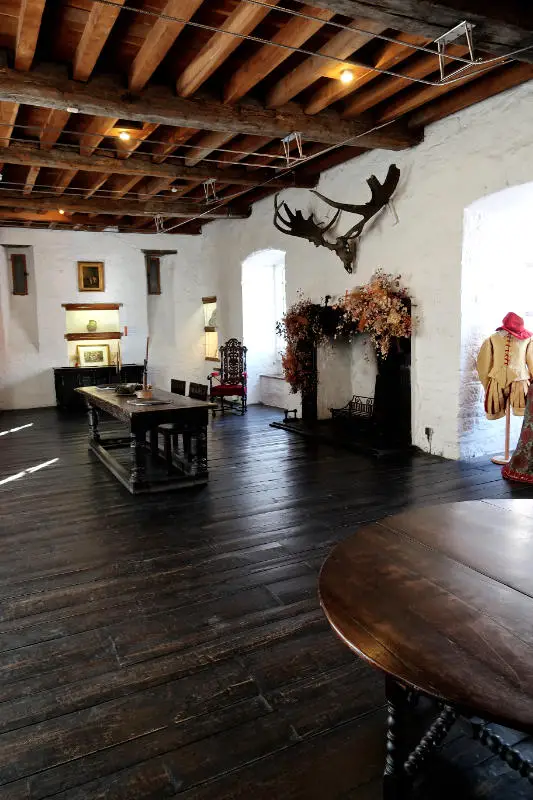 With its beautiful arches fronting the entire stone facade, the merchant townhouse stands out from the other houses in the street. Built in 1594, the main building would see two more houses being added to it, one behind the other, in 1604 and 1610.
Thick walls, antique fireplaces and wooden staircases, cobbled connecting courtyards, intricate timber work holding the roof together without a single nail… The Rothe House will send you back through time. Here, John and his wife Rose had 12 children, hence the successive additions to the main house.
The Rothe House's biggest surprise is to be found at the very back of the house though. Behind the third house, the family's early 17th century's garden has been restored. Varieties of fruit trees, flowers and vegetables from the same period have been planted and laid out the same way, recreating an extraordinary urban garden from a different era. Run by volunteers, the Rothe House is amongst the best things to do in Kilkenny.   
The Rothe House and Garden // Parliament Street, Kilkenny // Tickets available on site.
You might also be interested in:
– 20 Best Things to Do on the East Coast of Ireland, From North to South
– Galway in One Day | Tips to Visit the City of the Tribes in 24 Hours or Less
– 7 Great Things to Do in the Boyne Valley, Ireland's Historic Heart
– A 3-Day Epic Wicklow Road Trip Itinerary
Other Things to Do and See in Kilkenny
Looking for other interesting things to do in Kilkenny? Here come some additional suggestions to keep you busy.
Stop by Saint Mary's Cathedral
While St. Canice's is the cathedral of the Church of Ireland in Kilkenny, St. Mary's is the city's Catholic cathedral. Dating from the middle of the 19th century, its construction provided vital work during the Famine.
At the top of James's Street, off High Street, the cathedral is easily accessible on foot and worth a detour. Built in classic Gothic style, the elevation of its wooden ceiling is spectacular. Eyes are drawn to the central altar, flooded with light coming through impressive stained-glass windows. Painted in blue, gold and copper tones, the ceiling above the altar is sumptuous.  
St. Mary's Cathedral // James's Street, Kilkenny // Free
Take the Smithwick's Experience's Tour
Kilkenny saw the birth of one of Ireland's most famous beers: Smithwick's. Set up in 1710 by John Smithwick on the grounds of a Franciscan abbey (its ruined church can be seen from St. Canice's tower), the brewery grew spectacularly in the first half of the 19th century.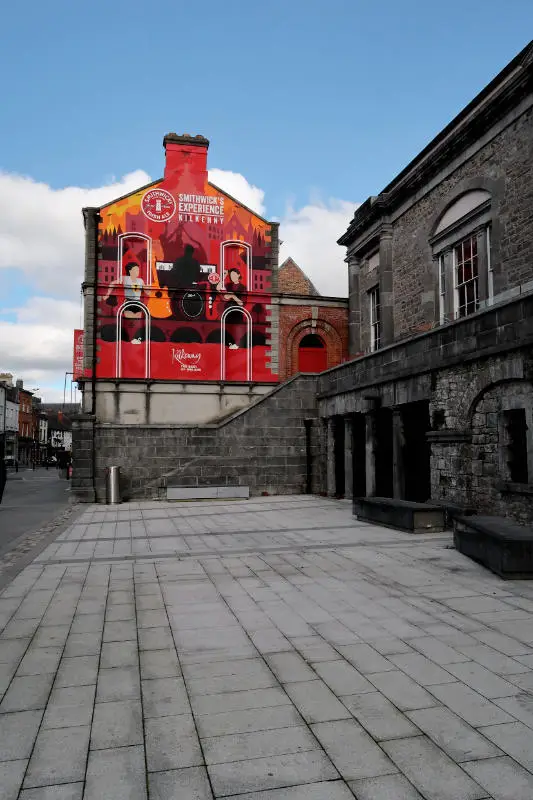 Sold by the Smithwick family to Guinness in 1965, the brewery transferred the production of its famous ale from Kilkenny to Dublin in 2013. An attraction dedicated to the Smithwick's brand and history has since opened on Parliament Street. You might consider their tour if you want to know more about this important part of Kilkenny's industrial heritage.
Indulge in Shopping Therapy at Kilkenny Design Centre
Home to Kilkenny Design Centre, the former coach houses and stables of Kilkenny Castle, known as the Castle Yard, are now filled with shops selling Ireland's very best craft. From contemporary pottery design to traditional weaves and skincare products, you will find truly unique, Ireland-made souvenirs to bring home.
Located just across from Kilkenny Castle, the Castle Yard is also home to the National Design and Craft Gallery. You can enjoy exhibitions centred around Irish and international designers pushing the boundaries of their craft.
Kilkenny Travel Tips
With so many heritage sites to explore, Kilkenny is no doubt worth visiting. To help plan your trips, here are some of my travel tips for a successful stay.
How Many Days in Kilkenny Do I Need to Spend?
Kilkenny's rich heritage deserves your attention for an entire day, even not two, if you don't want to rush your visit through one of Ireland's best heritage towns. Kilkenny's streets are bustling. With heaps of restaurants and cafés to enjoy between guided tours and visits, time is flying ! I spent two fantastic days in Kilkenny, booking ahead for as many tours and visits as possible, so I wouldn't miss all the top attractions.
How to Get to Kilkenny?
If you decide to rent a car in Dublin, Kilkenny is easily accessible from the capital by the motorways. Expect to get to your destination in 1h 30 min or 2 hours at most.
You can also reach Kilkenny by train from Dublin Heuston Station, in roughly 90 minutes. Kilkenny Station is then at a walking distance from the town centre. With departures and returns all day long, Kilkenny makes for an easy day trip from Dublin by train. Coming from Waterford in the south, you will be in Kilkenny in just half an hour.
From Dublin city centre or Cork, Dublin Coach will take you to your destination by bus.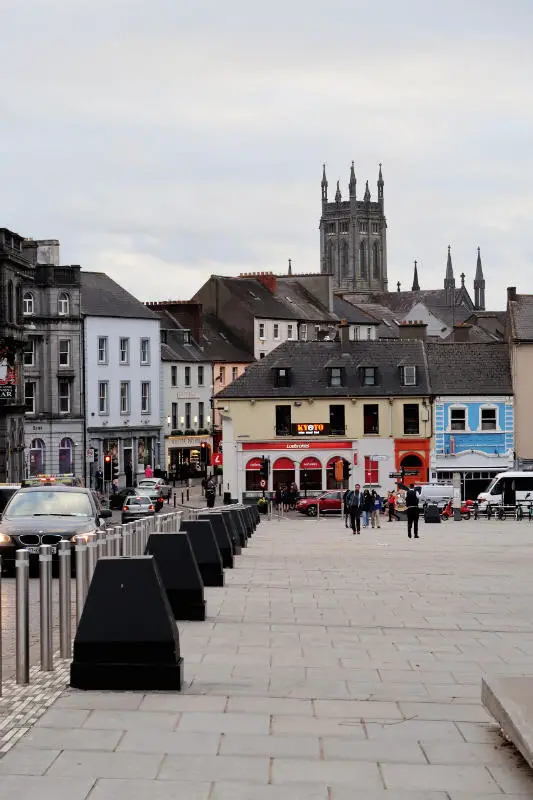 Where to Stay in Kilkenny?
To enjoy Kilkenny's Medieval Mile, its heritage, pubs and restaurants on foot, it is best to stay close to the town centre. However, hotels at this location can be very expensive, and booking early your accommodation is highly advisable, especially during peak season. If your travel dates are flexible, plan your visit to Kilkenny during the week, when hotel prices can be significantly lower.
If you are driving to Kilkenny, be aware that not many hotels can offer parking facilities, space being limited in this historic part of town. One hotel though offers this option with ample parking space for its customers, the River Court Hotel. Ideally located on the bank of the river Nore with a stunning view over the castle, this 4-star, contemporary hotel is the perfect place to stay a night or two. I thoroughly enjoyed my stay there. To know more about it, read my review of the River Court Hotel.
Closer to the train station, but still at a short walking distance from all the historical sights, the Langtons Hotel is another luxury, 4-star hotel. The Langtons even has its own theatre, hosting events and concerts, one restaurant, two bars and a tearoom! I couldn't fault my stay there.
Other top places to stay in Kilkenny based on customer reviews and location:
Kilkenny Hibernian Hotel: If you are looking to stay somewhere with character, this 18th century former bank turned 4-star accommodation should do the trick. Found around the corner from Kilkenny Castle, this luxury hotel is ideally located to enjoy medieval Kilkenny.
Butler House: If it is romanticism and a sense of intimacy you are after, Butler House is a luxury guesthouse that will blow you away. This country house was built in the 18th century as the dower house of Kilkenny Castle. With a view over the castle and plenty of character, this high-end guesthouse comes with a matching price tag.
The Rafter's Gastro Pub: More affordable but still centrally located, this B&B has 14 ensuite and comfortable bedrooms. This establishment caters for hen and stag parties though, so you might want to bring earplugs.
Where to Eat in Kilkenny?
You will find plenty of restaurants, pubs and cafés to enjoy the local food along Kilkenny Medieval Mile. Check out in particular St Kieran's Street, High Street and Parliament Street for great places to eat. Hiding down Butterslip Lane, one of Kilkenny's typical, medieval alleyways linking High Street to St. Kieran's Street, Petronella is a restaurant that comes highly rated.
For something light, I recommend the Fig Tree Restaurant. This little restaurant and café on High Street has a selection of breakfast options on its menu (including the all important Irish breakfast), hot sandwiches and freshly baked cakes.
Craving a treat? Try the Ground Floor Café, also on High Street. Their brownies with raspberries are absolutely delicious. As you head towards St. Canice's Cathedral, you will come across Cakeface Pâtisserie, located on the main street in Irishtown. Run by two pastry chefs, Cakeface makes incredible pastries that are impossible to resist.
I couldn't recommend enough visiting Kilkenny, a town deeply steeped in history. I spent two fantastic days exploring its incredible heritage and treating myself with great food along the way. If you are looking to stray off the beaten path though, check out the best things to do in Carlingford, another of my favourite heritage towns in Ireland.
Disclaimer: This post may contain affiliate links. If you click on a link, I earn a little money at no extra cost to you.
RELATED POSTS