How to Spend 48 Hours in Belfast – Full Itinerary + Tips
Unsafe, boring and industrial; that's how I used to picture Belfast in my head before my first visit nearly ten years ago. "What would I go to Belfast for?" I remember thinking. "I don't want to be caught in the middle of politico-nationalist clashes!" The Troubles were still on my mind back then, and I was slightly worried.
I was wrong. Although tensions between Unionists and Republicans still exist in certain parts of Belfast, the city remains largely peaceful. Belfast has opened up considerably to tourism, creating world-class attractions and promoting its rich – although complicated – heritage.
There is a lot to see in Belfast. With a bit of planning and advanced booking, you should be able to discover a great deal of the city in just two days. After many trips there, I put together a 48-hour Belfast itinerary to help you make the most of your time in this blossoming city.
Disclaimer
This post may contain affiliate links. If you click on a link, I earn a little money at no extra cost to you.
Essential Tips for Visiting Belfast in 2 Days
Getting There | Catch a flight to Belfast with EasyJet from all 3 major London airports. If travelling from further afield, look for the best deals on Skyscanner. From Dublin, book online your train ticket with Irish Rail. Or travel by bus with Dublin Coach.
Where to Stay | Stay in the city centre if you're planning a short weekend trip to Belfast. You'll find great deals on Booking.com or read the reviews on TripAdvisor.
Travel Insurance | Don't forget to buy travel insurance before travelling to Northern Ireland. Heymondo has a nifty app to help you get the assistance you need while on the go.
How to Get to Belfast
Many cities in Europe offer direct flights into Belfast International Airport. From the rest of the UK, EasyJet offers cheap flights from London, Manchester, Edinburgh and other major cities. From outside Europe, you might have to fly into London first and catch a connecting flight to Belfast. Belfast International Airport is well-connected to Belfast city centre, with buses departing every 15-20 minutes from outside the terminal building for £8 one way.
My advice, check Skyscanner for the best deal:
If you're visiting from the UK and not prone to seasickness, you can also catch a ferry from Cairnryan in Scotland and Liverpool in England.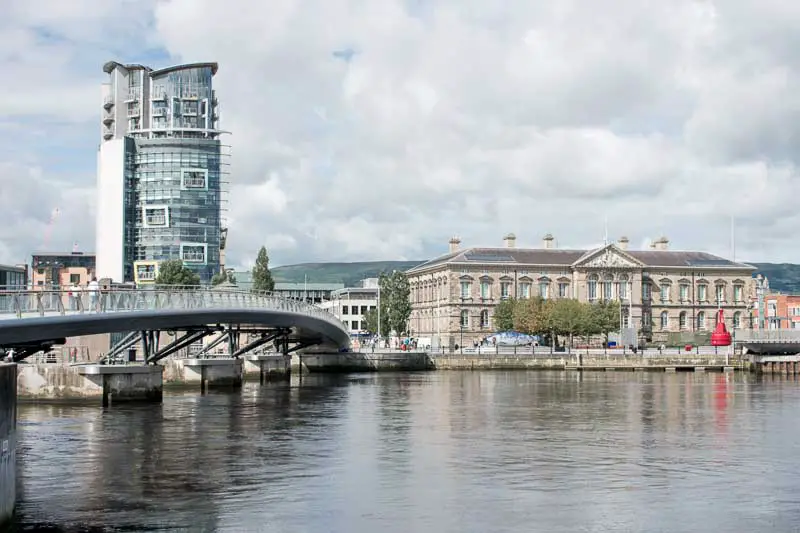 Travelling from Dublin to spend 2 days in Belfast ? You can either catch the train or the bus.
The train is the most expensive of the two options and not the fastest way to get to Belfast. It will cost you around 40 euros at best for a return ticket if you buy early and online (prices can be twice as expensive if the cheaper seats are sold out). Expect a journey time of 2 hours and 20 minutes. You'll arrive in Lanyon Place station, a railway station located another 15 minutes walk away from Belfast city centre.
Several bus companies will take you to Belfast with departures every hour: Bus Eireann (the main bus operator in Ireland), AirCoach and Dublin Coach. At 20 euros for a return ticket, prices stay roughly the same no matter the company you choose. So what's the difference? The journey time! Bus Eireann and AirCoach both stop at Dublin airport along the way, bringing the journey time to 2 hours and 20 minutes. Dublin Coach (my favourite!) is direct and will take you to Belfast in under 2 hours.
Where to Stay 2 Days in Belfast
You'll want to stay central near the City Hall if you're planning a short 2-day trip to Belfast. You will then be able to easily and quickly reach different parts of town on foot.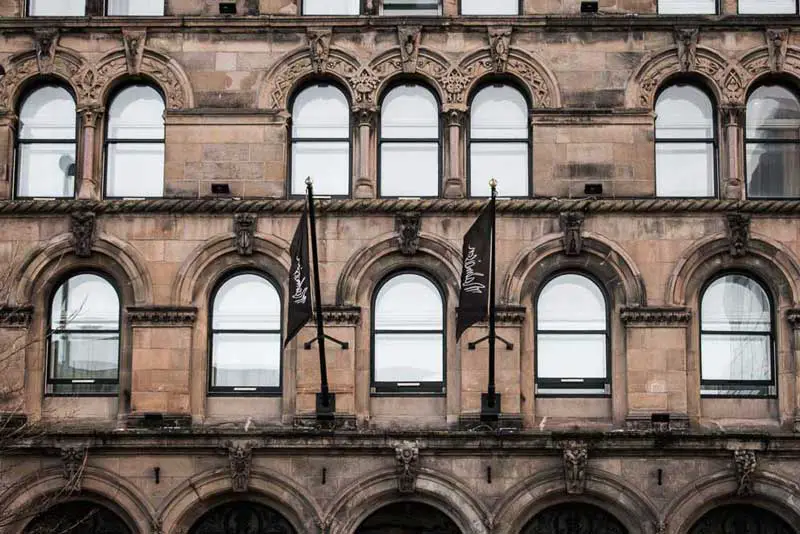 I stayed at the Malmaison Hotel, a 10-minute walk from Lanyon Place railway station and just around the corner from the main shopping district and the Cathedral Quarter's cobbled streets. A great location plus the hotel had loads of character. Check the latest prices or read my review to know more about this great hotel.
Centrally located, based in historic buildings and with good ratings, these hotels are also great recommendations for 48 hours in Belfast:
Need more info to help you find the best place to stay in the city ? Check out this guide to the best areas to stay in Belfast, or check these options below:
48 Hours in Belfast – Day 1 of Your Belfast Itinerary
You boarded a plane or a bus to Belfast the evening before. After a good night's sleep, you put on your best walking shoes, ready to explore the northern Irish city. This Belfast itinerary should help you make the most of your time there.
MORNING – The Queen's Quarter
The Queen's Quarter is a leafy part of town in the South of Belfast that you can reach in 15 minutes on foot from the city centre.
Breakfast in Maggie Mays
Start your day with a hearty breakfast in Maggie Mays in the pretty and posh Queen's Quarter. Very popular with students enrolled with Queen's University nearby, Maggie Mays has an extensive breakfast menu including pancakes and smoothies; great for stocking up on much-needed carbs before a busy day of exploration.
Botanic Gardens
Feeling stuffed? Now take a stroll in the shaded alleys of the Botanic Gardens, just across the road from Maggie Mays.
You'll discover the splendid Palm House, an early example of a Victorian glasshouse. It is home to lush vegetation towering high above you under a dome of curved iron and glass.
Enough of the tropical atmosphere? Take some time to refresh yourself in the Rose Garden where hundreds of species of roses paint the quiet alleys in red, yellow, pink, white and purple. Don't forget to take a peek inside the Tropical Ravine too, where more tropical plants await (closed on Mondays).
Botanic Gardens // Free // Stranmillis Road, Belfast
Ulster Museum (optional)
You'll find the elegant building of the Ulster Museum seating on the edge of the Botanic Gardens. Zip through its Art, History and Natural Science collections for free (closed on Mondays) if you fancy a bit of culture in your morning itinerary. Also, great to hide from the rain if needed!
Ulster Museum // Free // Stranmillis Road, Belfast
Queen's University
You must have seen it on your way to Maggie Mays. Now it's time to take a short tour of one of the most beautiful buildings in Belfast: the Lanyon Building of Queen's University.
Designed by Sir Charles Lanyon (the same guy who created the Palm House), it opened in 1849. The Gothic revival facade, typical of Victorian times, is certainly the most striking.
Pass the main door (don't be shy! I know, it's impressive) to access the atrium at the centre of the building. Colourful flower beds, perfectly maintained laws and benches shaded by trees await the visitor.
Queen's University // Free // University Road, Belfast
Lunch in The Barking Dog
Running low in energy? It might be time for lunch! The Queen's Quarter is not short on cool cafés and reputable restaurants. The Barking Dog, a gastropub located just a stone's throw away from the Botanic Gardens, serves fresh fish and a very tasty Irish roast chicken. If, like me, dessert is your inevitable downfall, let yourself be seduced by the delicious chocolate and peanut butter brownie with salted caramel ice-cream. We live only once, after all.
You might also be interested in:
– A Weekend Trip to Glasgow | A Culture Filled City Break for First-Timers
– 15 Sights In One Day | A Self-Guided Walking Tour Of Dublin
– 5 Incredible Reasons To Visit Newquay, Cornwall
AFTERNOON – Belfast City Centre
Head back to Belfast city centre and explore the city's main shopping district.
City Hall
Certainly the most photographed building in Belfast, City Hall is an architectural beast that dominates the city centre skyline. Completed in 1909, and later rebuilt after being bombed during WWII, City Hall features an impressive facade in Baroque revival style crowned with a green copper dome.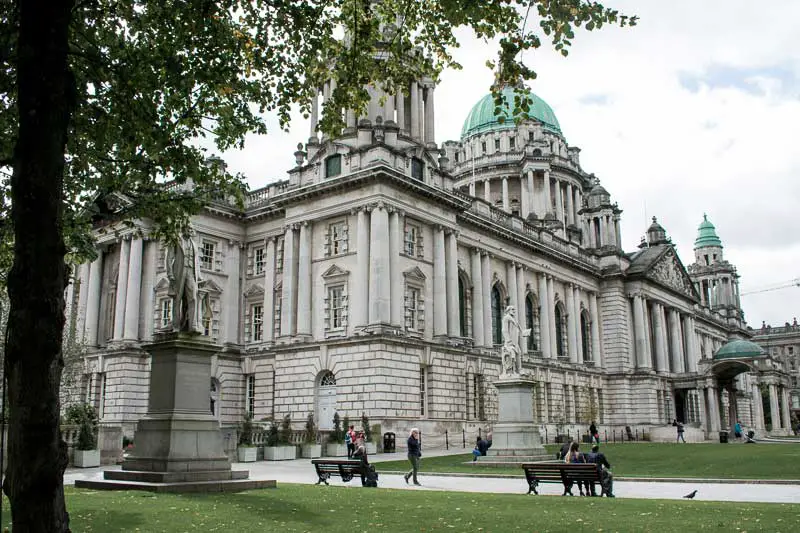 If the impressive exteriors were not enough, City Hall offers free guided tours of its interiors. Needless to say, I jumped on the opportunity! These are on a first come, first served basis. Show up at the reception desk well in advance to register. There are only 3 tours/day and the last one starts at 3pm.
On the tour you'll discover pillars made of very rare marble, Italian Renaissance style chandeliers and the portraits of the Lord Mayors who took up the top job along the centuries. Your expert guide will lead through different chambers, recounting the history of the building and sharing amusing anecdotes. You'll sit on the wooden benches of the Council Chamber before entering the great hall, featuring a remarkable curved ceiling and colourful stained-glass windows.
City Hall // Free // Donegall Square, Belfast
Victoria Square
Belfast city centre is your go-to place for shopping if you feel like changing your wardrobe. Along the city centre streets you'll find countless shops and shopping centres with all your favourite high street brands, the main one being Victoria Square.

Victoria Square shopping centre boasts nearly 100 shops and a cinema housed into a multi-storey building crowned by a massive glass dome. A lift will take you to the top floor just under the dome, where you can enjoy the view over Belfast's skyline for free.
EVENING – The Cathedral Quarter
As you head North towards Saint Anne's Cathedral, you'll soon reach one of my favourite parts of Belfast: the Cathedral Quarter. This neighbourhood is famous for the bars and restaurants lining its cobbled streets.
Dinner at Made in Belfast
What could be more suited for 2 days in Belfast than having a meal at a place called Made in Belfast! Two things to know about this place. First, the products are locally and environmentally sourced. The food is actually amazing, one of the tastiest burgers I've ever had! Second, the quirky interior made from antiques and second hand furniture rescued from skips is fascinating. Sitting on my vintage chair, I couldn't take my eyes off a life-sized red ostrich!
The Bars and Murals
As you stroll around the Cathedral Quarter's cobbled streets, you may have a hard time picking a bar to unwind in after a long day of exploring. Maybe you'll want to sit on the red benches of Commercial Court, the most instagrammable street of the Cathedral Quarter. Or you'll prefer to enjoy Irish music and the great beer garden of the Dirty Onion, one of Belfast's oldest buildings.
While you're making up your mind, keep an eye open for the colourful and humoristic murals painted all around the neighbourhood.
48 Hours in Belfast – Day 2 of Your Belfast Itinerary
It's going to be a busy morning, so head out early after a quick breakfast at your hotel.
MORNING – The Titanic Quarter
2 days in Belfast wouldn't be complete without stopping by what is now a world-renowned attraction: the Titanic Museum.
How to Get to the Titanic Museum
Built on the site of historic shipyards, the museum is only a 20-minute walk from Belfast city centre, with interesting landmarks to see on the way. The easiest way to get to the Titanic Museum is to use the Lagan Weir footbridge spanning the Lagan River from Donegall Quay.
As you head towards the bridge, the first monument to look for is the Albert Memorial Clock, towering high over Queen's Square. The clock tower was built in Gothic style in the 1860s as a memorial to Queen Victoria's husband, who had recently died aged 42.
Another beautiful building not to be missed nearby is the 19th century Custom House. Charles Lanyon (Him! Again!) designed it. On the steps to the main entrance, you'll find a statue called The Speaker, a reminder that this corner of the square was a popular spot for public speaking.
Beside the footbridge you'll certainly notice the Big Fish, a Modern Art sculpture found on Donegall Quay. If you get close enough, you'll see that the mighty blue fish is covered in ceramic, decorated with texts and images recounting the history of Belfast.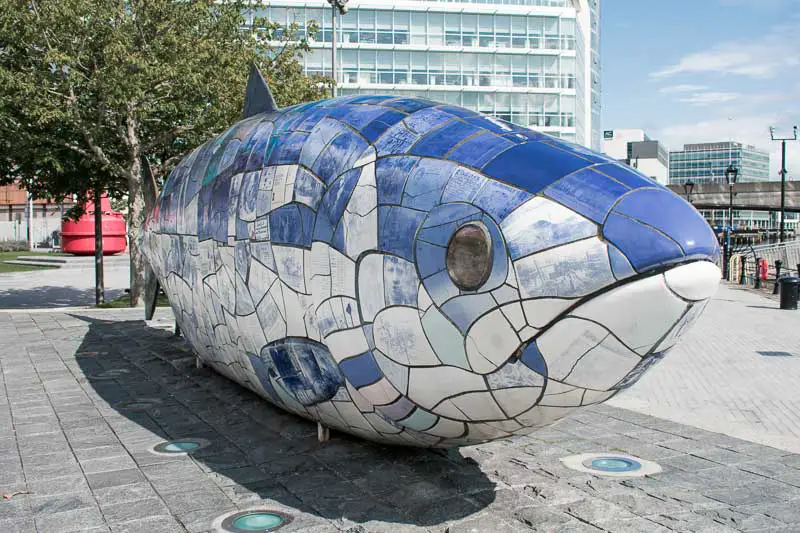 Once on the other side of the Lagan Weir bridge, take a left turn and follow the river upstream. You'll soon arrive at the SSE Arena Belfast, an indoor stadium and concert venue. As you reach the Marina, the Titanic Museum's distinctive shape will soon appear in the background. Another 5 minutes and you are there!
Things You Need To Know Before Your Visit
Book in advance to avoid waiting. You'll be allocated a time slot and you need to be there on time. If you buy your ticket on the day of your visit, you'll have to wait until the next available slot. It could be 15 minutes, 1 hour or even more.
It's going to take you a while to go through the entire Museum. I spent 3 whole hours inside the massive building, and I didn't get bored for a single moment. My advice: book an early slot if you plan to see more of Belfast later during the day.
Tickets are expensive. At £19 for an adult, the Titanic Museum is a costly attraction. Is it worth it? I believe so, there is a lot to see and discover. Plus, the ticket includes a visit of SS Nomadic, so allocate another 20 to 30 minutes to explore the Titanic's tender used to bring passengers onboard when calling at Cherbourg, France.
It is a self-guided tour and even though the visit is very interactive, there is quite a lot to read.
What Will You See Inside the Titanic Museum
The Titanic Museum is not only about the Titanic, but also the city of Belfast itself.
The exhibition first recounts the remarkable industrial history of Belfast, its extraordinary growth during the 18th and 19th centuries, but also the less than enviable living conditions of its population. The Museum centres then on Belfast's successful shipbuilding industry, which shaped the city and the Lagan river to fit its needs.
You'll discover how the Titanic came to exist and the engineering prowess that led to its completion in 1912. You'll descend into the roaring belly of the beast and admire the exquisite interiors of the 1st class cabins. You'll be amazed to know how much food and linen were stocked onboard to look after its 1317 passengers.
You'll hear about personal stories, from the rich and famous returning to the US after a trip to Europe to poor immigrants hoping to start a new life on the other side of the Atlantic.
You will then retrace the Titanic's dramatic last moments as distress messages are sent, the ship sinking into the freezing water. You'll listen to survivors recounting the long wait onboard the few lifeboats before the first ship finally arrived to rescue them.
The exhibition also reveals the confusion around the death toll, the press vying for a good story, but also the improved safety measures born out of the tragedy.
Lastly, you'll dive into the deep ocean to explore what is left of the Titanic, from the safety of your seat, of course.
Titanic Belfast // 1 Olympic Way, Queens Road, Belfast // Book your ticket early here.
LUNCH – St George's Market (weekend only)
There's so much to see that a visit to the Titanic Museum can leave you slightly drained. To restore your energy level, why not make a short detour to the lively St George's Market on the way back into Belfast city centre.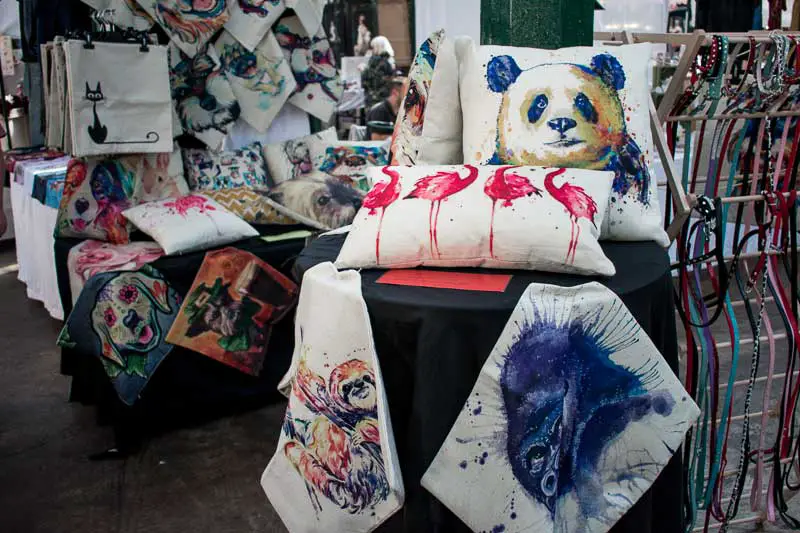 On Saturdays and Sundays, this late 19th century indoor market is home to a food and craft market. Local producers gather under the old glass roof selling homemade sandwiches and moist cupcakes, simmering soups and many other sorts of tasty food.
Stroll around the busy maze-like alleys of St George's Market and you might find an old print or locally made craft to bring home. As you wander between stands of colourful vegetables, a sudden burst of music might attract your attention. At the centre of the market, a local band has just started to play folk music now surrounded by enthusiastic shoppers clapping along.
If visiting during the week, award-winning Home in the city centre is a great alternative for a tasty, healthy lunch at a moderate price. On the menu, fish, burger and vegan options served in a modern interior of steel, wood and exposed cement walls.
AFTERNOON – Crumlin Road Gaol
A Victorian era former prison, Crumlin Road Gaol is a grim but enlightening piece of history to add to your Belfast itinerary. Located only a 15 minutes walk from the city centre, the former jail is easily accessible on foot.
Book online at least a day in advance to secure a discounted price. The visit lasts around an hour and will take you through different parts of the building, from the oppressive tunnel leading to the old courthouse to the sinister execution chamber.
As you take a look inside the 150-year-old cells that kept Unionists and Republicans apart during the Troubles, it is Northern Ireland's complicated history that takes shape before your eyes. Overcrowded, Crumlin Road Gaol was a very dangerous place to be for prisoners and employees alike until its closure in 1996. As you walk through its empty hallways, you'll hear about fights between factions, bombing followed by retaliatory expeditions, protests and the only successful escape in its history.
Crumlin Road Gaol // 53-55 Crumlin Road, Belfast // Book your tour here.
48 Hours in Belfast | Recommended Guided Tours
Looking for a guided tour to learn more about Belfast history? Check out these recommendations:
Disclaimer: This post may contain affiliate links. If you click on a link, I earn a little money at no extra cost to you.
RELATED POSTS