9 Great Stops on the Dublin to Belfast Drive for the Best Road Trip
Embarking on a road trip is one of the best ways to experience the beauty and historical treasures of Ireland. With its lush landscapes, rugged coastlines, hidden beaches, heritage towns, and countless sites going back to 5,000 years ago, the Emerald Isle is an exciting destination to explore on your own as you take the wheel. While Dublin serves as a starting point for numerous road trips, notably around the scenic Co. Wicklow, one route lures visitors to the charms of the North: the Dublin to Belfast drive.
I have a particular fondness for historic Belfast and highly recommend a visit to this remarkable city, which I've had the pleasure of visiting many times. However, the journey from Dublin to Belfast is not just about the destination; it's about the extraordinary places you can explore along the way. From popular coastal towns near Dublin to incredible manor houses sitting on the shore of Strangford Lough, the east coast of Ireland, though often less crowded than the west, is equally enticing.
So, fasten your seatbelt. Here, I'll provide you with important tips to prepare for your road trip and share a curated selection of the best stops on the Dublin to Belfast drive. Get ready for an unforgettable drive up North, filled with incredible sights and fascinating history.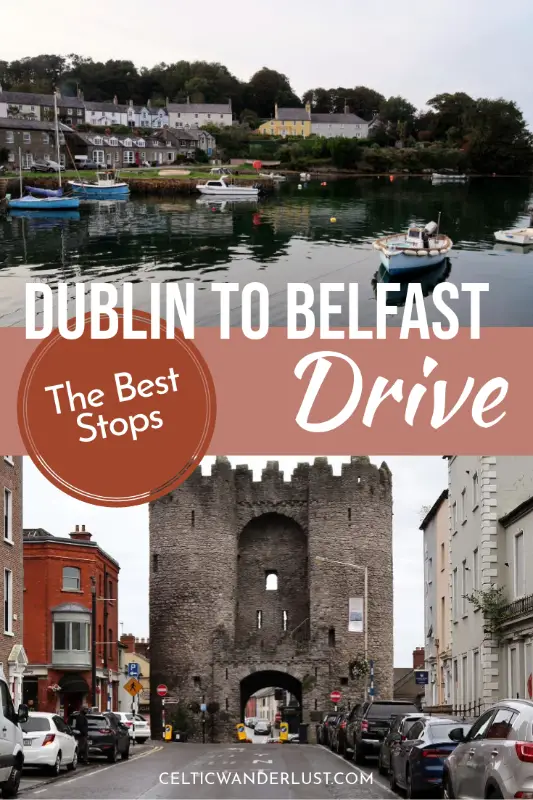 Disclaimer
This post may contain affiliate links. If you click on a link, I earn a little money at no extra cost to you.
Essential Tips for Planning Your Dublin to Belfast Road Trip
Getting There | I always fly in and out of Dublin with Aer Lingus or Air France, my favourite airlines.
Renting a Car | You can easily rent a car at Dublin airport. For the best deal, I use comparison site rentalcars.com.
Travel Insurance | Buy travel insurance with Heymondo; its nifty app will help you get the assistance you need while on the go.
Driving from Dublin to Belfast: Planning your Road Trip
Let's begin with some recommendations to ensure your Dublin to Belfast drive is a success.
Don't Forget to Bring Your Driving Licence & Documentation
First thing first. If you're planning to explore Ireland by car, do not forget to pack your driving licence, and ensure it's valid throughout your stay. The good news is that if you hold a driving licence issued by an EU/EEA member state, there's no need to request an international driving permit before going on your Irish road trip. US travellers can also hit the Irish roads with their full US driving licence during their stay.
EU citizens have the convenience of travelling throughout Europe using their national identity cards, and this includes the Republic of Ireland. However, post-Brexit, things have changed when crossing into the UK. To enter the UK, including Northern Ireland, a passport is now required. It's worth noting that when driving from Dublin to Belfast, there's no physical border or passport check along the way. Nonetheless, it's advisable to carry your passport as you are officially crossing into a different country, and identity checks could still occur. 
Car Rental & Travel Insurance
When it comes to renting a car for your Dublin to Belfast journey, Dublin Airport is your go-to location. Major car rental brands have desks there, offering convenience and a wide range of vehicle options. However, it's essential to plan ahead and book your rental in advance, as last-minute bookings can be costly. To secure the best deal, I highly recommend comparing prices on platforms like rentalcars.com, which lists all the main rental companies.
Keep an eye out for age restrictions, check the type of car insurance on offer, and confirm the accepted payment methods, as not all rental companies accept debit cards over credit cards. Additionally, for insurance purposes, it's crucial to inform the rental company that you intend to travel to Northern Ireland, so you can hit the road worry-free and fully covered.
Finally, consider travel insurance when visiting Ireland. Heymondo provides customizable coverage and a handy assistance app for peace of mind during your journey.
Maps & Navigation
Driving from Dublin to Belfast is relatively straightforward (as we'll see below), but when venturing off the motorway to explore specific destinations, you may encounter small and (sometimes) confusing roads. The winding roads of the Boyne Valley, although wonderfully charming, can be rather stressful, I must confess!
To avoid getting lost, it's advisable to have a GPS or a navigation app on your phone. If you ever need one, Google Maps is a dependable choice that I can recommend for its accuracy. 
Dublin to Belfast by Car: What to Expect?
What should you expect once you are on your way to Belfast? Let's have a look!
How Far Is Dublin to Belfast?
Dublin is approximately 170 km (105 miles) from Belfast. The drive is quite straightforward, as you'll follow the M1 motorway from Dublin, which becomes the A1 once you enter Northern Ireland, leading directly to Belfast. This well-maintained road ensures a smooth journey, and you can expect to reach your destination in roughly 2 hours, provided you don't make any stops along the way.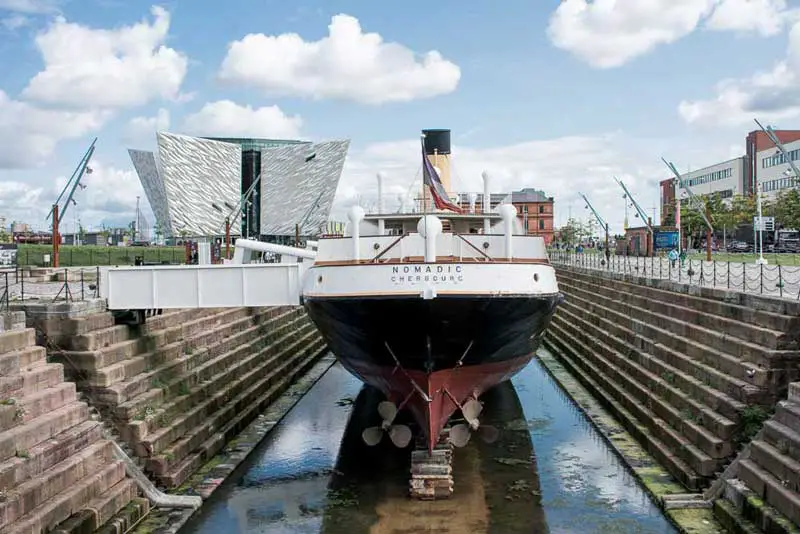 Toll and Service Stations
The M1 motorway is a tolled road. However, the toll fee is very affordable, costing just a few euros, which is notably cheaper compared to tolls in many other European countries like France. Payment methods are convenient as well; you can either pay in cash if the toll booth is manned, or just tap your payment card! Easy!
Along the route, you'll come across multiple service stations where you can refuel your car, grab a quick snack, or take a break. For electric car drivers, it's worth noting that there are also charging stations available, like at the Castlebellingham service station, located just before Dundalk.
No Border Check
As previously mentioned, there's no hard border between the Republic of Ireland and Northern Ireland, which means no passport checks are carried out when crossing. The only noticeable change is the signage, most notably the speed limit now being displayed in miles per hour as you enter Northern Ireland. I was rather relieved to see my GPS showing both miles and kilometres, as I'm not great with maths.
You might also be interested in:
– Gardens to Visit in Wicklow | 5 Botanic Havens to Explore
– Where to Stay in County Wicklow | The Most Charming Towns & Areas
– A 3-Day Epic Wicklow Road Trip Itinerary
Where to Stop on the Dublin to Belfast Drive?
Dublin and Belfast stand as two historic cities that no visitor to the Emerald Isle should overlook. However, embarking on a road trip between these two capitals opens up opportunities to explore even more captivating destinations along the country's underrated East coast.
Howth, Co. Dublin
As I have already told you in my previous posts about Dublin, the fishing village of Howth is undeniably one of the city's most popular and worthwhile destinations. It would be a missed opportunity to depart from Dublin without experiencing its charm. Situated just north of the Irish capital, Howth can be your very first stop on the Dublin to Belfast drive.
With quality restaurants huddled around its picturesque harbour, Howth is the perfect location for a tasty lunch before hitting the road. Seafood enthusiasts, in particular, shouldn't miss the chance to savour the fresh ocean delicacies Howth is famous for.
But most of all, take the time to pay a visit to one of Dublin's most charming lighthouses. Positioned at the tip of a protective pier embracing the harbour, this 19th-century lighthouse features a distinctive red door and flowered window sills, creating a postcard-perfect backdrop for your photos. It also provides the best vantage point for admiring the panoramic views of the rugged coastline and the distant bird sanctuary known as Ireland's Eye.
Malahide, Co. Dublin
The historic coastal town of Malahide offers another excellent option for lunch before getting behind the wheel to Belfast. Its Main Street boasts numerous cafés, restaurants, and pubs with terraces spilling onto the sidewalks for al fresco dining during the summer.
However, Malahide is most renowned for its 800-year-old castle, a true architectural jewel on Ireland's East Coast. Once the residence of the Talbot family, Malahide Castle stands as an extraordinary example of a castle inhabited by the same family for eight centuries, and closely intertwined with Ireland's history. Taking a guided tour of this historic house is a must, especially if, like me, you share an enthusiasm for 18th-century rococo decor, grand halls adorned with family portraits, all under a towering wooden ceiling with exposed beams.
Be sure not to miss exploring the castle's walled garden as well, a distinctive feature of former aristocratic houses, that often harbours exotic plants brought back from every corner of the world.
Skerries, Co. Dublin
On a warm summer day (yes, those do occur in Ireland too), it can be quite tempting to make a short stopover in Skerries, one of Dublin's best coastal towns, located just over 30 kilometres north of the city.
Skerries is a local favourite for its expansive sandy beach, complemented by picturesque windmills in the background, adding to its laid-back charm. If you've built up an appetite, no need to worry – a row of charming restaurants and ice cream parlours line the street running alongside Skerries' quaint harbour to the north of the beach.
And if you find yourself wanting to stay a few more hours in the area, just beyond Skerries lies Ardgillan Castle, an 18th-century country-style mansion. Here, you can freely explore its magnificent gardens, seek out fairy doors hidden in the woods, or simply soak in the majestic views over the Irish Sea from the rear of the house.
The Boyne Valley
The Boyne Valley is one of my all-time favourite regions to explore in Ireland. Numerous historical events happened in this area that boasts a wealth of heritage sites, making it a must-visit for anyone with a deep interest in Irish history and Celtic mythology. Even if you're just passing through en route to Belfast, be sure to make time for at least one of these remarkable sites. 
Brú na Bóinne, Co. Meath
Located just a 10-minute drive from the motorway, the 'Palace' of the Boyne is easily accessible on your way to Belfast. However, it's essential to book your visit in advance and allocate at least 2 hours for the tour, as only small groups are guided through this one-of-a-kind Neolithic site.
At Knowth, you'll find spirals, diamonds, and wave-shaped symbols carved onto the flat surfaces of massive stones encircling the tomb. Their meaning still cloaked in mystery, the carvings are an intriguing introduction to a mysterious journey through the 5,000-year long history of Brú na Bóinne.
The guided tour culminates with a truly remarkable experience as you enter the famous Newgrange tomb through a narrow tunnel, leading to a cross-shaped chamber at its centre. Under a perfectly sealed corbelled roof that hasn't seen a single rain drop for the past five millennia, a beam of light, mirroring the winter solstice, penetrates the chamber, briefly dispelling the surrounding darkness. This astonishing phenomenon is certainly one of the most mystical experiences you'll get to live during your time in Ireland.
Drogheda, Co. Louth
While it's just a short drive from the M1, Drogheda may not be on the radar of many tourists, yet this historic town situated along the banks of the River Boyne has a wealth of fascinating stories to share and is well worth a visit.
I must admit that not everyone will be enamoured with Drogheda's somewhat rugged cityscape, which bears the marks of a long and captivating industrial history. Nevertheless, I found myself captivated by the old town's atmosphere as I wandered its bustling streets, even on a somewhat gloomy summer day. As a fan of medieval architecture, I was particularly thrilled to stumble upon St. Laurence's Gate, an exceptional 13th-century barbican that still stands today.
Drogheda's main streets conceal more treasures, including the splendid 19th-century St. Peter's Church, where you can find St. Oliver Plunkett's shrine, and the Highlanes Gallery, an art gallery housed within a former 19th-century Franciscan church that offers free admission. Along West Street and Laurence Street, an array of cafés, restaurants and pubs awaits, providing ample options for refuelling before getting back on the road.
Battle of the Boyne Visitor Centre, Co. Meath
Once again, the Boyne Valley offers a convenient stopover opportunity for those on a Dublin to Belfast road trip, just minutes from the motorway. For those familiar with the Battle of the Boyne, the largest battle ever fought on Irish soil, this place should be on their must-see list.
Oldbridge House, an exquisite example of an 18th-century Palladian-style mansion, stands today near the historic battlefield. The grand house hosts an engaging exhibition dedicated to this momentous event of 1690 that includes a short film re-enacting this key moment in Anglo-Irish history.
Oldbridge house is not all about the Battle of the Boyne though. Within its vast grounds lies a magnificent walled garden with meticulously manicured edges, colourful flower borders, a sprawling orchard, and a unique octagonal sunken garden featuring centuries-old yew trees. Access to the estate is free (though there may be a fee for the exhibition), and those with a sweet tooth or in no rush to reach their final destination will be enticed by its café as its large bay windows allow full views over the walled garden.
Carlingford, Co Louth
My next stop on the Dublin to Belfast drive is one of my favourite heritage towns in Ireland – Carlingford. Located approximately 30 minutes from the M1, after passing Dundalk, this little town is a picturesque getaway on the shores of Carlingford Lough.  
While its name derives from Scandinavian, Carlingford was settled by Anglo-Norman invaders in the 12th century. This historic town boasts a rich architectural heritage, complete with a ruined fortress (access via guided tour) and abbey, fortified townhouses, gates and protective walls. Carlingford's medieval remains can still be admired today as you stroll around its lively streets, flanked by colourful houses, restaurants, and pubs.
There are many things to do in Carlingford, but outdoor enthusiasts will especially enjoy the town's remarkable location. Nestled at the foot of Slieve Foye, Carlingford is a haven for hikers, offering numerous trails leading to the mountain's summit. The most tenacious will be rewarded with breathtaking panoramic vistas over the blue waters of Carlingford Lough and the Mourne Mountains in the distance. So don't forget to bring your hiking boots if you want to enjoy the view!!
Castle Ward, Strangford, Co. Down
An hour's drive from the Dublin to Belfast motorway, this stop will take you on a somewhat lengthy detour to the eastern part of Northern Ireland. Nevertheless, it's a worthwhile visit for fans of the Game of Thrones series and admirers of 18th-century grand country houses alike. Within the sprawling grounds of the Castle Ward estate, you'll discover a splendid manor house surrounded by a landscaped sunken garden, and a farmyard presided over by a 16th-century tower house, which served as a filming location for Winterfell.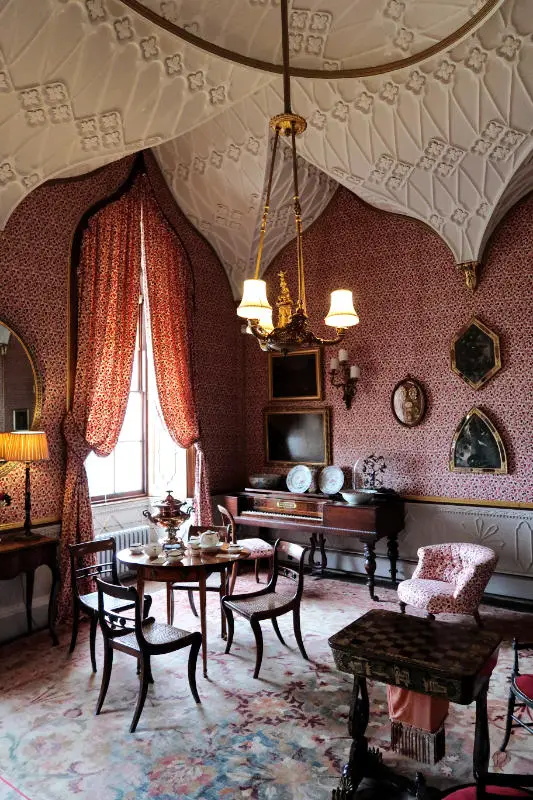 Built on the shores of Strangford Lough by Lord Bangor, Castle Ward boasts a distinctive dual architecture, reflecting the conflicting design preferences of the lord and his wife. The front of the house adhered to the classic Palladian style in vogue at the time and favoured by Monsieur, while the rear of the house was built in the Gothic style more pleasing to Madame. This architectural duality persists within the house itself as you wander between its front and back sections.
Within the vast Castle Ward estate, several walking trails criss-cross the grounds, offering hours of exploration. For those eager to discover Game of Thrones filming locations, be sure to make Old Castle Ward your first stop. Here, you'll find a tower house (that you can climb) surrounded by farm buildings that served as the backdrop for several scenes in the series, including Bran's fall and King Robert's arrival at Winterfell.
Mount Stewart, Co. Down
Simply put, Mount Stewart blew me away. This splendid 19th-century manor house and its sumptuous gardens, situated just a half-hour drive east of Belfast, were a feast for the eyes. If your journey north hasn't been too taxing, I strongly recommend taking a detour to Mount Stewart. It's an opportunity to explore this marvellous estate from a bygone, aristocratic era.
The interior of the house owes much of its incredible decor to Edith, Lady Londonderry, who breathed new life into the residence when she arrived at Mount Stewart in 1921. In each luxuriously decorated room, knowledgeable National Trust volunteers are on hand to provide visitors with eventful and sometimes astonishing tales about the property and its former inhabitants.
Lady Edith also undertook to redesign the estate's grounds, capitalizing on the mild climate to grow species from around the world in her whimsical garden. The Italian Garden is a breathtaking explosion of colours, while the meticulously groomed Sunken Garden is a true marvel. If you have a few hours to spend, trails guide visitors through the expansive grounds, where woodlands and even a lake can be found.
Where to Stay on the Dublin to Belfast Drive
If you intend to spend the night while driving from Dublin to Belfast, here are some suggestions of places to stay.
Where to Stay in Dublin
Nina's Hotel St George is situated just around the corner from the historic O'Connell Street and a mere 15-minute walk from Temple Bar. This boutique hotel is full of character, as it was once a townhouse in a neighbourhood favoured by Dublin's wealthy and aristocratic residents, and the little hotel has managed to retain some of this old-world charm. It's worth noting that the hotel is located in a less desirable neighbourhood, which results in slightly lower rates compared to accommodations on the south side of the Liffey.
The Temple Bar Inn enjoys an ideal city centre location, with all major attractions just a short walk away, including Trinity College, Grafton Street and Christ Church Cathedral. As its name suggests, this modern 3-star hotel is situated right in the vibrant Temple Bar area and is well-suited for those in a festive mood. It's also conveniently accessible from Dublin Airport via public transport, with a bus stop just a 3-minute walk away.
The Drury Court Hotel is a family-run 3-star hotel situated in an exceptionally desirable, safe, and central location in Dublin, known as the Creative Quarter. You'll enjoy easy access to Dublin's premier shopping district and major tourist attractions such as Trinity College, St. Stephen's Green, and Temple Bar. Plus, there's plenty of excellent restaurants and pubs to choose from, all right at your doorstep.
Not sure yet about where you want to stay in the city? Have a look at my guide on the best neighbourhoods to stay in Dublin for further insights, or check booking.com for more options.
Where to Stay in the Boyne Valley
The Scholars Townhouse Hotel, once a 19th-century monastery, has been delightfully transformed into a modern hotel while retaining some original features and its distinctive character. The hotel is situated right in Drogheda, so you will have no trouble finding dining options, thanks to the abundance of restaurants, cafés, and pubs in the old town centre.
The Boyne Valley Hotel is a 3-star establishment located within a converted 19th-century mansion, set amid a large and tranquil park. Situated on the outskirts of Drogheda, the hotel is a mere 10-minute drive from the motorway.
Where to Stay in Carlingford
Featuring a colourful facade, Mc Kevitts Village Hotel is a charming 2-star hotel nestled in the heart of Carlingford, complete with its cosy restaurant. You will find plenty of shops, cafés, and pubs in the neighbourhood, while Carlingford Castle is just a stone's throw away. 
Carlingford offers several B&B options, but I highly recommend choosing the Grove House B&B for your stay. Located just a 10-minute walk from the village centre, it's nestled in a quiet neighbourhood, ensuring a peaceful sleep. The house is exquisite, and the rooms are very comfortable. The hostess provides exceptional care to her guests and serves a delightful Irish breakfast.
Where to Stay in Strangford
If you decide to visit Castle Ward, Strangford is the ideal location for an overnight stay. This cute little town on the shores of Strangford Lough has the most picturesque surroundings, stunning views over the water, and a selection of restaurants located around its main square.
During my visit, I chose to stay at the Castle Apartment, situated in the heart of town. It's a beautifully cosy apartment on the ground floor of a period house, and it comes with a delightful courtyard for al fresco breakfasts. The owner has done a fantastic job in creating this comfortable accommodation, making it an excellent choice for a day (or more) in this scenic part of Northern Ireland.
Where to Stay in Belfast
If you want something central, the Malmaison Hotel is an excellent choice. This 4-star hotel is within walking distance of Victoria Square and the Titanic Museum. I stayed there for a couple of nights and I loved its boutique feel and intimate decor, creating the perfect ambiance for couples on a romantic getaway. The hotel is a beautiful listed building, a 19th-century warehouse with arched windows, and it has retained some of its original features, such as exposed beams that you can see in the bedrooms.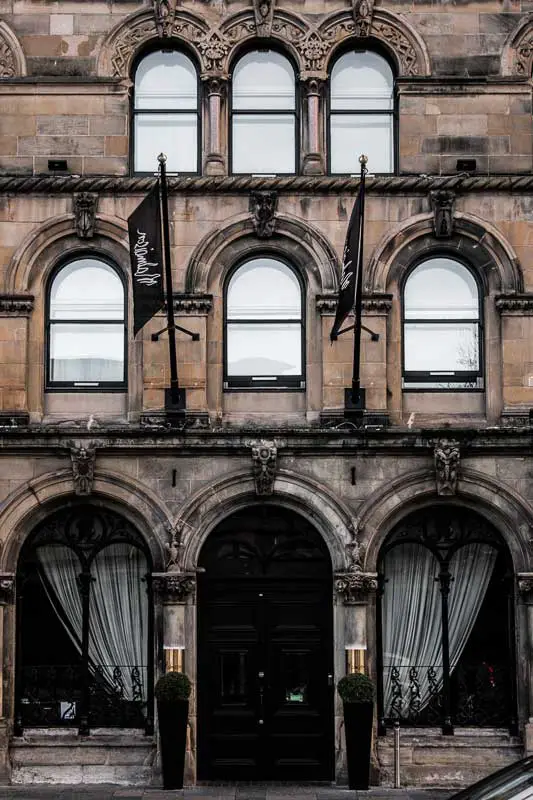 The Malone is a charming boutique hotel located within walking distance of the Botanic Garden in my favourite neighbourhood in Belfast, the Queen's Quarter. Housed in a beautifully renovated Victorian townhouse, the Malone exudes character. The Malone has its own on-site restaurant, which is very convenient after a long day on the road. Additionally, the hotel offers a complimentary car park.
The Titanic Hotel Belfast offers a unique and convenient experience as it's located right beside the Titanic Museum, making it the perfect choice if you are eager to explore Belfast' top attraction. This four-star hotel boasts a magnificent art deco interior and is set within a historic building, the former Harland & Wolff drawing offices, the company that built the Titanic.
Still unsure about your preferred location in the city? Check out my guide on the best areas to stay in Belfast for additional inspiration. Or check availability on booking.com.
I hope you'll thoroughly enjoy your Dublin to Belfast drive and take the opportunity to explore enchanting corners of Ireland's east coast. As you arrive in the capital of Northern Ireland, allow yourself enough time to discover this remarkable city. My suggestion is to stay for at least two days in Belfast. This city has some great attractions, but also an exciting food scene!
Disclaimer: This post may contain affiliate links. If you click on a link, I earn a little money at no extra cost to you.
RELATED POSTS