The 4 Best Areas to Stay in Belfast
I've been to Belfast many times and I love the way the city has opened to international tourism these past two decades. From great restaurants to lively bars and the world-renowned Titanic Museum, Belfast has transformed itself into a must-see travel destination. 
What are the best areas to stay in Belfast then? Four neighbourhoods are especially worth exploring: central Belfast, the Cathedral Quarter, Queen's Quarter and the Titanic Quarter. Depending on what you have planned to do and see in Belfast, I would suggest to book your accommodation in one of those locations.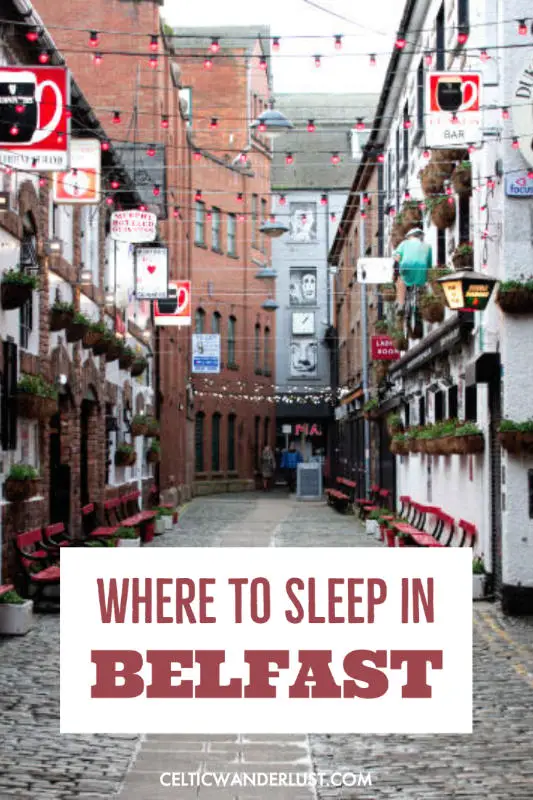 Disclaimer
This post may contain affiliate links. If you click on a link, I earn a little money at no extra cost to you.
Best Resources to Plan Your Visit to Belfast
Getting There | Catch a flight to Belfast with EasyJet from all 3 major London airports. If travelling from further afield, look for the best deals on Skyscanner. From Dublin, book online your train ticket with Irish Rail. Or travel by bus with Dublin Coach.
Where to Stay | Check booking.com for the best deals on accommodation, or read the latest reviews on TripAdvisor.
Planning | Lonely Planet's Ireland has always been one of my favourite travel guides. The Rough Guide to Ireland is also a great pick if you're planning your own DIY trip.

Travel Insurance | Don't forget to buy travel insurance before travelling to Northern Ireland. Heymondo has a nifty app to help you get the assistance you need while on the go.
Central Belfast | The Best Area to Stay in Belfast for First-Timers
Central Belfast is definitely the most convenient location to stay in the city, especially if arriving by public transport. Visitors travelling by bus will arrive at Belfast's Europa Buscentre, the city's central bus station. It is also the last stop for the airport shuttle bus. Great Victoria Street railway station, one of the two main train stations serving Belfast city centre, is also centrally located. This is a big plus as you will get to your hotel in no time if you decide to stay in central Belfast.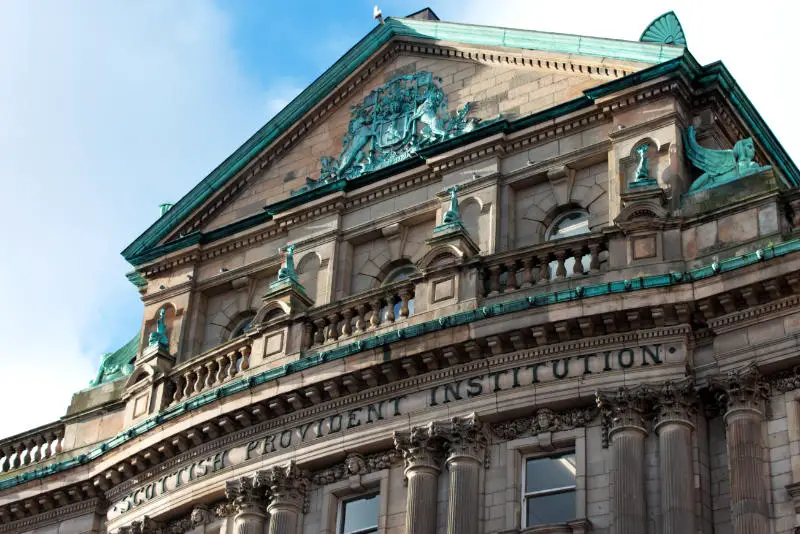 If travelling from Dublin though, be aware that your train will most certainly arrive in Lanyon Place railway station, Belfast's second train station. This station is located a 15-minute walk from the city centre on the eastern edge of central Belfast. Look for hotels available in the area, like the Malmaison, so you can drop your bags quickly.
Staying in central Belfast puts you right in the action. The area is famous for its sprawling shopping centre, Victoria Square, home to a hundred shops. More boutiques, cafés and restaurants can be found in the streets nearby. One of my favourite restaurants in Belfast, Home, on Wellington Place, serves tasty dishes, proudly making use of local and fresh ingredients. Check it out!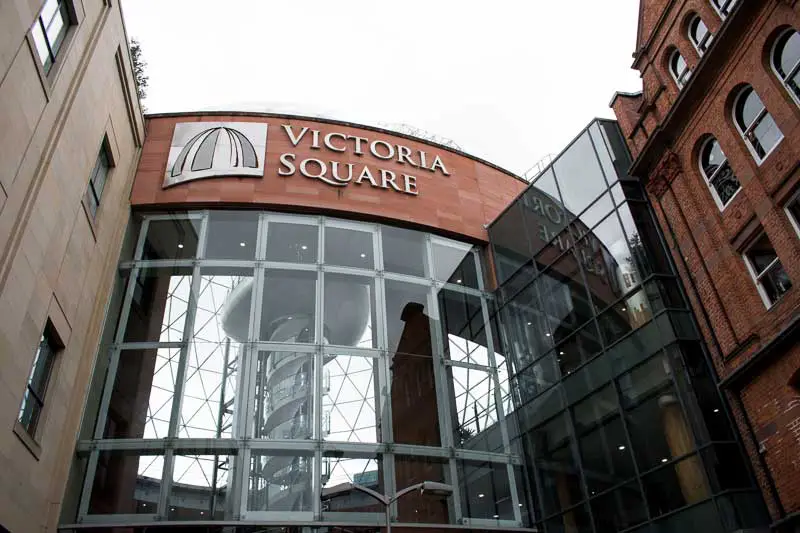 In the evening, mingle with the local crowd in bars and pubs. Historic pubs like the triangle-shaped Bittles Bar on Church Lane, or timeless Crown Liquor Saloon on Great Victoria Street, await your visit for a taste of the Northern Irish experience.
Central Belfast is also the area where you will find Belfast's magnificent City Hall, featuring a Baroque revival-style facade and a green copper dome. Taking a free guided tour of the historic building is highly recommended. If you visit Belfast in winter, the lively Christmas market will be waiting for you in front of the building.
Staying central will also allow you to reach on foot different neighbourhoods and attractions like the Botanic Gardens in the Queen's Quarter or the Titanic Museum in the Titanic Quarter. Check out how to visit Belfast in two days to know more.
Top-rated Hotels in Central Belfast
The Cathedral Quarter | Best Area to Enjoy a Night Out in Belfast
Named after St. Anne's Cathedral, Belfast's Cathedral Quarter has a very distinctive vibe that sets apart this neighbourhood from the rest of the city. During the day, its art galleries and colourful murals call for explorative walks along its quiet alley-ways, camera ready in hand.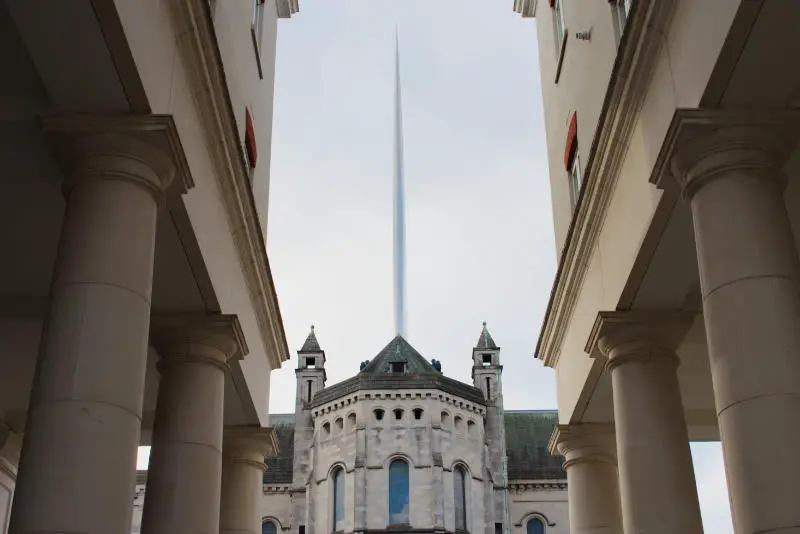 But at night fall, the whole atmosphere changes quickly. Home to numerous restaurants and bars, the Cathedral Quarter comes alive as people converge to the area to socialise and enjoy the best night out. Whether you prefer sweet cocktails or a pint of Irish stout, you will find your perfect place to chill out.
If you are hoping to experience Belfast's nightlife, the Cathedral Quarter is the place to be. The Dirty Onion, a pub that made one of Belfast's oldest surviving buildings its home, has live music events regularly on its calendar. But it's not the only one, just follow the music and take your pick.
From the Cathedral Quarter, you can easily reach nearby attractions like Crumlin Road Gaol, the Albert Memorial Clock and even City Hall in central Belfast.
Top-rated Hotels in the Cathedral Quarter
The Merchant Hotel: This luxurious hotel, based in a 19th century listed building, features rooms with marble bathrooms and rich draperies. Its restaurant offers fine dining under an impressive domed ceiling.
Ramada by Wyndham: This hotel has less character, but it is also more affordable, just a few minutes walk from the best bars.
Queen's Quarter | Best Area to Stay in Belfast for Couples
The Queen's Quarter is a neighbourhood on the southern edge of Belfast city centre. It owes its name to the Queen's University, simply known as Queen's, located in the area. 
Not as densely built as central Belfast, the Queen's Quarter is a leafy part of the city with a chill, studenty vibe. Although it is mainly residential, the Queen's Quarter is not without quirky cafés and tasty restaurants catering for the locals and the student population living in the area. Enjoy a meal for two on the terrace of the Barking Dog; their dessert menu is to die for.
One of the main appeals of the Queen's Quarter is certainly its Botanic Gardens. Visitors can freely roam its shaded alleys and visit its Victorian glasshouse full to the brim of lush vegetation. And you won't find a more romantic spot in Belfast than its colourful rose garden.
From art to history, the Ulster Museum, next door from the Botanic Gardens, has free exhibitions to explore while minutes away, the beauty of Queen's University architecture is unmissable. 
Seated on a near perfect lawn, its Lanyon Building is one of the most striking buildings in Belfast. Built in the 19th century in Gothic revival style, the Lanyon Building is a reminder that Queen's is one of the UK's most prestigious universities. 
But don't be intimidated by its grandeur. Free of its students in the summer months, its then peaceful courtyard is the perfect place to chill as you sit on a bench, undisturbed, surrounded by colourful flowerbeds and neatly cut grass.
If you decide to explore central Belfast, City Hall is a 20-minute walk from Queen's University, so nothing very strenuous.
Top-rated Hotels in the Queen's Quarter
The Malone: This charming boutique hotel is located within a former townhouse and has its own restaurant and pub to relax after a day out and about.
The Harrison Chambers of Distinction: This boutique hotel in a 19th century Victorian residence oozes luxury, character and romanticism. Moulded cornice, antique furniture and freestanding bathtubs will send you back in time!
Dukes at Queens: This magnificent period house close to Queen's University boasts modern and comfortable rooms, ideal for a romantic getaway.
The Titanic Quarter | Best Area to Stay in Belfast for Families
The rejuvenation of Belfast's old shipyards in recent years has boosted the city's international profile like no other project before. Named after the famous ocean liner which was built at that same location, the Titanic Quarter is now a hub of activities for families.
The Titanic Museum, that tells the tragic fate of the ocean liner, is no doubt the main attraction in the area. The world-famous museum has achieved the perfect balance between education and entertainment, so the experience can be enjoyed by the whole family. 
Kids will also love to roam the decks and corridors of the renovated SS Nomadic, Titanic's tender ship, or enter the belly of the HMS Caroline, a First World War-era warship also docked in the neighbourhood.
More action awaits at the W5, an interactive science centre with more than 250 exhibits for the whole family. Or buy tickets for a sport or music event to attend with your loved-ones at the SSE Arena also located in the area.
If visiting in winter, you might want to visit the SSE arena ice skating ring for some family fun. If ice is not your thing, why not try out skydiving! Vertigo, an indoor skydiving simulator, welcomes adults and kids alike.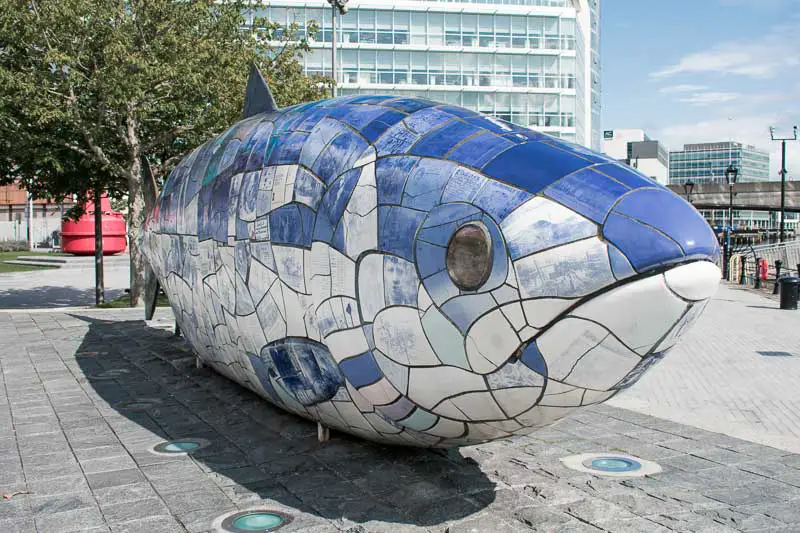 Central Belfast is located 30 minutes on foot away from the Titanic Museum. It is a nice and easy stroll along the bank of the River Lagan. As you make your way to the city centre, snap a picture or two at the Salmon of Knowledge and the Albert Memorial Clock.
Top-rated Hotels in the Titanic Quarter
Titanic Hotel Belfast: Located in the historic Harland & Wolff drawing offices, this fabulous and chic hotel with Art Deco interiors is situated right beside the Titanic Museum.
Premier Inn Belfast Titanic Quarter Hotel: This hotel conveniently located between the W5 and the Titanic Museum is affordable and offer family size rooms.
I hope this guide of the best places to stay in Belfast will help you find your ideal hotel. I recommend staying at least 2 days to make the most of your visit, as there is a lot to see and do in Belfast, I promise you.
Disclaimer: This post may contain affiliate links. If you click on a link, I earn a little money at no extra cost to you.
RELATED POSTS