Where to Stay in County Wicklow | The Most Charming Towns & Areas
Wicklow's lush and diverse landscapes, where historic houses are nestled amongst fertile botanic gardens, have firmly established this Irish county as one of my top destinations to explore in the entire country. This picturesque region, conveniently close to Dublin and easily accessible by public transport, offers an idyllic setting for a romantic getaway in the Irish countryside. So, if you're asking yourself where to stay in County Wicklow, I'm about to reveal my favourite spots.
As someone who has thoroughly explored the region, from its coastal towns to mountain lakes, I'm thrilled to share my top recommendations for places to stay in County Wicklow. Each town or area is accompanied by a list of must-see attractions nearby and a selection of hand-picked hotels that boast excellent locations and exceptional customer reviews.
Disclaimer
This post may contain affiliate links. If you click on a link, I earn a little money at no extra cost to you.
My Top Tips for Visiting County Wicklow
Stay by the Seaside in Bray
Bray is one of the best seaside towns near Dublin that offers both a chilled coastal atmosphere and the convenient proximity to the bustling heart of Dublin. If you're wondering where to stay in County Wicklow, Bray is a fantastic spot.
Bray's excellent location, less than an hour from Dublin by public transport, makes it an ideal base for exploring the Irish capital. Frequent departures from Bray train station make for an easy day trip to central Dublin, where you can enjoy all the best museums and attractions that the city has to offer. As you board the DART, make sure to grab a window seat so you can enjoy the amazing sea view along the way.
What sets Bray apart is its long pebble beach that stretches alongside the promenade. On warm summer days, you can take a refreshing swim or simply relax and unwind as you soak up the view in this once popular, although still charming seaside resort. You won't have to look long for a place to eat, as the town's seafront and Main Street are dotted with cafés and restaurants.
What's nearby?
Greystones, a vibrant seaside town that can be reached by the DART or on foot thanks to a scenic trail along the coastline.
Killruddery House and Gardens, a stunning and historic manor house set in beautiful gardens, no doubt one of the best things to do on the East coast of Ireland.
Powerscourt Estate, a magnificent garden sprawling at the foot of an 18th century mansion.
The Sugar Loaf, a popular hiking destination with breathtaking 360-degree views of County Wicklow.
Recommended Hotels in Bray
The Martello Hotel: Located on Bray's seafront, the Martello Hotel offers great sea views. Just a 5-minute walk from the train station, it boasts contemporary bedrooms and a bistro restaurant for relaxed dining.
The Strand Hotel: A boutique hotel with sea views, a bar and its own restaurant. This historic house was once owned by the famous Oscar Wilde.
Stay in the Wicklow Mountains in Historic Glendalough
At the heart of the picturesque Wicklow Mountains, Glendalough emerges as one of the most scenic destinations on this side of the country. The monastic settlement founded by St. Kevin, tucked at the foot of the Valley of the Two Lakes, stands as one of the most evocative and memorable sights in Wicklow. With such historic and natural wonders, it is not surprising that Glendalough appears to be an exceptional place to stay in Wicklow.
For hiking enthusiasts looking to make the most of the trails around the valley, opting for an overnight stay in Glendalough is a smart choice to make. After relishing an Irish breakfast, you can set off at first light and ascend to the summit, where sweeping panoramic views of the valley unfold before you.
While Glendalough's charm is undeniable, accommodation options are limited. Only a handful of hotels and charming B&Bs can be found in the area. Early booking is therefore essential if you want to experience an overnight stay in this amazing and mystic surrounding. There aren't many shops as well, but you will find a few dining options in the village.
What's nearby?
Glendalough monastic settlement, a former monastery and centre of power that attracted monks and pilgrims in the Middle Age.
Lough Tay, also known as the Guinness Lake, can be admired from a jaw-dropping viewing point on the side of road R759.
Mount Usher Gardens, a wonderful example of a lush, Robinsonian garden with over 5,000 plants.
Kilmaccuragh Arboretum, a 17th-century garden with extraordinary species from all over the world.
Recommended Hotels in Glendalough
Glendalough Hostel: A budget-friendly accommodation right next to the historic site of Glendalough. Dorms and private rooms are available.
The Glendalough Hotel: A 3-star hotel with a peaceful surrounding, around the corner from the monastic city.
Glendalough Glamping: Sleep in a pod with a view of the mountain, just a few minutes' drive from the heart of Glendalough.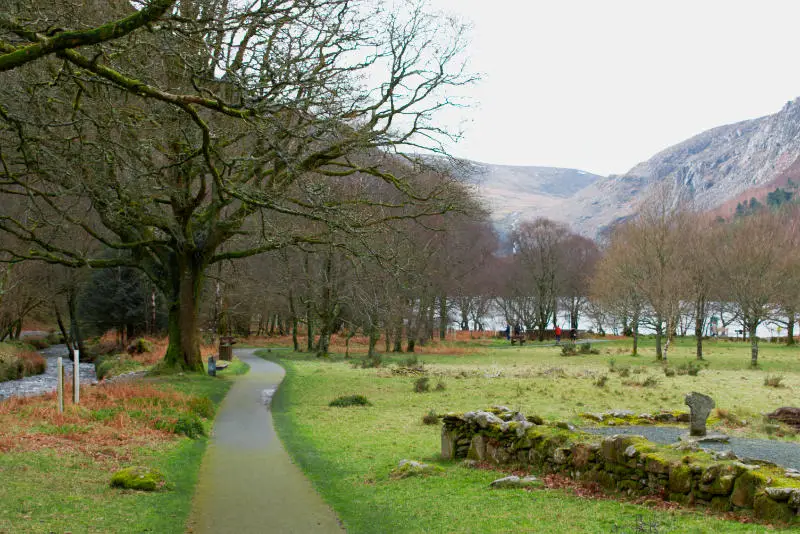 You might also be interested in:
– 7 Great Things to Do in the Boyne Valley, Ireland's Historic Heart
– Unique Things to Do in Carlingford, Ireland + Top Tips to Visit
Stay in Enniskerry, a Picturesque Retreat in Wicklow
The final stop on Dublin bus route 44, Enniskerry feels a world apart from the bustling city. This incredibly charming village, surrounded by fields and woodlands, stands out as one of the most picturesque places to stay in County Wicklow. Dominated by a mid-nineteenth-century Renaissance-style granite clock tower at its heart, Enniskerry is the picture-perfect Irish village for those seeking an authentic experience in Ireland.
What makes Enniskerry even more inviting is its collection of independent shops and cosy cafés to unwind, while a handful of intimate and character-filled hotels make for the perfect countryside retreat. Booking in advance is recommended, as rooms are in short supply. Alternatively, for those seeking a more lavish experience, the grand Powerscourt Hotel awaits; this opulent 5-star accommodation and spa on the edge of Enniskerry has nearly 200 luxurious rooms available.
Wonderfully quaint and idyllic, Enniskerry is also the perfect base for exploring the awe-inspiring Powerscourt Estate, one of the finest gardens to visit in Wicklow and across Ireland. Located a mere 10-minute stroll from the village, the sprawling estate is easily accessible on foot.
What's nearby?
Powerscourt Estate, a 47-acre wide estate with a Japanese garden, ornamental lakes, a walled garden and more.
Kilruddery House and Gardens, a manor house from the 17th century with a magnificent 19th century orangery.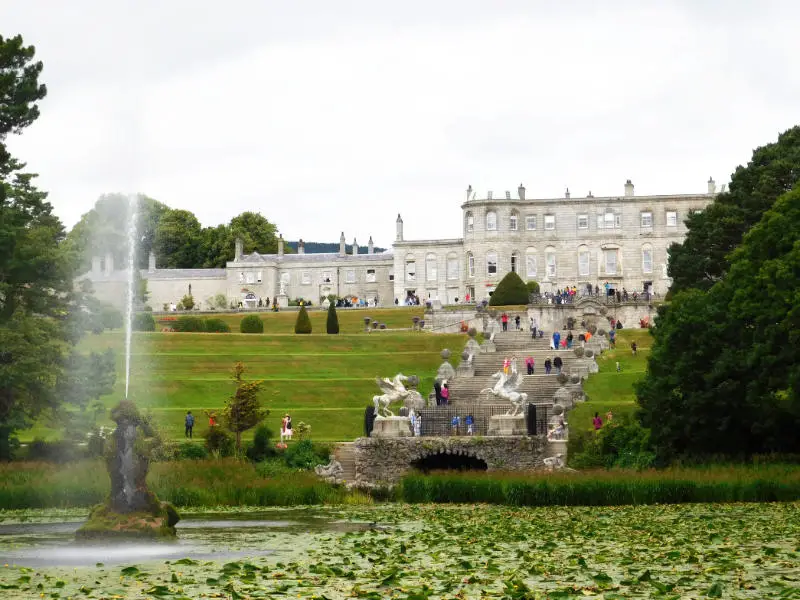 Recommended Hotels in Enniskerry
The Powerscourt Arms: A historic country house in the heart of Enniskerry with its own restaurant.
The Summerhill House Hotel: A delightful 4-star country house on the edge of the village; some rooms even have scenic views over the surrounding countryside.
The Enniskerry Inn: A traditional village pub offering a few ensuite bedrooms for a truly Irish experience.
Stay Off-the-beaten Path With the Blessington Lakes 
Tucked away in the West of County Wicklow, far from the more frequented tourist routes, the Blessington Lakes offer an alternative place to stay for travellers seeking a tranquil escape from mass tourism. Besides, this overlooked part of Wicklow is easily accessible by car, thanks to a rather straightforward, 45-minute drive from Dublin Airport.
The scenic Lake Drive surrounds the Blessington Lakes, Ireland's largest man-made reservoir built in the early 20th century. As you navigate the narrow and winding road with the majestic Wicklow Mountains as your backdrop, consider making a pit stop at DJ Cullen Lake View Lounge to enjoy some food al fresco. This pub, uniquely perched on the hill overlooking the waters, offers the opportunity to admire the most breathtaking panoramic views of the lakes. If you're contemplating a road trip around Wicklow, be sure to include the Lake Drive on your itinerary, promising moments of awe as you take in the scenery along the way.
In proximity to Blessington, you'll discover the exquisite Russborough House, an 18th-century Palladian-style manor that stands as a testament to the classic architecture very much in vogue at the time. The well-preserved Baroque and Rococo interiors, adorned with intricate plasterwork and antique pieces of furniture, transport visitors to a bygone era. This magnificent aristocratic residence is very much worth a visit, one of the best places to visit in Wicklow.
Sitting on the edge of the lakes, the town of Blessington itself boasts a few shops, pubs, and restaurants where you can grab a bite. Additionally, you will find a supermarket for any necessary emergency purchases.
What's nearby?
Russborough House, an 18th century Palladian-style house, former residence of art collectors Sir Alfred Beit and his wife.
June Blake's Garden, a contemporary and intimate garden set around a Victorian cottage.
Recommended Hotels in the Blessington Lakes' area
Tulfarris Hotel: a 4-star luxury retreat with an 18th-century manor house, fine dining and its own golf course.
Abhainn Ri Farmhouse: a cosy B&B with a warm, cottage feel and amazing lake view.
Baltyboys Lodge B&B: a modern and comfortable house with a large garden, overlooking the lakes.
Known as the garden of Ireland, Wicklow is truly a wonderful county to explore in depth, with gardens, beaches, manor houses, monasteries and much more to uncover. If you are planning to spend time in the area, I hope this guide on where to stay in County Wicklow will help you figure out the best place for your visit. Happy travelling!
Disclaimer: This post may contain affiliate links. If you click on a link, I earn a little money at no extra cost to you.
RELATED POSTS