Your Essential Travel Guide to Brittany | What You Need to Know
Brittany, or "la Bretagne!" as the locals proudly announce, is not solely about the food. I know, I can't resist the sweet smell of bakeries every time I revisit to this splendid region of France. However, let's not talk about my weakness for buttery almond croissants (with melting chocolate inside) and crêpes. Instead, let's return to this travel guide to Brittany.
Even after the union of the Duchy of Brittany with the Kingdom of France in the 16th century, Brittany has never stopped nurturing and promoting its distinct cultural identity. For visitors, this translates to peculiar place names with a lot of K's, unique architecture, and historical wonders in every town and village, music festivals where traditional and modern music collide. And, of course, culinary exploits that send you home with a little extra weight around the waist.
Sprinkle on top of it some breathtaking views of an incredible diverse coastline, enjoyed by hikers, surfers, beach-goers, and fellow lighthouse enthusiasts like myself, and you will want to return to Brittany time and time again.
Disclaimer
This post may contain affiliate links. If you click on a link, I earn a little money at no extra cost to you.
What Is Brittany?
Brittany is an Atlantic-facing region located in the westernmost part of France, boasting over 2,000 kilometres of coastline. Once an independent duchy, it became part of the Kingdom of France in 1532. It is divided into 4 "départements" (Finistère, Côtes-d'Armor, Morbihan, and Ille-et-Vilaine). Historically, the Duchy of Brittany extended as far as the "département" of Loire-Atlantique, and there are ongoing calls and petitions for it to rejoin the other four, thus reviving historic Brittany.
How to Get to Brittany
Nantes and Rennes are Brittany's main airports, followed by Brest, Quimper and Lorient, connecting Brittany to various destinations within France and select (though not all) European cities. If you're travelling from outside Europe, you may have to fly into Paris first and then catch a connecting flight to Brittany.
Brittany is also well-connected to Paris by train. With hourly departures from the French capital, you can be in Rennes in just 90 minutes. However, the journey all the way to Brest, passing through Morlaix, will require a lengthier 4 hours. Same thing if you're going to Quimper while you'll be in Nantes in approximately 2 hours.
Low-cost bus companies like Blablacar Bus will also take you from Paris to Brittany's main cities, but be prepared to spend long hours on the road (5 to 6 hours to Nantes or Rennes). If you're opting to drive, well-maintained motorways will lead you all the way to Brest. Just remember to take regular breaks; it is a long road!
Another option I tested myself is the ferry. I embarked from Cork in the south of Ireland for a night long crossing to Roscoff. From the south of England, ferries connect Plymouth to Roscoff and Portsmouth to St Malo. Sea travel can be more expensive, but you might be saving on other costs like renting a car if you're bringing your own vehicle. You also save a full day by travelling at night, all while enjoying the spectacle of both sunset and sunrise at sea!
How to Get Around Brittany
Travelling between Brittany's main cities and towns can be achieved by public transport. Trains and public buses operate at reasonably frequent intervals and are affordable. Brittany's local government has even set up a website available in English to help you plan your trip with public transport: check out MobiBreizh.bzh, it is incredibly convenient.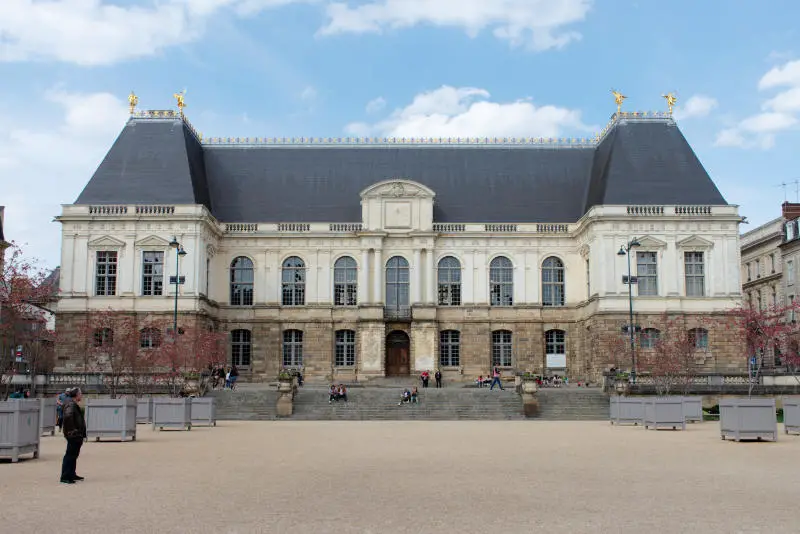 However, a car is essential if you wish to explore smaller towns, villages and beaches. If you're considering a road trip, or you want to move more freely around Brittany, you can easily pick up a rental at one of the region's airports. Check out Rentalcars for the best price, but renting a car in France is notably more reasonable than in other European countries (*cough* Ireland).
Roads are well-maintained and are a breeze to drive on, with motorways and expressways connecting the bigger cities. However, exercise caution as some roads can become rather narrow, especially when driving near the coast. Also, don't forget to reduce your speed through the many villages you'll encounter on your way. And drive on the right-hand side!
Top Things to Do in Brittany
Whenever I return to Brittany, these are my all-time favourite things to do.
Visit a Castle
Whether built on a rock in the midst of the ocean or serving as the elegant residence of the duchy's past rulers, castles in Brittany come in various shapes and sometimes unexpected locations. Brittany is dotted with extraordinary castles (more than 200) from cities to coast, each unveiling its complicated history with the Kingdom of France and its constant fear of the British invaders. Quick to grasp the imagination of visitors, Brittany's castles are always on top of my list whenever I explore this historic part of France.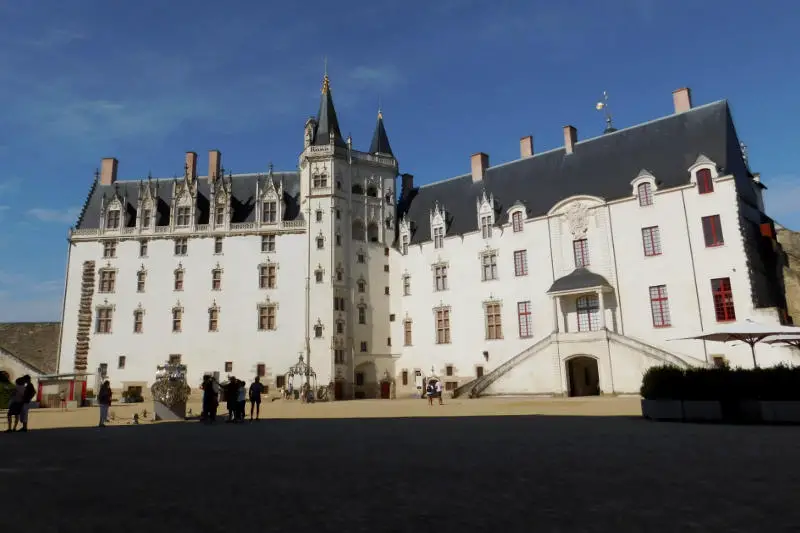 Go Surfing
Are you looking for something fun to do in the Summer? You should definitely give surfing a try! Brittany has some great spots for surfing, the best ones sprinkled along the picturesque southern coast. If you're a beginner, I would recommend La Torche, a magnificent expanse of sand with a surf school just a few meters from the beach. It's never too late to get on the board!
Indulge a Crêpe "Made In Brittany"
It has become second nature to me. I won't leave Brittany before stopping by a local crêperie and savouring a Breton crêpe garnished with warm salted caramel drizzled over melting vanilla ice cream. Brittany boasts some of the finest crêperies I know of, and I would truly regret passing up a chance to visit one. That's what you might call a true addiction. During my recent visit to Rennes, I indulged in numerous crêpes, so if you're in need of recommendations, I've got you covered.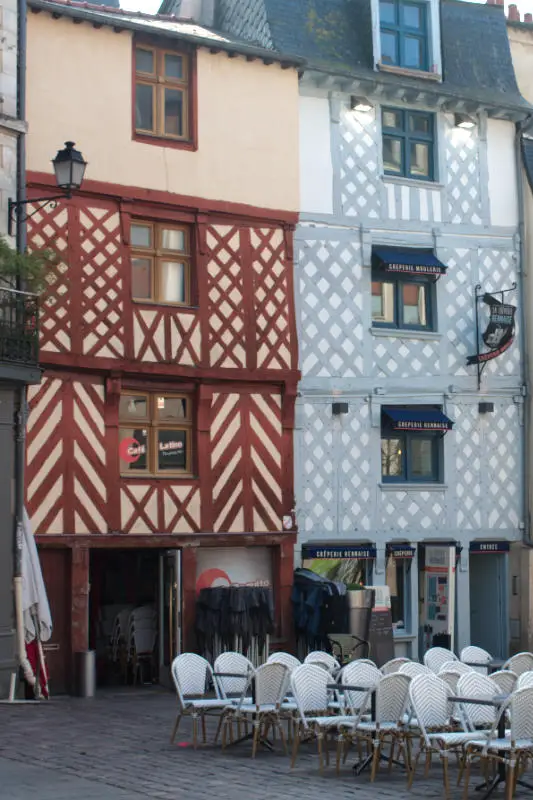 Climb a Lighthouse
I love the thrill of visiting a lighthouse! Protected from the outside world by the thick walls as you ascend the stairs to the top, oblivious to the waves crashing against the rocks, you suddenly emerge into the light with the most splendid view unfurling at your feet. Climbing a lighthouse is one of my favourite activities in Brittany. While not all of them are accessible to the public, a fair number are, and it is an experience like no other. Just hold on tight to your camera – it can be exhilaratingly windy.
Escape to an Island
Brittany has over a thousand islands and islets along its coast. So deciding which one is most picturesque could easily ignite an endless debate. Each holds its own distinct charm and makes for fantastic day trips away from the hustle and bustle of more tourist-laden coastal towns. Unsure which one to pick? I loved the car-free Ile-de-Batz and its clear waters reminiscent of the Caribbean.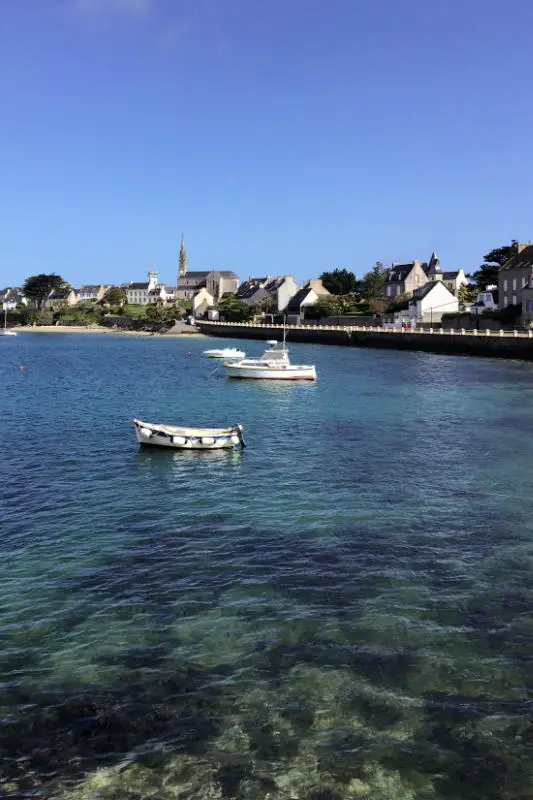 Other Things to Do and See in Brittany
Need more inspiration? This travel guide to Brittany is packed with more things to do in this picturesque part of France!
Discover Brittany's well-preserved medieval architecture: Morlaix, Rennes, Quimper, these are just some examples of cities where centuries-old half-timbered houses have been magnificently preserved and are truly worth uncovering as you stroll down their cobbled streets.
Head to the beach: while the weather might not be as pleasant as in St-Tropez, Brittany is certainly not all about rain (my last sunburns are evidence of it). The Summer months see strong enough spells of sunshine to make you want to cool down in the ocean. Sandy shores can be found from north to south, all without the overwhelming crowds of the French Riviera. It's an excellent way to unwind and cool off, quite literally.
Explore Brittany's religious heritage: historically devout Catholics, the Breton people built numerous monasteries, churches, and cathedrals over the centuries. These architectural masterpieces are impeccably maintained today and continue to leave a lasting impression on visitors.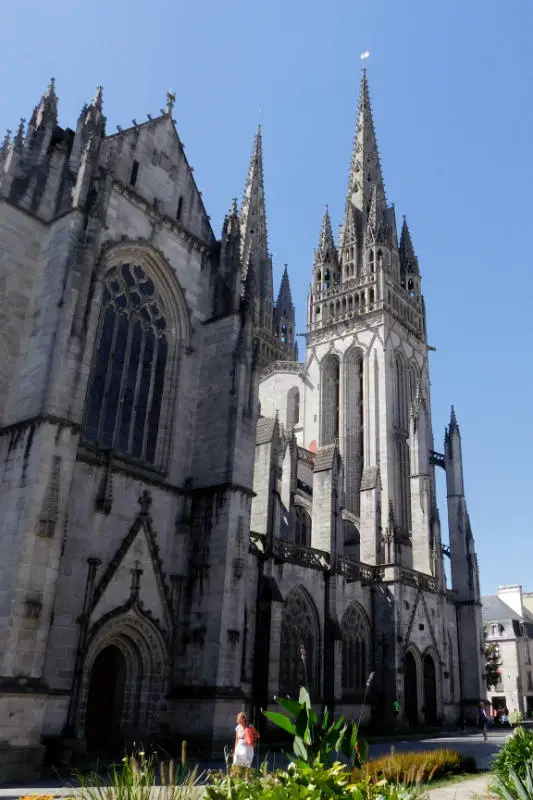 Pay a visit to Brittany's enigmatic standing stones: Megaliths have been standing on Brittany's soil since 4000 BC, and their significance remains a mystery to this day. One thing is certain though: their alignment makes for an astonishing view that shouldn't be overlooked.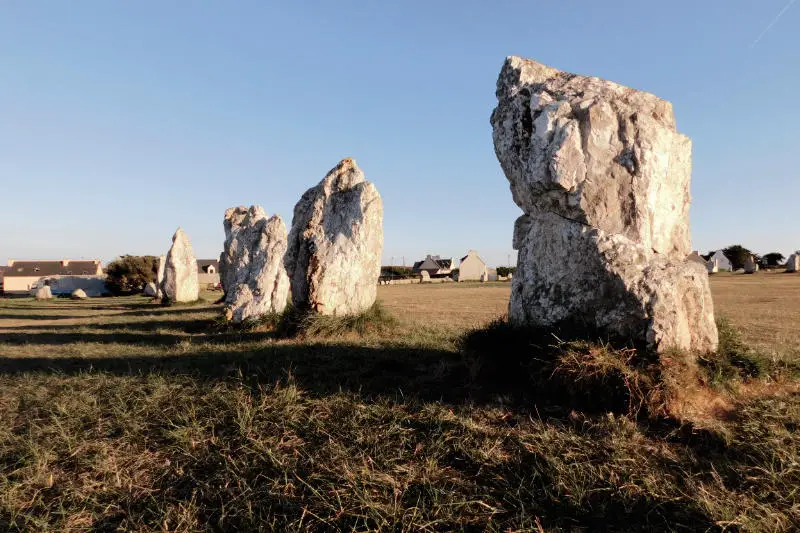 Embark on a road trip: Renting a car remains one of the best ways to explore Brittany's charming villages, market towns, and harbours, some of the prettiest in France. Roscoff, St Malo, Concarneau, Locquirec, Locronan, the list goes on and on. Shop local, enjoy the Breton cuisine, chill out on café terraces. Just slow down and get a taste of the Breton way of life.
Taste the local cakes: Remember the Breton crêpe? Yes, we discussed it… Well, that's not the only temptation. Brittany's traditional bakeries have more than one cunning way to ruin your pre-holiday diet. The butter-rich Kouign amann could potentially be your ultimate downfall, yet it would be a regrettable decision to leave Brittany without savouring a bite first.
What is the Best Time to Visit Brittany ?
The best time to explore Brittany, a region known for its mild year-round temperatures and being one of the wettest in France, is centred around two distinct periods. Spring, from April to June, is my favourite time of the year, as I am particularly concerned about crowds. As the days grow longer and bask in extended spells of sunshine, the region bursts into life. Monuments and lighthouses, closed to the public during the winter months, swing open their doors, welcoming the first visitors of the year. Meanwhile, restaurants and cafés reopen their terraces for al fresco dining. 
For those seeking an invigorating summer escapade, the period spanning from June to August is ideal for exploring Brittany. Though popular and abuzz with tourists, especially along the jaw-dropping southern coast graced with pristine sandy beaches, Brittany has a lot to offer and to keep you busy, from sightseeing to outdoor activities. Perfect for water sports enthusiasts, whether novices or seasoned veterans, the region's pleasantly warm climate provides the perfect setting for surfing, beach outings, hiking, and island exploration, all without having to endure suffocating summer temperatures.
Travel Guide to Brittany | The Best Resources to Plan Your Trip
These are my favourite websites for organising a trip to Brittany, from travel insurance to booking a train ticket.
Heymondo – If you're looking for travel insurance, check out Heymondo. They also have a nifty app to help you get the assistance you need while on the go.
Booking.com – My go-to website for researching accommodation in Brittany. The platform offers a broader and more budget-friendly selection of hotels.
Skyscanner – This site is a great search engine for finding flight deals. It also provides a helpful tool for finding the most adequate route to get to Brittany. 
Aer Lingus, Air France, Transavia and EasyJet – These are my preferred airlines for flying to Brittany at affordable prices.
Brittany Ferries, Irish Ferries and Stena Line – If you're traveling from the UK or Ireland, you can also travel to France by ferry, with arrivals in Brittany or Normandy close by.
SNCF – You can conveniently reach Brittany from Paris with the French national train company. Book your ticket in advance, as last minute fares can be costly.
Blablacar Bus – This low-cost bus company will take you from Paris to Brittany at a fraction of the cost of a train ticket and help you navigate between the region's main cities.
Rentalcars – This site allows you to compare the best deals from all major car rental companies, so you don't spend more than you should.
Lonely Planet – Lonely Planet's regional guide covers Brittany and Normandy, making it one of my top travel guides when planning a trip to the area.
Quick Travel Tips to Visit Brittany:
I'm including some travel tips in this travel guide to Brittany that could prove helpful.
Do not miss Brittany's historic cities. Rennes is considered the capital of Brittany, while Nantes is home to the Castle of the Dukes of Brittany, the primary residence of the Duchy's former rulers. Brest is famous for its naval history, and the picturesque charm of Quimper is simply irresistible.
What language do people speak? French is, of course, the main language in Brittany, but 5% of the population also speaks Breton, and 3% speaks Gallo, two local languages. You should be able to manage in English in the most touristy places, but having some basic French knowledge will highly be beneficial.
What currency would I need? Stock up on euros. Shops won't accept any other currency.
Can I drive In Brittany with a foreign driving licence? If you have a driving licence from the European Economic Area, you're good to go!  For those coming from outside the EEA, you will need a driving licence in French. If not, you'll need to carry an official translation of your licence or an international driving licence along with your actual driving licence.
Disclaimer: This post may contain affiliate links. If you click on a link, I earn a little money at no extra cost to you.
Latest Post About Brittany