One Day in Rennes | Top Things to Do in the City's Historic Quarter
To be complete, a trip to Brittany needs to include at the very least a one-day stay in Rennes, the province's historic and vibrant capital. The city's old centre is a real gem with medieval buildings and architectural treasures waiting to be discovered. Not mentioning the city's delicious and numerous crêperies serving the traditional and much loved crêpe.
With just one day in Rennes, focusing your time and attention on the historic part of Rennes is a must. From religious heritage to a former parliament, from awry half-timbered houses to a vivid French garden, Rennes will keep you moving the entire day.
Here are the top things to do in Rennes if you only spend one day in the Breton capital. 
Disclaimer
This post may contain affiliate links. If you click on a link, I earn a little money at no extra cost to you.
Essential Tips for Visiting Rennes
Getting There | Rennes has a small airport and it is possible to fly into it from several European cities and beyond. Visit Skyscanner to find the best routes and flight deals. You can then catch a city bus just outside the airport. Often the train will be your best option though. Rennes is well connected to Paris with frequent departures from the Paris Montparnasse train station and a journey time between 90 and 120 minutes.
Where to Stay | Best is to stay close to the old town to enjoy the city's attractions, numerous restaurants and bustling night scene. I stayed at the Magic Hall, a great boutique hotel just 5 minutes away from the city's historic cathedral. Read my review to know more about it!
Getting Around | Rennes has so much character that I walked everywhere so I wouldn't miss anything of the city's beautiful architecture. But make sure to bring comfortable walking shoes as you'll cover quite a bit of ground from Rennes Cathedral to Parc du Thabor.
Travel Insurance | You might want to buy travel insurance before visiting France. Heymondo has a nifty app to help you get the assistance you need while on the go.
Visit the Glorious Rennes Cathedral
Built and rebuilt over the centuries, it took Rennes Cathedral quite a while to reveal itself at its best to worshippers and visitors alike. But the wait was certainly worth it and the result is quite spectacular.
Dedicated to Saint Peter, Cathédrale Saint-Pierre de Rennes, as it is known locally, was built in Gothic style in the 12th century. In the 15th century, part of it collapsed. Completed in 1704, it took nearly two hundred years for the two towers of the front facade to be rebuilt in a beautiful neoclassical style.
But by the 18th century, the rest of the building was now crumbling. The decision was made to demolish and rebuild once more. Another century passed before the new cathedral was again ready to welcome its flock. In 1845, Rennes Cathedral was open for business once more.
Inside, the decor is all about gold, red and brown. Refurbished in the 19th century with gilt and stucco, the cathedral exhibits a lavish interior. With little light coming through the windows in the roof, eyes are drawn to the ceiling where the richly decorated barrel vault is covered in gold and paintings.
Forty-four ionic columns coated in reddish stucco support the vaulted ceiling on each side of the large nave, guiding visitors towards the centre of the cathedral. Rather than adding brightness to the rather dark interior, lamps hanging between the columns create an atmosphere of mysticism where modern Christianity and Antique Rome collide.
Above the main door, the cathedral's 19th century organ astonishes by its incredible size, occupying the entire wall, almost scratching the ceiling with its golden crowns. Also painted in gold, the towering dome shining a beam of light onto the altar will catch your imagination.
You might also be interested in:
– Best Places to Visit in Brittany | A Day in Roscoff & the Ile de Batz
– Learning to Surf in La Torche, Top Surf Spot for Beginners in Brittany
Eat a Delicious Crêpe in Old Town Rennes
Crêpes are a French national dish but they are best eaten in Brittany. The Bretons have developed their own original recipes, giving the local crêpe its characteristic taste and texture.
Either made of wheat or buckwheat, crêpes in Brittany can be eaten as a main course or dessert, or both during the same meal! Garnished with ham, cheese, and sausages or chocolate, salty caramel on vanilla ice-cream, they come in infinite combinations for everyone to enjoy.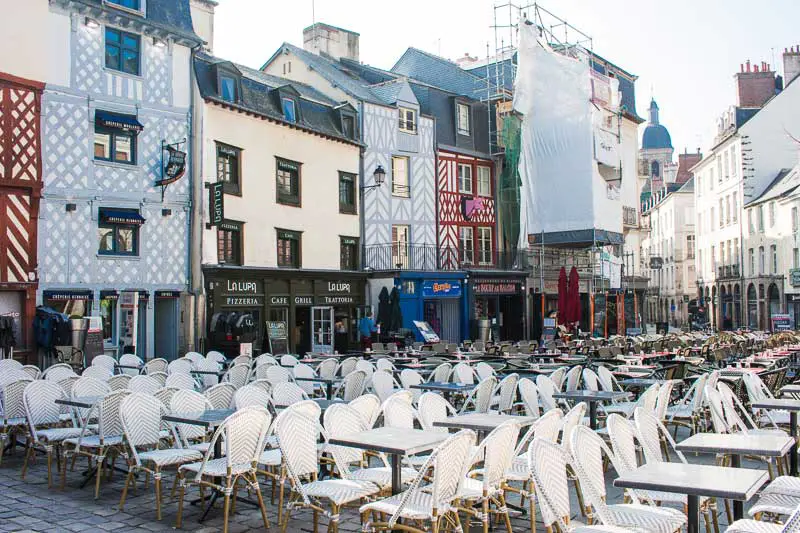 Crêperies are not just a tourist attraction though. The dish is such an important part of the local life that every town in Brittany must have one. It is a cheap and delicious alternative to traditional restaurants, attracting people from every walk of life.
The city of Rennes is not short of crêperies. Often located in the medieval streets of old town Rennes, they each have their own personality and specialities. Organic or traditional, inventive in names and even shapes, crêpes in Rennes no doubt will surprise and satisfy visitors in search of some great local culinary experience.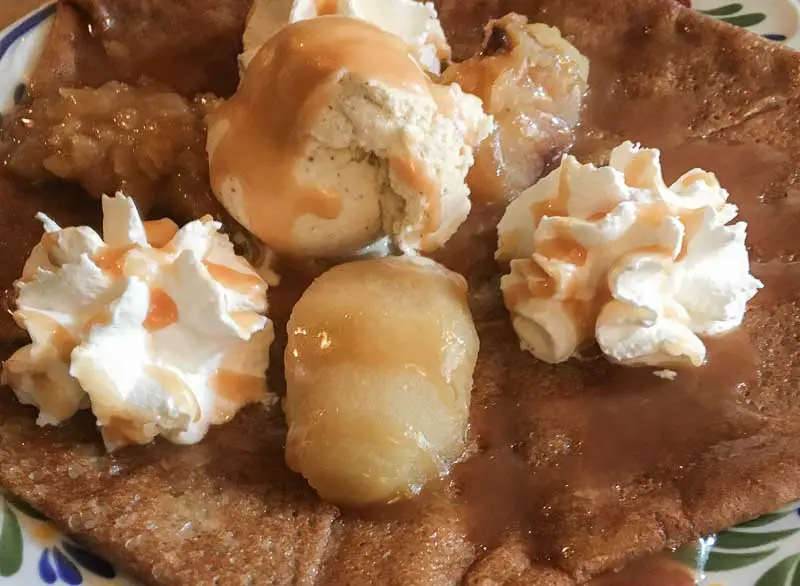 If you don't know where to start, read my article about some of the best crêperies in Old Rennes. I personally visited and tested the ones featured as I wandered Rennes's historical streets. I might have gone overboard, but it was so worth it!
Lose Yourself in Parc du Thabor
Formerly the gardens and orchard of Saint-Melaine abbey nearby, Parc du Thabor is now Rennes's main public park. The quiet alleys and colourful flower beds make the park the ideal place to escape the city's hustle and bustle. With the sun out, the well maintained lawns become the locals' favourite place to chill out.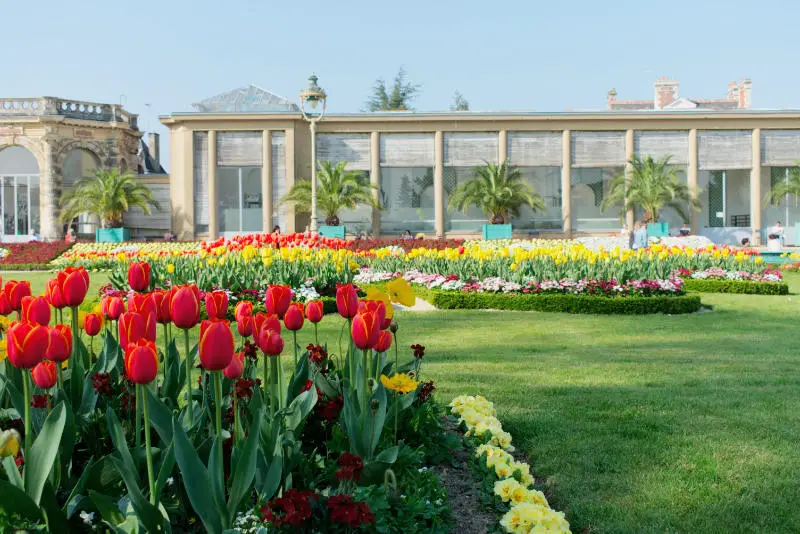 Parc du Thabor owes its current appearance from important work carried out in the 19th century. Built on a hill, the park features a French garden at its top. Vivid flowers planted in geometrically pleasing beds surround two antique bassins mirroring each other. In the background, the 19th century Orangerie fits in naturally, bordered by a collection of palm trees.
A botanical garden can be found at the eastern end of the park. Organised in circular plant beds, the garden is home to more than 3,000 species. The park also features an important rose garden, a cascade, large open lawns dotted with romantic statues and diverse species of trees.
Pay a Visit to Notre-Dame-en-Saint-Melaine Church
First built as an abbey dedicated to Saint Melaine, a cleric believed to be Rennes's first bishop who lived in the 6th century, Notre-Dame-en-Saint-Melaine is today a parish church worth a visit.
The building is the focal point of the medieval street of Saint-Melaine and dominates its surroundings from its position at the top of a hill. As you climb up the old cobbled street lined with centuries-old, timber-framed houses, your eyes set on the church's tower in front of you and you can't help but picture yourself in a medieval, religious procession heading to mass. 
The church's current form dates back to the 11th-12th centuries, with important modifications being made in the 17th and 19th centuries. Its original Roman and Gothic styles still subsist today but neoclassical additions are obvious.
The most visible alteration was made in the bell tower, rebuilt in perfect symmetry in the 17th century and featuring cute carvings of little angels. Two centuries later, the construction of an octagonal tower crowned with a dome and a statue of the Virgin Mary at its top added to the church's grandeur.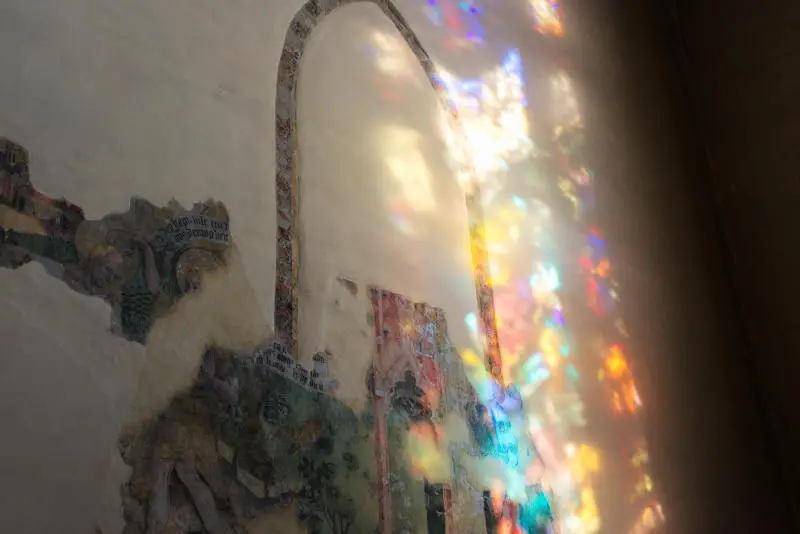 Inside, however, austerity dominates and sends visitors a few centuries back to medieval time. Rounded arches on large columns support a timber-framed ceiling characteristic of religious architecture in Brittany. However, remains of a mural painting from the 15th century brighten one of the walls as lights shining through stained-glass windows add their own colourful pattern to it.
Another impressive but more recent mural covers another entire wall. Painted in the 20th century in muted tones, this modern addition fits in surprisingly well with its historical surroundings. Not one but two great organs installed in the church during the 19th century can't be ignored as their size is rather eye-catching. 
Take a Guided Tour of the Parliament of Brittany
Built in classical style during the 17th century, the Parliament of Brittany is Rennes's pride. Financed entirely by local tax, the palace served mainly as a court of justice but also as a legislative organ in matters still under Brittany's control since the Union of the Duchy with the French monarchy in 1532.
The Parliament was abolished in 1790 during the French Revolution but the building still retained its judicial function. The building now houses Rennes's Court of Appeals and visiting the premises is through guided tours only.
Surviving untouched from a fire that nearly destroyed the entire city in 1720, the Parliament is an architectural jewel from the Ancien Régime that symbolises the union of Brittany and France. Attentive eyes will catch emblems of both houses on the white facade and throughout the rich interior decoration.
The guided tour focuses on the 1st floor, the noble part of the building. Visitors are quickly taken aback by the sheer height of the vaulted ceiling in Salle des pas-perdus. The former waiting room displays the French and Breton coats of arms in golden painted medallions in its magnificent wooden ceiling.
But these are just a teaser for what comes next. The guided tour takes visitors to a series of sumptuously decorated rooms that are a delight for the eyes. The numerous allegorical evocations of Justice framed by flamboyant gilded wooden coffered ceilings are especially breathtaking.
Keeping your eyes off these monumental ceilings could prove difficult, and you might finish the tour with a sore neck. A small price to pay to admire great examples of 17th century decor that have survived to this day and shouldn't be missed while in Rennes.
Admire Centuries-Old Half-Timbered Houses
One thing that is really striking in Rennes is the city's rich medieval heritage. Half-timbered houses dating anywhere from the 15th to the 18th century still stand proudly, although askew, in many streets of Rennes.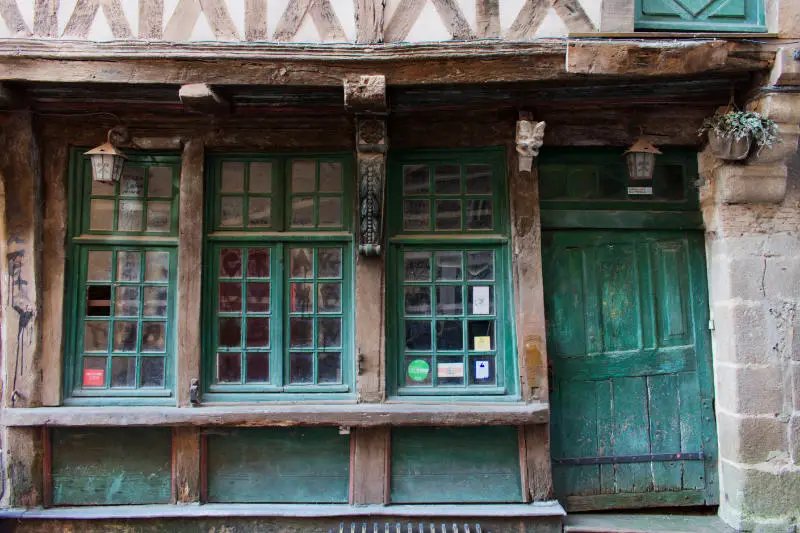 Unfortunately, a dramatic fire in 1720 destroyed nearly all of them and the subsequent regulations to avoid a new disaster meant the remaining houses were butchered. But Rennes remains today the city in Brittany with the richest heritage in half-timbered houses. They give the city a character of familiarity and "bon vivre" that is really infectious.
Hiding behind Rennes Cathedral, Rue du Chapitre is one of these streets that have retained a characteristic medieval feel. Beautifully preserved half-timbered houses that have become the home of restaurants and boutiques line up this quiet cobbled street. 
Rue Saint-Michel is another "hot spot" for half-timbered houses. Nicknamed "Drinker's Alley", the street is popular with students favouring the numerous bars that have taken residence in the old houses. Additionally, Rue Saint-Michel is also the only street in Rennes that has all its buildings made of wood.
Place des Lices is a square famous for its spectacular 17th century town houses crowned with sophisticated and majestic roofs, highlighting the important status of their original owners. Do not forget to visit postcard perfect Place du Champ-Jacquet too. Tall half-timbered houses, weakened by the extra openings made to incorporate more windows, lean against each-other like drunken friends.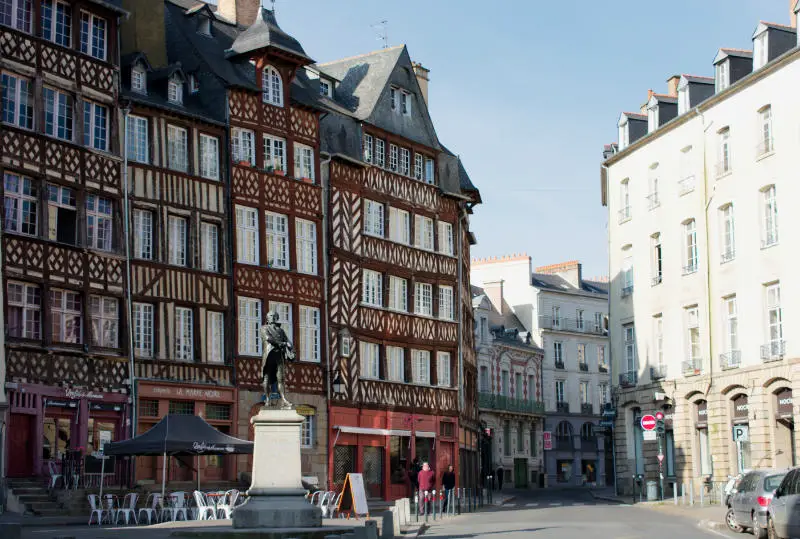 More houses can be seen in Rue Saint-Melaine, Rue Saint-Georges or Place Sainte-Anne. The best way to discover this wonderful heritage is to wander the streets of Old Rennes and get lost in it. An architectural gem is to be found at every turn. More information about the city's beautiful medieval streets can be found in this article about Rennes historic centre.
Shop for French Brands in Old Rennes
Following the destruction of nearly all wooden framed houses in Rennes in the early 18th century, the city was rebuilt in stone. Large thoroughfares lined up with magnificent buildings in classic style emerged from the ashes.
The streets found between Rennes Cathedral and the Parliament of Brittany were remodelled in the new fashion. Elegant arched windows now run along the new streets like Rue de la Monnaie or Rue de Toulouse, giving the area a sense of unity and harmony. 
Mostly pedestrianised today, the neighbourhood has become one of Rennes's prime shopping districts. Outlets from International brands can of course be found here. But more interestingly, it is a chance to taste French fashion with countless boutiques to explore in this upmarket part of Rennes.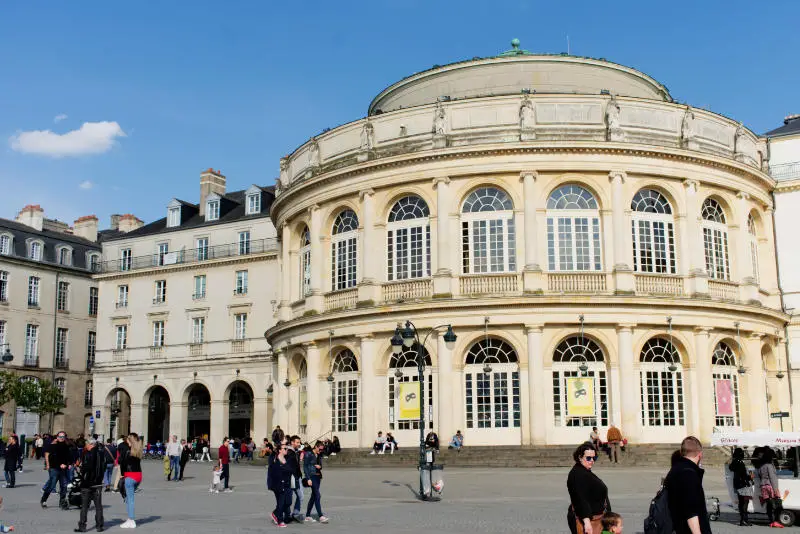 From shoes to clothes and jewellery, this part of historic Rennes is a mecca for those looking to jazz up their wardrobes or buy made-in-France gifts for their loved ones. 
I love visiting Rennes and its quirky medieval architecture, and I would recommend anyone visiting Brittany to put the city on their bucket list. From Rennes, you can easily take the train to Morlaix, a picturesque town on Brittany's northern coast. I recommend reading this article about the Bay of Morlaix for unique things to see in the area.
Disclaimer: This post may contain affiliate links. If you click on a link, I earn a little money at no extra cost to you.
RELATED POSTS