Learning to Surf in La Torche, Top Surf Spot for Beginners in Brittany
La Torche is without contest one of the top surf spots of Brittany, France and this made me anxious… As a novice surfer with a few classes under my board, I had decided it was time to drop the over-tanned instructor and go solo, at least for today.
It was just 11am when I arrived in La Torche. A bright sunny day with a gentle breeze. The tide had started coming in since 9 o'clock and already surfing classes in their bright yellow jerseys were taking position on the beach. Horse riders were also enjoying the morning beach before the imminent invasion of surfers and bodysurfers.
La Torche, Among Best Places to Surf for Beginners in Brittany
How to Get to La Torche
I drove to La Torche, a well-known surf spot on Brittany's southern coast, around 50 km from Quimper and west of Plomeur. Follow the main road D785 all the way to Plomeur then take a right at the roundabout when you exit Plomeur. Another 10 minutes behind the wheel and La Torche is at the end of the narrow road. A large free car park just across the beach couldn't make it more accessible.
A Beach Break for Beginners
La Torche is a very long sandy beach making it a beach break perfect for beginners. The beach is facing west which guarantees a sustained frequency of waves much appreciated by more experienced surfers too.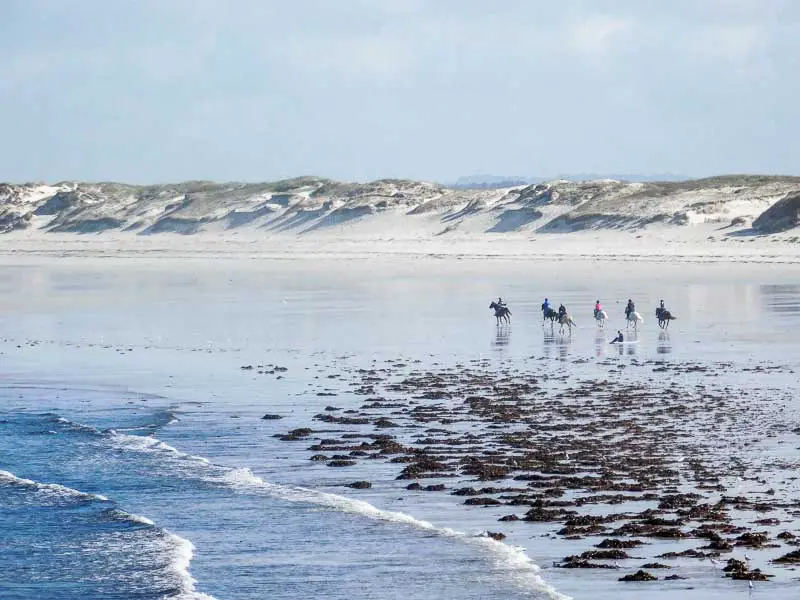 A negative point to be aware of is the current that could drag you to the rocky point on the southern side of the bay. Watch out! Current set aside, La Torche is very popular so better avoid it at the weekend if possible.
When to Surf in La Torche
You ride the waves in La Torche when the tide is coming in. Surf Report will give you the times although in French. For the overall surfing conditions, Windguru offers a ton of information to help you decide the best moment to surf.
A newbie myself, I wasn't sure I was making sense of all these numbers so I called a local surf shop. They were kind enough to confirm the best time to ride the waves that week!
You might also be interested in:
– Best Places to Visit in Brittany | A Day in Roscoff & the Ile de Batz
– 6 Unique Things to Discover in the Bay of Morlaix
– Searching for the Best Creperies in Old Town Rennes
Where to Find a Surf Shop & School in La Torche
Never Surfed Before? Book a Surf Lesson!
I cannot recommend enough that you take a few lessons if you have never surfed before. Private lessons or group lessons (cheaper!) are available. Special deals are usually on offer if you book more than one lesson. Booking in advance is a must to avoid disappointment especially during high season.
Learning basic surfing techniques is vital if you want to ever be able to stand properly on your board. Lessons also include invaluable safety tips if you have never surfed in the area.
Where to Sign up for Surf Lessons and Rent Surfboards in La Torche
Shop around! As I drove to La Torche I noticed a few surf schools and shops along the road leading to the beach. They offer competitive prices but the location is not the most practical as you have to shove your board in your car and keep driving a few more minutes to the actual beach.
Conveniently located right on the beach beside the car park is the Ecole de Surf de Bretagne La Torche. A huge plus as you don't have to drag your board for miles sweating in your sticky wetsuit and you can just drop your belongings back in your car before heading to the water.
You rent a board and wetsuit by the hour or by the day. The longer the rental, the better the deal.
Why I Rented my Surfboard with ESB La Torche
ESB La Torche is a a surf school and shop with 20 years of experience and highly qualified instructors. Having compared their prices online, they were in line with other schools and shops in the area, so no bad surprise here. I rented my gear for 2 hours, which was plenty of time to exhaust myself.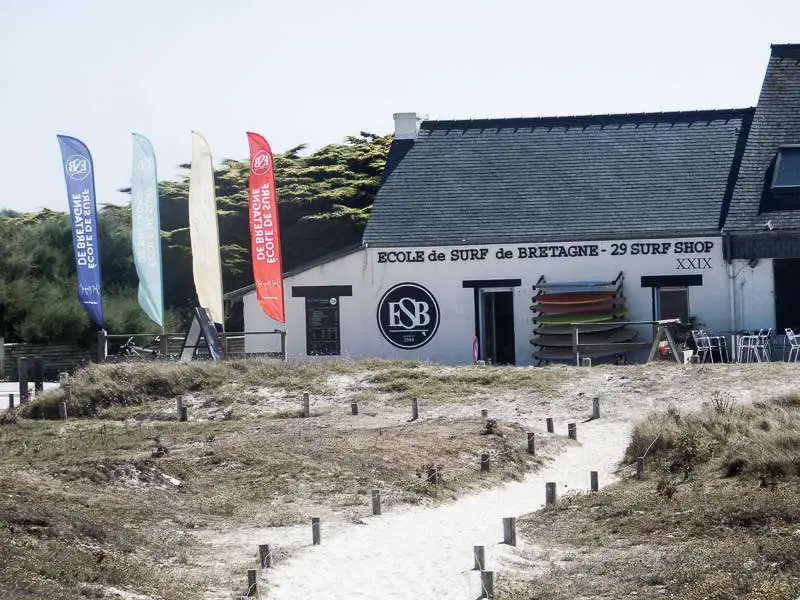 At ESB La Torche, I was advised on the type of boards that would suit my level and geared up with a wetsuit. Even though the water wasn't really cold, the wetsuit was a necessary protection against the sun (my pale skin wouldn't be able to cope). Most of all I was recommended where to surf to avoid being caught in the current. A piece of advice that has no price.
Surfing in La Torche, the Most Exciting Experience
All equipped, face bathed in sun scream, I walked through the dune and quickly landed on the beach. I walked north another 5 to 10 minutes to put enough distance with the rocky point and set out my session next to a surf class that had started earlier. That looked like a safe place to me.
I entered the water with a mixed feeling of apprehension and terrible excitement. This moment had been in the back of my mind since my last surf lesson on the Irish coast the year before. The sandy seabed clearly visible through the shallow water made me feel at ease while the rising waves lured me away from the beach.
In the water, I first rehearsed the gracious moves I had learnt the previous year in Bundoran, Ireland. I realised then that my board was smaller and less stable than the one I had trained with. After numerous tries and falls, sinuses cleaned and re-cleaned, I was finally standing up and catching waves! My holidays in Brittany couldn't have turned out better.
Two hours later, exhausted and hungry, I reluctantly put an end to my session. Food felt increasingly more attractive than the shiny waves so I headed back to the surf shop. Back in the car, the sensation that I had accomplished what I had set out for was overwhelming. I had challenged myself and I had overcome.
RELATED POSTS