Searching for the Best Creperies in Old Town Rennes
I like 'comfort' food with simple ingredients that remind me of my childhood in a French village. That must be why I like crêpes so much. Uncomplicated and tasty. Although celebrated all around France, especially on Candlemas day ("la Chandeleur"), "la crêpe" has been elevated to an Art in Brittany, claiming a spot at the table of Breton's traditional dishes.
Whenever I travel to Brittany, a visit to the local crêperie is always high on my priority list. Brittany makes the best crêpes in France, and probably in the world, I would dare to say. Rennes, the historic capital of this former independent province, has plenty of delicious crêperies nested in medieval half-timbered houses down centuries old cobbled streets.
Organic, crispy, inventive, traditional or coming in surprising shapes, crepes in Rennes never fail to satisfy and even surprise the visitor. During my visit, I popped into quite a few crêperies in Rennes (at the expense of my waistline). Let me take you to some of my favourites.
Disclaimer
This post may contain affiliate links. If you click on a link, I earn a little money at no extra cost to you.
Essential Tips for Visiting Rennes
Going Organic and Rustic in Place du Champ-Jacquet
Place du Champ-Jacquet was famous for its tall, striking half-timbered houses. Maybe too tall since they were now leaning to the left in some kind of Alice in Wonderland hallucination. How much longer before they collapse?
La Harpe Noire was a crêperie housed at the bottom of one of those narrow three storey half-timbered buildings, squeezed between two similar ones like old books leaning on a shelf of an antiquarian. The crêperie overlooked the little square that spread from the bottom of the stoned-built stairs marking the crêperie's entrance.
The day was unusually warm for April and locals and tourists alike had swarmed to the sun-baked square for lunch. Tables set outside were busy with customers sending the tireless waiter running up the stairs with the last orders. He would soon re-emerge from the darkness of the restaurant, arms and hands filled with crepes, glasses of cider and bottles of local beer.
Inside, the narrow half-timbered house lent space for a few wooden tables only while a small kitchen occupied the back of the crêperie. An old wooden floor and even older looking beams ensured the crêperie had the most rustic decor.
As the Breton tradition dictated it, the delicious savoury crêpes were made of "blé noir" or buckwheat. Introduced in Brittany during the Middle-Ages, buckwheat had constituted one of the main source food of the Breton people and was now a distinctive ingredient of the Breton crêpe.
La Harpe Noire chose to go organic with locally sourced and traditional ingredients that matched the rusticness of the decor. Organic onions, leek and apples, fresh cream, mushrooms and foie gras garnished their scrumptious creations. I relished "La Saint-Moran", a crêpe filled with local ham, cheese, organic potatoes and onions.
Sweet crêpes were also on the menu of course. Among other options, organic lemon, sugar and homemade chocolate were served on appetising wheat flour crêpes. A crêpe drizzled with salted caramel – a Breton speciality and a favourite of mine – inescapably caught my eye. I plead guilty.
La Harpe Noire // 13 rue du Champ Jacquet, Rennes
You might also be interested in:
– 6 Unique Things to Discover in the Bay of Morlaix
– Best Places to Visit in Brittany | A Dat in Roscoff & the Ile de Batz
– Learning to Surf in La Torche, Top Surf Spot for Beginners in Brittany
– Rennes Historic Centre | A Guide to the City's Stunning Medieval Streets
Indulging on Creativity and Tradition in Rue Saint-Georges
Rue Saint-Georges was another part of Rennes where half-timbered houses had survived to these days. In 1720 a disastrous fire broke out in the city and destroyed most of them. Around 400 were left standing. Tucked away at the bottom of the magnificent Place du Parlement ("Parliament Square") was the still medieval looking street called Rue Saint-Georges.
Favoured by tourists, pedestrian Rue St-Georges was filled with restaurants, pizzerias and crêperies nestled in medieval wooden houses so narrow they earned the name "maison-couloir" (or "hallway house"). The lack of space was such that fitting a stairwell was not always possible and inhabitants had to use a ladder to access their medieval lodging.
At the far end of Saint-Georges street was a crêperie whose humorous catchphrase "Ici on peut lécher son assiette" (here you can lick your plate) would stop any hungry passer-by. La Gavotte was a quirky crêperie oozing personality that was nearly impossible to resist.
Clues of its success abounded. Its door was covered in stickers from Lonely Planet and its French competitor Le Guide du Routard recommending La Gavotte even several years in a row. At dinner time, half of the tables were already secured in advance. Fifteen minutes after opening, the little establishment was filled up and the staff were redirecting the hungries to nearby crêperies. I knew I was among the lucky ones this time.
The mouth-watering menu was extensive and accommodating to all tastes and budgets. Soon, crêpes with the most inventive names were flying above my head and landing on tables under the eyes of both excited and amused customers. While the crêperie was boasting the use of traditional ingredients, La Gavotte was adding its own youthful spin to the old Breton recipe, filling people's stomach and lifting their spirit.
"La Friponne" (The Cheeky One) appeared, while the waiter announced "L'Excentrique" (The Eccentric) to the table next to mine. "La Gargantua", a reference to French Renaissance writer Rabelais and his fictional Giant, was garnished with filling ingredients such as potatoes, cheese, sausages and andouille de Guémené, a local delicacy. It arrived safely in front of me to extinguish my roaring appetite.
La Gavotte // 41 rue Saint-Georges, Rennes
In contrast to La Gavotte's culinary inventiveness, a crêperie located just meters away in Rue Saint-Georges was attracting customers with more traditional but undeniably tasty crêpes. If it had not been for the few tables set on the cobblestones in front of its large and only window, I could have easily missed La Ville d'Ys, a tiny crêperie lodged in one of those narrow "maisons-couloirs".
The limited space inside allowed for a handful of tables only. The rustic interior featured old faïence plates and bowls hanging on the walls and traditional wooden furniture. Centuries old beams supported a wooden ceiling adorned with old pots floating above the customers' heads.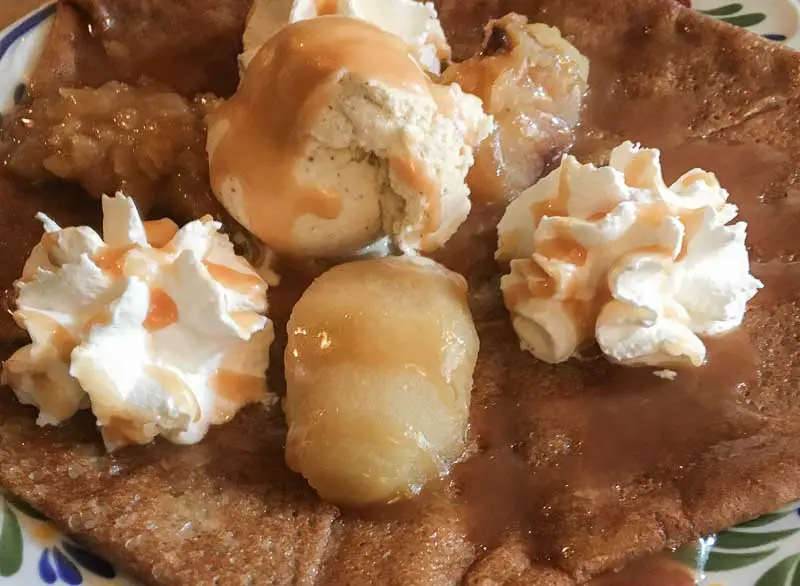 La Ville d'Ys served the now familiar buckwheat crêpe garnished with all the traditional ingredients you could think of: cheese, ham, eggs, mushrooms, spinach, fresh cream, black pudding or chives and more. Craving something cool and sweet on this hot Sunday afternoon, I couldn't resist a "crêpe tatin", a delectable fusion of apple, melted caramel and ice cream delivered on the most delicious, butter-rich crêpe. I was sold at the first mouthful.
La Ville d'Ys // 5 Rue Saint-Georges, Rennes
Celebrating Rennes in Trendy Rue Rallier du Baty
Sitting next to an old chimney under low hanging old beams, I was patiently waiting for my order to be served. The unusually hot Spring day had brought the crowd to La Crêperie Rennaise, a pastel blue, half-timbered house proudly standing on Rue Rallier du Baty.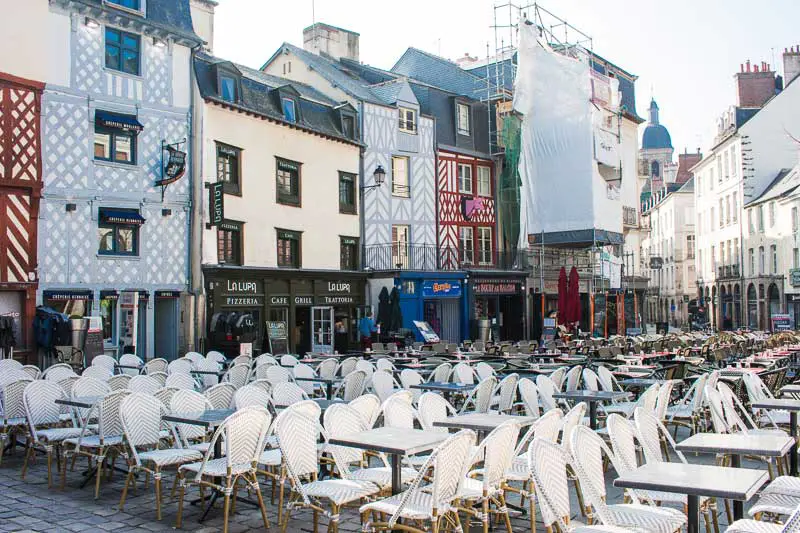 The tables on the little square outside the crêperie were busy with locals and tourists alike enjoying the lingering warmth of the evening. Inside, pursuant to local traditions, I was sipping on a typical bowl of chill Breton cider called "bolée" while observing the skilful staff doing its utmost to keep everyone happy.
Constantly on the move, the two waiters were swirling, running, dodging, forgetting, remembering and apologizing with the best smiles. All was forgiven as the "galette" was ushered in front of me. A "galette" I said, not a "crêpe".
I recalled the words of a Breton friend. He explained that a "crêpe" was always a "crêpe" while a "galette" was not always a "crêpe" depending on where you were in Brittany, in Basse-Bretagne or Haute-Bretagne. Aware of a linguistic minefield, I was cautious to avoid further culinary debates. In Rennes (located in Haute-Bretagne), a "galette" was the name given to the buckwheat crêpe and it was all that mattered to me.
La Crêperie Rennaise had named its tasty creations after the city's most famous streets. Toussaint Rallier du Baty served in the early 18th century as Mayor of Rennes for a record 39 years. He was the one who had to face the great tragedy of 1720. He had now a street to his name busy with restaurants. La Crêperie Rennaise was one of them and it felt quite right to savour their Rallier du Baty galette, a buckwheat crêpe garnished with eggs, bacon and tomme de Gévezé, a tasty local cheese.
La Crêperie Rennaise // 10 rue Rallier du Baty, Rennes
THINGS TO KNOW ABOUT RENNES'S CREPERIES
Crêperies don't open all day. They usually open from 12pm to 2pm and again from 7pm to as late as 11pm if you're lucky. Some crêperies might even close down completely on Sunday or Monday. So check their opening hours before making the journey or you might find closed doors.
Show up early or book in advance. Some crêperies are small, some are very much in demand. They can fill up very quickly, especially during the warm and touristy season.
What's the difference between "blé noir" and "sarrasin"? Not much really, both expressions refer to the buckwheat crêpe. The word "froment" refers to the wheat crêpe served as dessert.
Gluten-free? Buckwheat is not wheat so yes, it is gluten-free. But because millers could also be producing wheat flour at the same location, traces of wheat could be found in your crêpe.
Isn't it weird to have a crêpe as a main dish and again a crêpe for dessert? Isn't it too much? A crêpe is not that filling so help yourself with another one for dessert. Everybody does it!
Gorging on Simplicity in Place des Lices
Declared a national heritage site, Hôtel Racapé de la Feuillée at 28 Place des Lices was one of Rennes's jewels. This magnificent half-timbered mansion with the most majestic roof perfectly covered in slates (despite its rounded shape) was built in the 17th century. Next door was Hôtel de la Noue, another grand building from the same era that commanded the same attention.
Something else was worth a detour on Place des Lices though. Something less conspicuous  but which left a similar lasting impression. At the bottom of the square, almost hiding as the street took a curve to the left was the crêperie Au Marché des Lices.
Au Marché des Lices was a low-key restaurant, attracting locals and people working in the neighbourhood. No old beam or antiques hanging from the ceiling. No fancy names on the menu. Just the simplicity of a warm welcome and checkered tablecloths.
Sat at a table by the waitress, I was pondering my options while flipping through an extensive and mouth-watering menu of galettes (you know, the buckwheat crêpe!) and sweet crêpes. The "Menu du Jour" (two crêpes and a drink for just over 10 euros) saved me from my indecisiveness.

I gorged on the classic but perfectly crisped "galette complète" with ham, egg, cheese and tomatoes. Followed by the equally classic but irresistible crêpe with caramel, most probably the best I had ever had. I left well-fed and most of all grateful for this little slice of tasty heaven.
Au Marché des Lices // 3 Place du Bas des Lices, Rennes
Giving in to Temptation in Rue Saint-Melaine
A long cobbled street with a church at both ends, Rue Saint-Melaine was nevertheless a street paved with many temptations. Leaving the tranquil beauty of Notre-Dame-en-Saint-Melaine, a church built upon the resting place of Saint-Melaine, bishop of Rennes during the 5th century, I set foot on the busy cobbled street looking for a crêperie.
Walking down towards Saint-Aubin church, I passed quite a few of them. With a shopping centre and the University close by, crêperies in Saint-Melaine street were catering for a hungry crowd of shoppers and students. Traditional or modern looking, time had to come to pick one.
"Ouzh Taol!" (pronounced 'Ooze Towl'). The crêperie's quirky name in Breton got my attention. "Food's ready!" could be the translation or "A table!" as we say in French. I accepted the invitation and entered the little crêperie.
In the front room, customers were sitting on high chairs at the few tables available while crêpes were getting prepared in the small kitchen. The most welcoming waitress led me to the more spacious back room where more customers were engaging in lively conversations while waiting for their orders.
In keeping with the tradition, the buckwheat crêpe was on the menu. I ordered mine with ham and emmental cheese. Buttery and crispy, simple crêpes were often the best ones.
Also available in Ouzh Taol was Brittany's famous cola, Breizh Cola. Launched in Brittany in 2002 against all odds as an alternative to Coca-Cola and Pepsi, the local fizzy drink has found its niche. With a more pronounced caramel flavor Breizh Cola was a pleasant surprise and great accompaniment to my crêpe.
Ouzh Taol // 27 rue Saint-Melaine, Rennes
Savouring the Unexpected in Rue du Chapitre
Taking a side street along the towering wall of Saint Pierre's Cathedral, I found myself alone in one of the most picturesque parts of Rennes. Tucked away behind the massive edifice, hidden from the crowd, was a quarter formerly inhabited by aristocrats. Walking down the cobbled streets, I soon encountered beautifully renovated medieval mansions and convents, colourful half-timbered houses that would be hard to forget.
Rue du Chapitre was one of those well-preserved medieval lanes within the Cathedral's quarter. Behind the old facades was a crêperie that came recommended by my travel book. I was heading to La Saint-Georges to top up my blood with glucose.
La Saint-Georges was nothing like any crêperies I visited before. As I sat down on a 1970's inspired apple green chair, the chic, dark, interior design dominated by geometric shapes reminded me suddenly of old James Bond movies.
The waitress handed me a long list of crêpes. Some were given the name of celebrities. People could be heard joyfully ordering a George Clooney or a Boy George. Maybe a Georgio Armani will taste better after all?
Ordering "La Bretonne", I decided to go with a more conventional choice, or so I thought. Patiently sipping on a deliciously chilled Kir breton, a local cocktail made of cider with a measure of fruit liqueur (raspberry for example!), a surprisingly culinary creation soon landed on my table.
Taken aback, I observed the most unexpected crêpe I had ever had the chance to eat. Tied up at the top with shoe-string candy, the crêpe had been turned into a little pouch that would inevitably burst once I decided to eat it. Inside, the ice cream had started to melt, slowing mixing with the pear and the salted caramel I was so addicted to. My blood sugar level was soon hitting a new high, and I was loving every moment of it.
La Saint-Georges // 11 rue du Chapitre, Rennes
Sweet or savoury, simple or extravagant, eating a crêpe has to be on your to-do list while in Rennes. The food scene is a delight and the Breton crêpe, one of the best in the world. What can you do next in the Breton city? Check out this list of top things to do, even if you are planning to spend just one day in Rennes.
Disclaimer: This post may contain affiliate links.If you click on a link, I earn a little money at no extra cost to you.
RELATED POSTS