Dublin City Guide: Your Insider's Handbook to Exploring the Best of the Irish Capital
You are planning a city trip to Dublin, but you don't know where to start? This Dublin city guide is here to help. I've been living in Dublin for more than a decade, and I've seen and visited pretty much everything in this historic city, from its biggest attractions to its hidden gems often ignored by mass tourism. I've poured everything I know into this Dublin city guide so that you can enjoy the best of the Irish capital.
Tips to help you prepare for your city trip to Dublin have also been included in this guide. Check out when it is best to travel to Dublin, where to book your hotel and how to get around the city. I also share with you my favourite (and reliable) booking and planning resources. Everything (or nearly everything) you need to know about Dublin is here.
Disclaimer
This post may contain affiliate links. If you click on a link, I earn a little money at no extra cost to you.
How to Get to Dublin
Let's begin this Dublin city guide with your options for getting there from abroad.
Flying to Dublin
With many airlines offering direct flights to Dublin International Airport from almost everywhere in Europe and beyond, it has never been easier to travel to Dublin. Low-cost Ryanair is, of course, the airline that comes to mind when planning a trip to Dublin. However, don't disregard other companies offering very competitive prices, such as Aer Lingus or Air France/KLM.
From Asia, airlines like Emirates and Qatar Airways fly all the way to Dublin. It's also very easy to travel from the United States with direct transatlantic flights offered by Aer Lingus or American Airlines.
Travelling from Belfast to Dublin
From Belfast in Northern Ireland, you can easily reach Dublin by train in 2.5 hours. Currently, no security or identity checks are required to cross the border with the Republic of Ireland (at least for now).
If you're looking for a more budget-friendly option, several bus companies, such as Aircoach and Dublin Express, regularly depart from Belfast city centre. Bus tickets are typically half the price of a train ticket, and the travel time is roughly similar.
Dublin by Ferry
Thought about travelling to Dublin by ferry? You can board a ferry from Holyhead in Wales to Dublin, with a sailing duration of just a few hours. Dublin is also connected by ferry to Cherbourg in France, but be prepared for an overnight journey at sea.
How to Get Around Dublin
Dublin city centre is fairly compact, and you won't really need to rely on public transport. You'll mainly be walking between the city's main landmarks and museums, so make sure to pack comfy walking shoes.
Getting around Dublin by public transport is relatively simple. If you need to cover more distance, such as between the airport and the city centre, buses will be your main option. You can find all the information you need about Dublin Bus at their office on O'Connell Street or online. From the airport, you can take public double-decker buses or private coaches to reach the city centre. Taxis are also available outside the terminals.
Dublin has recently expanded its tram network called the Luas, with two lines now intersecting each other. The green line connects the north to the south of the city, while the red line goes east to west, connecting Dublin's main train stations.
Unique to Dublin, the city has a railway system called the DART, which connects seaside towns nestled around Dublin Bay, such as picturesque Howth or posh Dun Laoghaire. It is a favourite means of transport for Dubliners to escape the city for the day, especially during the warmer months.
The Best Things to Do in Dublin
Let's continue this Dublin city guide with a list of must-see attractions.
Visit the City's Famous Landmarks
From the Viking invasions in early Medieval times to the 1916 Easter Rising, Dublin is a city steeped in History with beautiful landmarks waiting to tell you their very own stories. Among those not to be missed are:
Kilmainham Gaol: a former prison with high political significance (booking is advised) in Irish modern history.
A great way to discover the city's landmarks at your own pace is through a self-guided walking tour of Dublin, allowing you to explore up to 15 sites in a single day.
If you are worried about crowds and are not afraid to step away from the tourist trail, check out my favourite off-the-beaten-path things to do in Dublin for a more relaxed city trip.
Enjoy Dublin's Free Museums
All the major museums in Dublin are free of charge! Whether you are visiting Dublin on a budget or are a museum aficionado, here is your chance for an affordable cultural experience.
In this Dublin city guide, I recommend:
Glasnevin Cemetery Museum: an active cemetery, the largest in Dublin, it is also a museum. Glasnevin Cemetery is the resting place of numerous personalities who shaped Irish history. Access to the cemetery is free, although guided tours and access to the O'Connell Tower are not.
The National Museum of Ireland: the Museum has three distinct branches in Dublin: the Archaeology Museum, the Decorative Arts and History Museum and the Natural History Museum. Out of the three, my preference goes to the Archaeology Museum for its exhibits of Celtic metalwork!
Take a Tour of a Distillery or Brewery
Ireland is world-famous for its whiskey and beer, so a detour to a distillery or brewery should be on your bucket list.
The Guinness Storehouse is the one everybody thinks about when coming to Dublin. Possibly a tad overpriced, it is still a very interesting dive into the story of Guinness, a company intricately tied to the history of Dublin.
When it comes to Irish whiskey, the Jameson Distillery comes to mind. However, please note that you won't see the whiskey-making process in action, as no Jameson whiskey is produced in Dublin any more. My advice is to visit one of Dublin's four working distilleries instead. At the Teeling Distillery, for instance, visitors can witness the operation of the huge copper pot stills. Just make sure to enjoy the tasting at the end of the tour on a full stomach, as it can have quite an effect!
For more whiskey tasting tours in Dublin, check-out the recommendations below:
Hit the Pubs
Dublin's nightlife reputation has travelled beyond the borders of the Irish Republic, and many choose Dublin to celebrate…anything! The Irish pub is a quintessential part of life in Dublin, and some will say you haven't seen the city until you drink a pint in one of its pubs.
What is Dublin's best pub then? That's a question people could argue over for days. Everyone has a favourite depending on what they are looking for: the crowd or quiet socializing, modern or traditional (live!) music, Irish beers or foreign.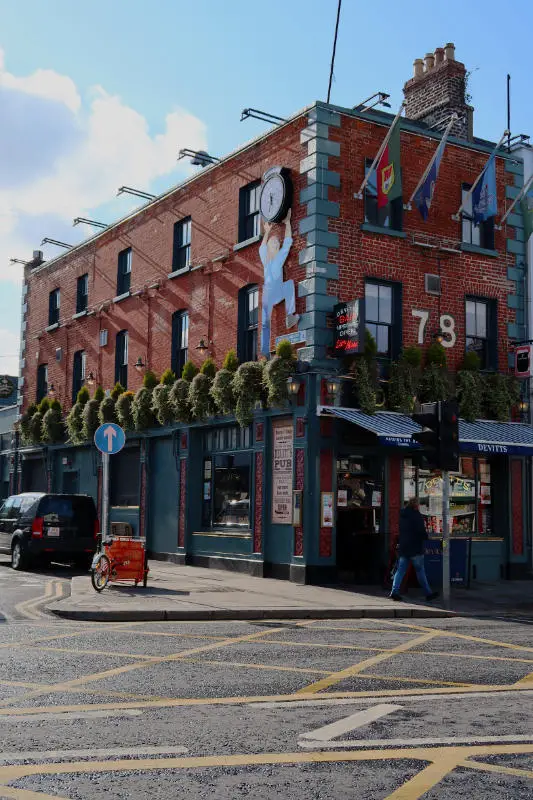 Although you can find a pub at almost every corner, let me suggest a few popular neighbourhoods to help you find your own favourite pub:
Temple Bar and its colourful establishments lining medieval looking cobbled streets lure crowds of tourists looking for an Irish pub with live Irish music. But it's all a bit overpriced, and you'll barely meet any Irish at the bar. Expand your search slightly beyond the cobbled streets for a more local crowd.
Definitely Dublin's best entertainment district, Camden Street attracts a crowd ready to party until late into the night. Mismatched looking pubs quickly fill up with locals and expats eager to chill out after a long week at work. Pick one and move to the next until you find the right one for you!
The area roughly stretching from George's Street to Dawson Street is a maze of streets filled with pubs, bars and clubs. Hotspots include George Street, Dame Lane, South William Street, Fade Street and Dawson Street.
You finally found a pub to your liking? Make sure to follow the Irish pub etiquette to blend in and have a great time in Dublin.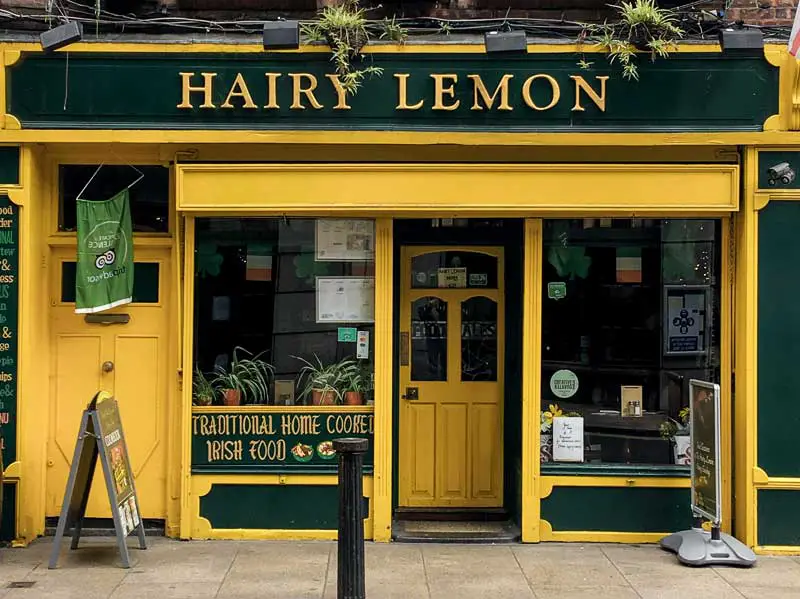 Alternative Things to Do in Dublin
What else can you do in Dublin? Here come more recommendations.
Escape the Dublin City for a Day
Finding the city crowd too overwhelming? Why not venture outside Dublin to escape the city's hustle and bustle for a short while? There are great places to visit around Dublin that are easily accessible by public transport.
For instance, head north to Malahide, a seaside town just 30 minutes on the DART, with a superb medieval castle and walled garden to explore. Alternatively, visit Howth, a quaint little harbour with one of the prettiest lighthouses in Dublin Bay and excellent seafood restaurants.
If you head south, you'll find Bray, a sleepy seaside resort with a long stretch of pebble beach. From there, a scenic path along the cliffs will lead you to the village of Greystones in under two hours, offering breathtaking views along the way. It's undeniably one of the best things to do on the East coast of Ireland.
Another option is to take a bus to Powerscourt Estate and discover its magnificent landscaped gardens. The 47 acres include romantic ornamental lakes, an exotic Japanese garden, dramatic terraces, and much more. Alongside the monastic settlement of Glendalough, they are considered one of the best places to visit in Wicklow, a breathtaking county just south of Dublin.
You can also take full advantage of Ireland's public transport to discover another side of the country, with amazing day trips from Dublin by train. Explore historic cities like Waterford, Kilkenny, Galway, or even Belfast for a day out and about, thanks to frequent and affordable train services.
Go Shopping in Dublin City
Looking to buy a new outfit or fill your suitcase with souvenirs and gifts? You'll find all your favourite high street brands on Grafton Street, a posh pedestrian-only street on the Southside of Dublin. On the Northside, you can find two shopping centres and two department stores on Henry Street.
Back on the Southside, the Creative Quarter is home to Irish design and some of the best craft shops in Dublin. At its heart, you'll find the Powerscourt Centre, a beautiful 18th-century townhouse converted into an elegant shopping venue with fashion boutiques, jewellers, antiques, and art stores.
If vintage is your thing, Dublin is not short of vintage boutiques. Labelled as Europe's oldest shopping centre, George's Street Arcade is a colourful mix of quirky cafés, vintage, and second-hand shops. Temple Bar, Dublin's cultural quarter, is another hotspot on the vintage scene. I enjoy browsing the many vintage boutiques found around its cobbled streets.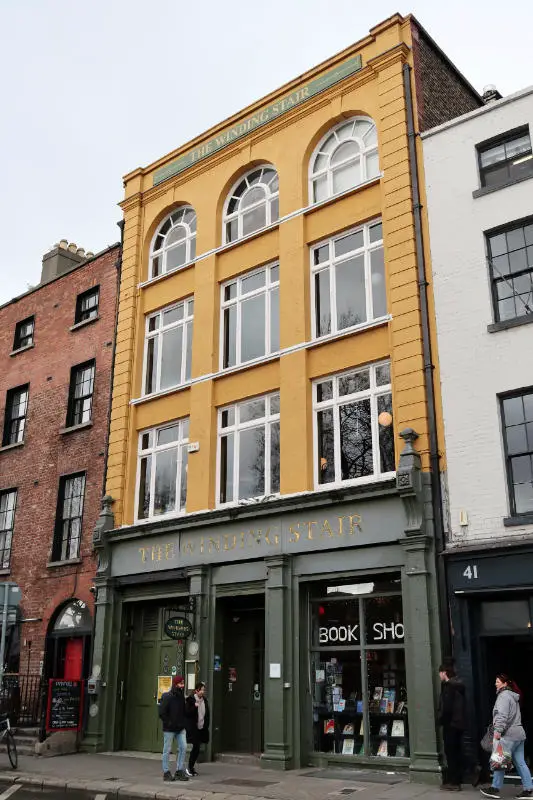 Wander Dublin's Parks and Gardens
Like every capital, Dublin has its fair share of parks and manicured gardens that you can visit for free. Probably the most famous of them is Phoenix Park, the largest enclosed park in Europe. As you cycle around the 707 hectares, you may stumble upon a herd of 400 wild deer or decide to visit the elegant Farmleigh House, among other interesting things to do in Phoenix Park.
My all-time favourite garden in Dublin is the National Botanic Gardens in Glasnevin, created in the late 18th century as the first botanical garden in Ireland. Its 19th-century glasshouse, made of curved iron and glass, houses a fantastic collection of tropical trees and cacti.
Dating back to the 18th century, manicured Georgian squares such as Merrion Square, St. Stephen's Green, and Fitzwilliam Square are worth a visit. They are exceptionally popular during the summer months, when locals love to spend their lunch break on the grass and soak up as much sunlight as possible.
Attend a Festival in Dublin
Dublin hosts festivals throughout the year, so if you happen to be in town during the St. Patrick's Festival, music festivals, or arts festivals, why not join in!
In March, the week-long St. Patrick's Festival culminates with the St. Patrick's Day parade on March 17th. Many people travel to Dublin to celebrate the Irish national day in the Irish capital. Brace yourself for the crowds and join the green and orange tsunami!
One of the most established music festivals in Dublin is the Temple Bar TradFest, which takes place in January. Another major music event is the Forbidden Fruit Festival in June, conveniently organised on the grounds of the Irish Museum of Modern Art.
For film enthusiasts, the Dublin International Film Festival usually takes place around February or March, while the Dublin Tiger Fringe Festival in September brings an eclectic range of theatrical performances to the Dublin audience. Other arts festivals include the Dublin Dance Festival, Bram Stoker Festival, GAZE Festival, and more.
Research Your Family Tree
Genealogy is a hobby that is growing in popularity, and every year more people travel to Ireland in search of their Irish roots. In Dublin, two places should be on your radar to get the answers you need:
The National Library of Ireland: Visit the NLI's free Genealogy Advisory Service located on Kildare Street. There, you'll find experienced researchers ready to assist you.
Glasnevin Cemetery Museum: If you have ancestors buried in Glasnevin Cemetery, the Genealogy Research Centre at the Glasnevin Museum has a dedicated genealogist to help you find the answers you seek.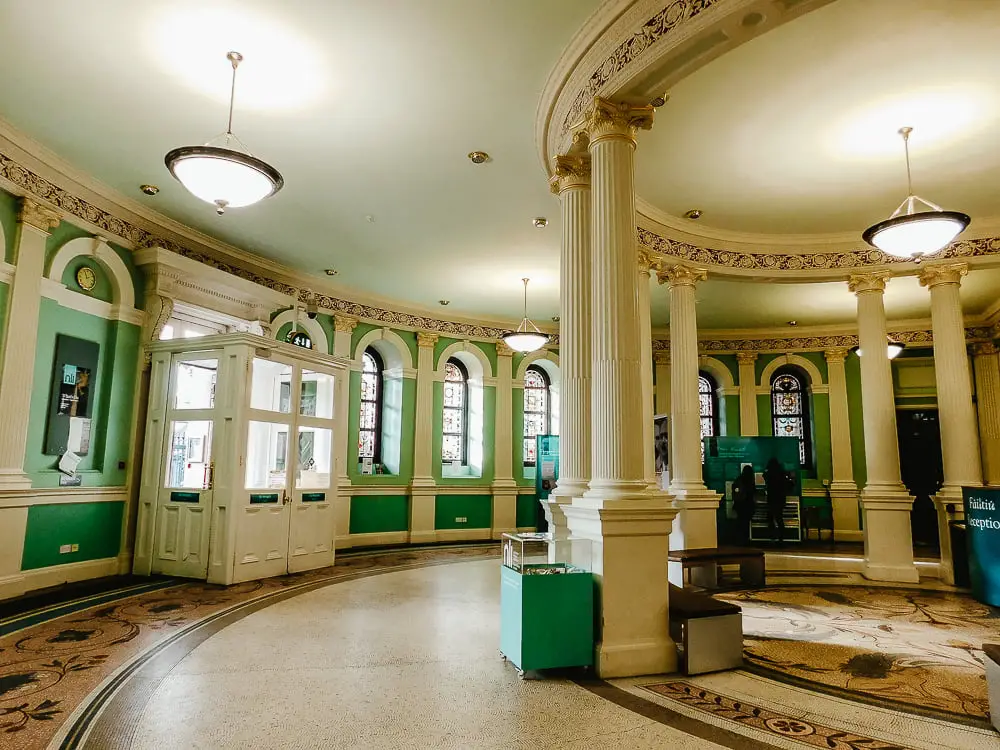 Where to Stay in Dublin City
You want to stay as close as possible to Dublin city centre so that you don't have to rely on public transport to get back to your hotel, especially at night when fewer buses run after 11:30 pm.
Hotels on the south side of the Liffey are ideally located, but can be expensive. If you can afford it, by all means, stay at the luxurious Merrion Hotel (known to host celebrities!) or the iconic Shelbourne Hotel overlooking the leafy St. Stephen's Green. You won't find anything better than that in central Dublin.
If you're on a budget and still want a room in a central location, you'll find several reputable hostels in the city centre. However, be sure to book early as private rooms tend to get booked quickly. In terms of hotels, those located on Dublin's Northside or a bit further out, such as in Smithfield, can save you a few bucks.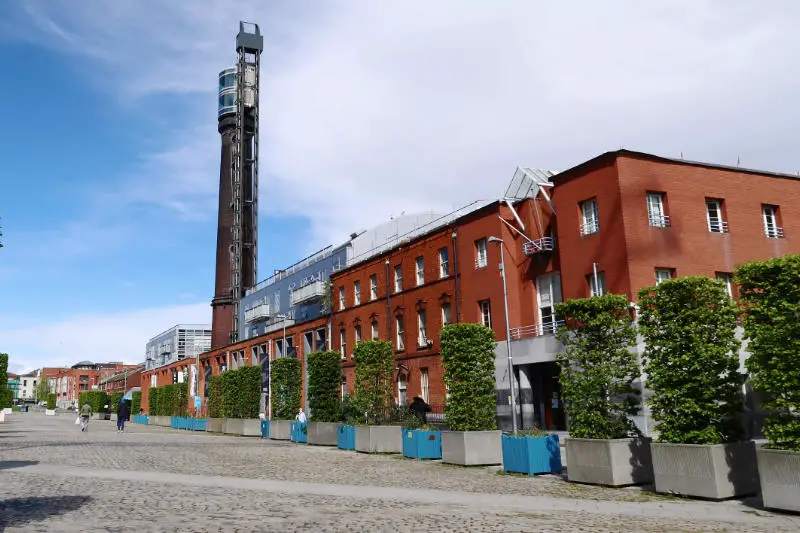 If you're hoping to enjoy a good night's sleep, you'll want to avoid hotels located in Temple Bar, or make sure to bring your earplugs.
To help you decide where to book your hotel, be sure to read my in-depth guide on the best neighbourhoods to stay in Dublin.
When is the Best Time to Visit Dublin
The unpredictable weather in Dublin makes it almost pointless to determine the best month to visit. Showers regularly give way to dry spells, and temperatures generally stay moderate throughout the year. It's best to be prepared and bring a rain jacket regardless.
The tourist season usually kicks in with the St. Patrick's Festival in March, followed by a slow build-up until August when Dublin becomes very busy, making it challenging to navigate the city centre.
My favourite months to visit Dublin are April/May and September. The crowds are manageable, and the sun makes regular appearances (no, I'm not kidding). You can enjoy longer days compared to winter, and hotels are usually more affordable during this time.
Dublin City Guide | Best Resources to Plan your City Trip
These are my favourite websites for researching and planning a trip to Dublin. You'll find a selection of international and trustworthy booking websites that every traveller should know about. I've also included some go-to local websites used on a daily basis by every Dubliner.
Heymondo – If you're looking for travel insurance, Heymondo is offering a 5% discount to my readers! They also have a nifty app t help you get the assistance you need while on the go.
Skyscanner – Skyscanner is a great search engine for finding flight deals. It also provides a helpful tool for planning the best route to reach Dublin, especially when departing from an airport without direct flights to Ireland.
Irish Ferries and Stena Line – If you're traveling from the UK or France, you can also reach Dublin by ferry. Check Irish Ferries or Stena Line for prices.
Booking.com – My go-to website when researching accommodation is Booking.com. The site offers a wider and more affordable selection of hotels and B&Bs that may not be found on other booking websites.
Hostelworld – If you're on a budget, Hostelworld offers a good selection of hostels in Dublin with great city centre locations.
AirCoach and Dublin Express – These are my favourite bus companies for travelling from Dublin Airport to the city centre. Buy your ticket online and head straight to the bus!
Dublin Bus – The Dublin Bus website will help you navigate the city's transportation network if you ever need to take a bus.
Irish Rail – Plan your day trips from Dublin with Irish Rail. Buying your ticket online and well in advance will guarantee you the best price.
Lonely Planet – Even after spending many years in Ireland, Lonely Planet remains one of my number one travel guides when planning a trip around this beautiful country. Buy a copy online and take it with you to Dublin; it always makes for a great travelling companion! Alternatively, read about all my favourite Ireland travel books.
Quick Travel Tips Before You Head to Dublin
Dublin is a safe place to visit, but like any major European city, be aware of your surroundings. Some people will try to snatch your smartphone from your hands if you are too distracted.
You won't be partying all night. Pubs serve alcohol until 11:30 pm (00:30 am on Friday & Saturday); some clubs can stay open till 2:30am.
Tipping is not compulsory in bars and restaurants (unless you're part of a big party) but always appreciated (around 10%).
Travel prepared: pack a rain jacket as weather can change quickly.
With a history dating back more than a thousand years, Dublin is one of the oldest cities in Europe. Its rich heritage can be seen everywhere as you walk along Dublin's lively streets. From centuries-old cathedrals to Georgian townhouses, from traditional pubs to ancient libraries with links to French Huguenots fleeing religious persecution, Dublin oozes history. It is the ideal destination for a city trip, and I hope you will enjoy your stay!
Disclaimer: This post may contain affiliate links. If you click on a link, I earn a little money at no extra cost to you.
LATEST POSTS ABOUT DUBLIN