How to Get Around Dublin by Public Transport (2022)
Getting your head around the local public transport can be stressful when visiting Dublin for the first time. You want to get to that museum but can't figure out what bus or tram you should take, or where to get that daily transport pass that could save you money. So let me explain how to get around Dublin by public transport before stress ruins your mood.
Dubliners rely heavily on the bus (and their feet) to get around the city. There is no metro and only two tram lines. A coastal train services seaside towns around the bay. Are you getting the picture? Yes, they like to keep it simple over here, so let's keep it even simpler…
Disclaimer
This post may contain affiliate links. If you click on a link, I earn a little money at no extra cost to you.
Essential Tips for Visiting Dublin
Public Transport to & from Dublin airport
You (nearly) landed on time and collected your luggage. What now? You have to make your way to Dublin city centre and you have no idea how. Let me clarify your options.
The 16 Dublin Bus Route
For travellers on a tiny budget, bus 16 will save you money with a fare of just €3.30 to Dublin city centre. You will need to present the exact fare to the driver though or he will print out a refund ticket to be redeemed in the Dublin Bus Office on O'Connell Street. And bank notes are not accepted on board. Such a pain, I know…
The yellow double-decker bus is parked just outside Terminals 1 and 2. Departure is every 10 minutes during the day, then every 20 minutes in the evening. Last bus departs from the airport at 11:30pm.
If you need to get into town quickly though, bus 16 is not your best option. It will take you at least 40 minutes to reach O'Connell Street depending on the traffic. And the bus doesn't always accommodate people with large pieces of luggage.
Buses Airlink Express 747 & 757
It will cost you €7 (discount available online) to get to the city centre with Airlink and bank notes ARE accepted on board. More expensive than bus 16 but also more spacious, the 747 and 757 have luggage racks to accommodate air travellers.
Look for distinctive green double-decker buses outside Terminals 1 and 2. The 747 and 757 will both take you to the Financial District (IFSC) before going their own way. The Airlink 747 connects with Busáras (Dublin central bus station), Connolly Station and Heuston Station, stops on O'Connell Street and in the vicinity of Temple Bar whereas the Airlink 757 heads to Merrion Square (see bus map).
The 747 runs every 15-20 minutes while the 757 departs every 30 minutes. The bus company advertises a journey of roughly 30 minutes to Dublin city centre but bear in mind that heavy traffic at rush hour can delay your arrival in town by 15 to 30 minutes! Patience, patience…
The Airlink Express buses have now been cancelled. Customers are redirected to their partner AirCoach.
Aircoach Bus Service
If you fancy more comfort after a long flight, AirCoach and their spacious and comfortable buses will take you to O'Connell Street for €7. You can purchase your ticket online (for the best price), at the departure stand outside Terminals 1 and 2 or from the driver.
AirCoach is perfect for late arrivals with buses running 24/7 (except Christmas Day). Route 700 will take you to Dublin city centre in just 25 minutes with usually very little delays even during rush hour. AirCoach has always been my favourite option.
Dublin Express Bus Service
Dublin Express is the new player in town. With buses running every 30 minutes between 4am and midnight, and a journey time of 20-25 minutes, the service is pretty fast and reliable. I tried Dublin Express myself recently and I was super pleased: the bus was right on time and spacious, the driver was friendly and helpful.
Dublin Express goes as far as Heuston Station which is a big plus if your hotel is located anywhere between the station and the city centre, like in Smithfield for example.
The fare is another big draw: a one-way ticket is currently at €6 online with a return at just €8. You have to pick a day and time when booking but your ticket allows some flexibility: you can travel on any services 12 hours before or after your booked journey if seats are still available. This can be very convenient if your flight is delayed on arrival.
Taxi
The journey from the airport to Dublin city centre in a taxi should cost you around €25 and can be a reasonable option for a group of 3 or 4.
Something you will notice soon enough is that there is no shortage of taxis in Dublin, day or night! You might have to queue in the taxi rank outside the Terminal but you will soon be on your way.
If not caught in the traffic, you will be in town in just 15 or 20 minutes!
You might also be interested in:
– Where to Stay in Dublin | A Guide of the Best Neighbourhoods
– 20 Real Money Saving Tips to Visit Dublin on a Budget
– Top Things to Do in Dublin for First Time Visitors
– Ireland Travel Books | The Best Guidebooks to Plan your Irish Adventure
Taking a Bus in Dublin
With over 100 routes available, you can't miss Dublin Bus yellow double-decker buses whirling around the streets of Dublin. Never stand too close to the road when one is approaching though, you might get hit. Regardless of life-threatening dangers, they are fun to travel on if you can get a seat upstairs. Great views but not for the faint-hearted.
How to Plan Your Bus Journey
Information on bus routes and fares are available online and in the Dublin Bus office located on O'Connell Street. Free maps outlining the bus routes and printed timetables are available there.
You can also download the free Dublin Bus app to access the bus timetables by route number. It also has a bus trip planner and provides real time information. It can be very handy as not all bus stops have been modernised with a display announcing the next buses. I just can't live without it!
Make sure the bus you're planning to board is heading in the right direction by checking the destination displayed at the front. If shown in Irish, keep watching, the information should soon be available in English (fingers crossed). For reference, "An lár" in Irish means "City Centre" and "As seirbhís" translates as "out of service". If in doubt, do not hesitate to ask the driver about your destination; they are usually very helpful.
Where to Buy a Bus Ticket
You can buy a single ticket from the bus driver in cash (no return ticket available). Have the exact amount ready, or the driver will print a ticket for you to redeem in the Dublin Bus office if you overpay. And I repeat, bank notes are a big no-no.
Can't be bothered with coins? Consider buying a Leap Card for €5 in the Dublin Bus office or at one of many authorised outlets (check for the Leap Card sticker on convenience shop windows). The same card can also be used on the tram, the DART and even the Commuter Train.
Top up your card at vending machines located at train and tram stations. You can also ask at the till in convenience shops to have credit added to your card. When boarding a bus, place your Leap Card on the machine in front of the driver and let him know where you're getting off. He will deduct a discounted fare from your Leap Card. (Yes, you save on your journey if you pay with your Leap Card.)
Etiquette to Adopt on the Bus
Travelling with Dublin Bus requires a certain know-how. Here come a few do's and don'ts for a smooth bus ride:
Hail the bus driver as he won't stop otherwise,
Stand in line at the bus stop and don't jump the queue to avoid nasty looks,
Always enter the bus by the front door and leave by the centre door if possible,
Don't bring luggage with you on the upper deck, there is no space for them and they take seats away from passengers,
Standing on the upper deck is not allowed and even dangerous,
Watch out for your stop as there is usually no announcement, and push the "Stop" button early enough (buses tend to go full speed…),
Thank the driver when getting off the bus, this is a nice gesture.
Using the Tram in Dublin
The Luas is the tram's local name. Ironically, Luas in Irish means "speed, velocity"…
How to Travel With the Tram
There is no information office. All you need to know is clearly explained on the Luas website and directions are well indicated at each station along with the expected waiting time until the next tram. Trams usually run every 5 to 10 minutes during the day, service is less frequent in the evening.
There are only two tram lines in Dublin. The green line travels from North to South and the red one from East to West, linking together Dublin's two main train stations, Connolly and Heuston Station (see map of the tram lines).
The Luas doesn't operate all night. Service stops at 00:30 am at the latest. And watch out for pickpockets.
Where to Buy a Tram Ticket
Single and return tickets can be purchased at ticket vending machines at every Luas stop, in cash or with credit/debit card. Tickets can't be bought on board. Fares are available online on the Luas website.
Single tickets are valid for 90 minutes at the time of issue. Return tickets are valid for return travel on the day of issue. Keep your ticket with you at all times for the random ticket inspection.
If you have a Leap Card, you can top up at the same vending machine. Touch on and off at a validator on the platform when boarding and getting off the tram to allow the exact fare to be deducted from your Leap Card. If you forget to touch off, the full fare will be taken out. And again, you get a discount when travelling with a Leap Card.
Taking the DART in Dublin
DART stands for Dublin Area Rapid Transit. It is Dublin's coastal train service managed by Irish Rail, the national train company. The DART is your chance to discover charming seaside towns and Dublin Bay's coastline for next to nothing thanks to some amazing views.
How to Get on the DART
Information can be found on the Irish Rail website. If you want to speak with a member of staff, make your way to Connolly, Tara Street or Pearse Street Station. These are the three city centre locations from where to board the DART.
Want to know when to go to popular Howth and how long your journey will take? Download the free Irish Rail app on your phone. The app offers a handy journey planner. Enter your current location, your destination plus the time and date of departure and voilà!
At the station, finding the correct train is rather straightforward. On the screens, look for the platform matching the direction of your train. Trains travel northbound to Howth or Malahide and southbound to Bray or Greystones.
Once on the platform, double-check on the screen the stations your train is calling at to make sure you're heading in the right direction.
Where to Buy a DART Ticket
You can buy a single or return ticket from a member of staff at the ticket desk at Connolly, Tara Street or Pearse Station. You can also purchase your ticket or top up your Leap Card at a vending machine located inside one of the stations.
Keep your ticket with you until you reach your destination, you might need it to exit the station. If travelling with a Leap Card, don't forget to touch off before leaving the station or the full fare will be deducted. No reservation needed and service is fairly regular.
Dublin Public Transport Pass: The Leap Visitor Card
Are you planning to use public transport extensively? The Leap Visitor Card might be for you.
The Leap Visitor Card allows unlimited travels on Dublin Bus, Luas, DART and Commuter Rail over 1, 3 or 7 days. The card can be purchased in advance and delivered to your home address. It can also be purchased at the airport and selected locations in town. Prices are available here.
Renting a Bike in Dublin: Dublinbikes Three Day Ticket
Cycling is another way to get around Dublin. The city is slowly becoming bike friendly with the creation of bike lanes and Dublinbikes, a bike sharing scheme similar to those found in other European capitals.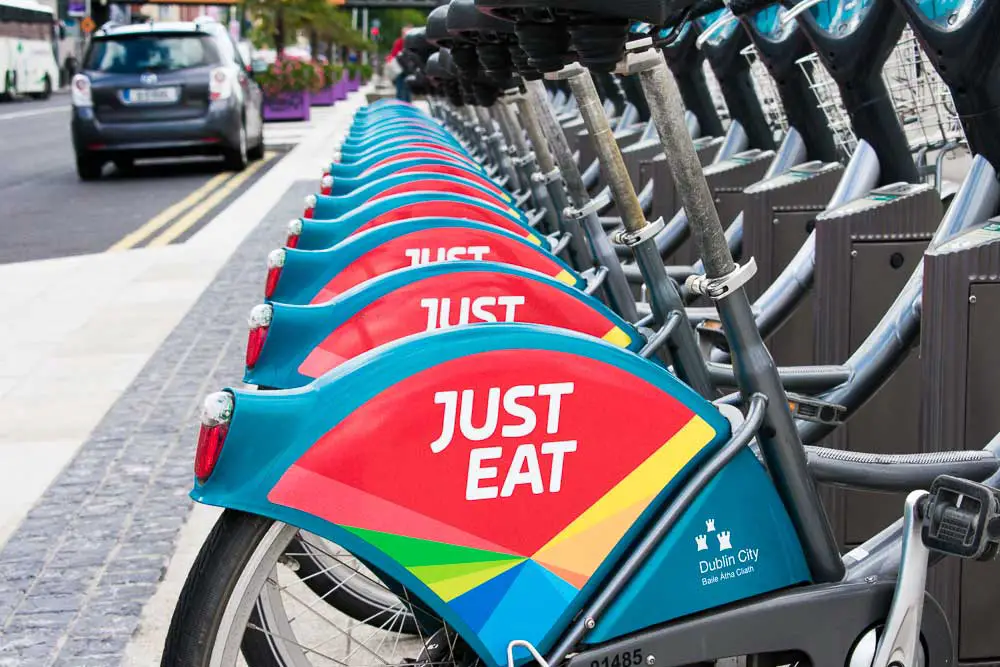 To access a bike, visitors can purchase a three day ticket from any Dublinbikes stations located all around town for €5. The first 30 minutes of use are free of charge. Your credit card will then be charged according to a cheap pricing structure.
I hope this guide will help ease any stress caused by Dublin public transport now that you see how simple it is to navigate the city. If you are interested in more travel tips, I recommend reading my post about visiting Dublin on a budget. My Dublin travel guide is also packed with ideas on things to do and see in the Irish capital.
Disclaimer: This post may contain affiliate links. If you click on a link, I earn a little money at no extra cost to you.
RELATED POSTS