20 Real Money Saving Tips to Visit Dublin on a Budget
Dublin can be an expensive city to visit, no doubt about that. But it doesn't mean you have to spend a fortune either. Drawing from a decade long experience living in the Irish city, I share with you 20 tips to visit Dublin on a budget. From flying low-cost to cheap hotels, free things to do to eating on the cheap, this money saving advice will help you enjoy Dublin without breaking the bank.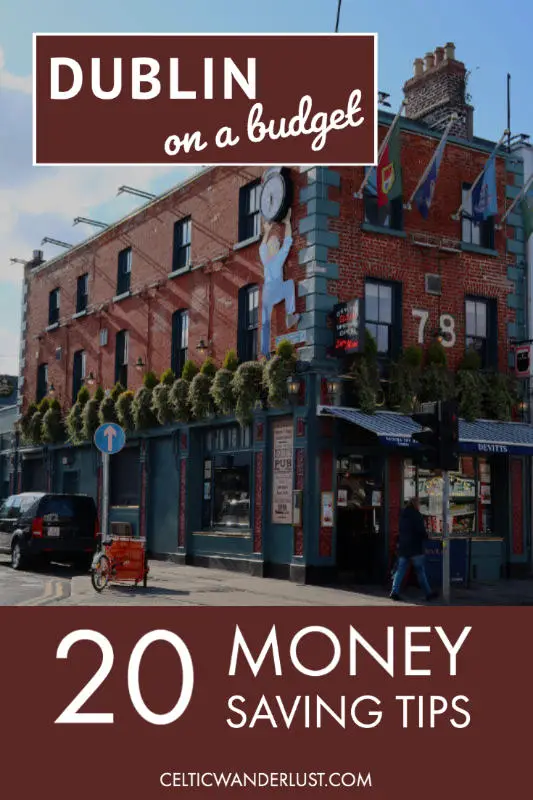 Disclaimer
This post may contain affiliate links. If you click on a link, I earn a little money at no extra cost to you.
Essential Tips for Visiting Dublin
Cheap Ways to Travel to Dublin
Unless you are travelling by road from Northern Ireland or crossing the Celtic Sea on a ferry from Wales, chances are that you are going to fly to Dublin. Here are a few tips to save money on your plane ticket to Dublin.
1. Fly Low-cost
I'm going to be honest, I am not a big fan of Ryanair! Their ever changing luggage policy, poor customer service and last minute communication are enough to keep me at bay. But if the added stress of flying low-cost doesn't bug you, Ryanair is the way to go.
With inexpensive flights to Dublin from almost every country in Europe, Ryanair's low fares are hard to beat. Keep in mind however that the company is often flying from obscure airports that are not always cheap or easy to access. So don't forget to include in your budget the additional cost to travel to and from your local airport.
Another word of caution: Ryanair being at war with third party travel websites, always buy your tickets directly from Ryanair's own website! It will save you lots of trouble if you need to request a refund (good luck with that one!) or modify your flights.
2. Book Early With Standard Airlines
Ryanair is not your only option to fly cheap to Dublin! Ireland's national airline Aer Lingus offers very competitive economy fares from major European airports, even more so if you book early. Aer Lingus is always my first option when it comes to fly in and out of Dublin, and the experience has always been nothing but satisfactory. Plus they have a generous 10k carry-on luggage allowance.
Air France has also been surprisingly affordable when booking early. Flying from Charles de Gaulle airport in Paris, I managed to secure a flight to Dublin at a price comparable to Ryanair's thanks to Skyscanner. The flight comparison website has been a real revelation and has become my go-to booking tool. Check it out here!
You might also be interested in:
– Phoenix Park, Dublin | A Guide to Its Historical Treasures
– 4 Working Distilleries in Dublin You Need to See
– Ireland Travel Books | The Best Guidebooks to Plan your Irish Adventure
– Jam-Packed Dublin Literary Walking Tour for Book Lovers
3. Avoid Flying at the Weekend
I bet you knew this one already! Dublin being a very popular weekend getaway destination, fares to the Irish capital can be twice, even three times more expensive at the weekend, Friday included. Even more so if an international rugby game is due to take place in Dublin that weekend (check the news!).
Flying in and out of the Irish city on weekdays is the surest way to cut down your travel costs as the demand is lesser between Monday and Thursday. Plus you have the added benefit of avoiding the weekend crowds at sights you plan to visit.
Places to Stay in Dublin on a Budget
Accommodation will be your main expense, no doubt about that. If comfort is not your biggest worry, there are ways to keep your accommodation costs under control.
4. Youth Hostels are Not Just for Young People
With overpriced hotel rooms, it can be difficult to visit Dublin on a budget. Fortunately youth hostels can be found all around the city centre. They are often well maintained, clean and secure. I've stayed in a few myself, and I had nothing to complain about but the noise.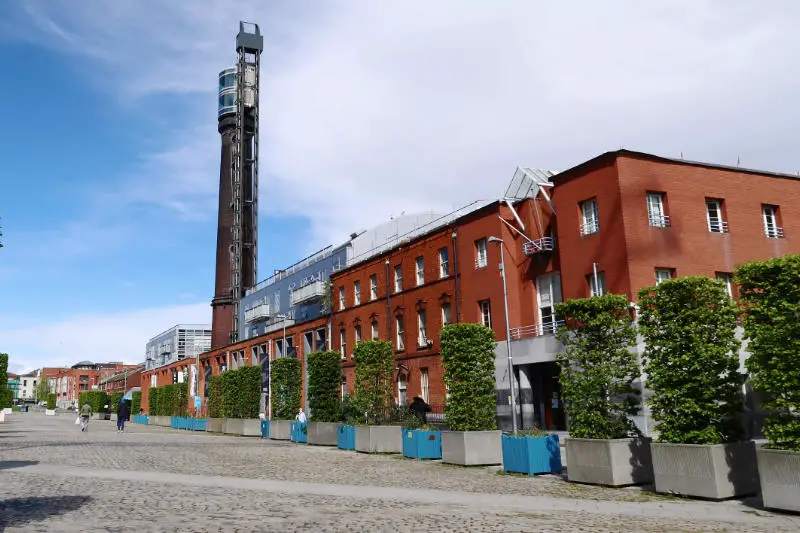 But more importantly, you don't have to be a penniless student to book a stay at a youth hostel. Hostels in Dublin are indeed open to every kind of traveller. Of course their affordability attracts a younger crowd, often here to enjoy Dublin's night scene. So be prepared for a rocky night (bring earplugs) if you choose to stay in a large dormitory.
If you don't want to relinquish all of your privacy, private rooms with shared bathrooms are sometimes available. But you need to book early as they tend to go fast. I highly recommend checking Hostelworld for the best selection of youth hostels in Dublin.
5. Stay on the North Side
Not ready to give up on your comfort yet? I get you. Although not many, there are still a few affordable hotels in the city centre. They are largely located north of the Liffey River, an area traditionally considered less desirable but still very central.
Several international and reputable hotel chains on the city centre's Northside are worth checking out. For example, if staying at the Holiday Inn Express on O'Connell Street you'll benefit from its handy location and enjoy its modern design. Hotel chains Maldron and Jurys Inn offer similar prices around the same neighbourhood.
6. Avoid Weekends (again!)
It shouldn't come at a surprise that hotel rooms are way more expensive at the weekend. I've seen prices going up by a third when booking between Friday and Sunday.
Things get even worse if a major sport event or concert is on the calendar. Rooms will be scarce and prices will skyrocket. To keep your cost down, I recommend planning your trip to Dublin between Monday and Thursday.
Saving Money on Public Transport
Public transport is another domain where you can save money in Dublin. 
7. The Cheapest Way to & from Dublin Airport
If your budget is really tight, you'll want to use public transport to travel to and from Dublin airport. And bus 16 will be your cheapest option. This yellow double decker bus stops just outside Terminals 1 and 2 and will take you to the city centre for the reasonable price of €3.30 (to pay in cash when boarding). This is half the price of the Dublin Express bus or AirCoach. With departures every 10 or 15 minutes, it is very reliable.
But cheap doesn't mean fast. It will take you at best 40 minutes to reach O'Connell Street in the city centre. Also be warned that bus 16 is not your best option if you are travelling heavy as it doesn't always have luggage racks on board. And keep in mind that its last rotation departs from the airport at 11:30pm.
8. Get Yourself a Leap Card
If you intend to use public transport frequently while in Dublin, I would recommend you get yourself a Leap Card. Available for €5 from Dublin Bus Office on O'Connell Street and convenience stores with the Leap Card logo on their shop windows, the card allows you to travel through the city at a discounted rate. The card's daily cap will also limit your spending.
The Leap Card is very convenient as it can be used to hop on the bus, the tram, the DART and even commuter trains. You don't have to carry cash with you, simply top up your card at a ticket machine to use on board.
If you are planning to make use of public transport a lot, consider buying the Leap Visitor Card. The card is available at the airport and allows for unlimited travels for 1, 3 or 7 days.
9. Bring Comfortable Shoes With You
Pack your best walking shoes or runners, waterproof if possible. You may have noticed already but Dublin city centre is fairly compact compared to other big European cities. Lots of sights are within walking distance and if you don't mind using your feet, chances are that you won't have to use public transport that much if not at all.
I even put together a self-guided walking tour of Dublin to help you discover the city's highlights in just one day. So grab your most comfortable shoes and keep walking!
10. Cycle Your Way Around Dublin
In the last few years, Dublin has become more bike friendly with the creation of dedicated bike lanes around the city and Phoenix Park, Dublin's largest public park. It has never been easier than today to travel through the city by bike.
And like many European cities, Dublin has set up its own public bike scheme with bike stations located all around the city centre. If you are planning a few days in Dublin, know that you can purchase a three-day ticket for only €5 from Dublinbikes website. You will only be charged extra if you use one of their bikes more than 30 minutes between stations.
Cycling can be a good alternative to public transport if you want to visit sights that are a little further out from the city centre like the Guinness Storehouse or Kilmainham Gaol. Or maybe you don't like walking that much and prefer to whiz from one point of the city to another.
Things to Do in Dublin on a Budget
What can you do in Dublin for free or next to nothing? There are plenty of things!
11. Make the Most of Dublin's Free Museums
You don't have to spend a fortune in museums in Dublin. In fact you don't have to spend anything at all. Dublin's most important and BEST museums are free, a great reason to choose Dublin for your next culture trip.
The National Museum of Ireland's Archeology department is one of my favourite free museums; its collection of early Christian artefacts is a must-see. At the crossroads between History and Art, the world-renowned Chester Beatty Library is home to centuries old, fascinating bibles and qurans.
The National Gallery of Ireland is another free museum worth exploring. Here you can admire a broad selection of masterpieces by major European artists such as Goya, Titian and Poussin. Further in the art department, the Hugh Lane is one of Dublin's hidden gems housing the best collection of modern art in Ireland. For more info about the Art, make sure to check out this post about the best art museums in Dublin.
12. More Things to Do in Dublin for Free
Do you have enough staying indoors? You can access Dublin's parks and gardens free of charge. With impressive 19th century greenhouses filled with lush greenery, the National Botanic Gardens in Glasnevin are especially worth your time. Also, don't miss Merrion Square and Saint Stephen's Green, two historical and manicured gardens in the city centre.
Phoenix Park, the largest enclosed park in Europe, is another popular destination among visitors. With a bit of luck you might encounter a herd of not-so-wild deer willing to get photographed.
For those with an interest in Irish history, a visit to Glasnevin Cemetery should be at the top of their to-do list. Ireland's largest burial place overlooked by an oversized round tower is the final resting place of prominent Irish figures such as nationalist leaders Michael Collins and Daniel O'Connell.
13. Discover the City's Highlights With This Self-Guided Walking Tour
As mentioned earlier, pack your best walking shoes for a self-guided walking tour around Dublin's compact city centre. You can choose to spend two hours or an entire day wandering around the city's streets but I can guarantee my itinerary won't cost you a penny.
From the historic General Post Office to the colourful Temple Bar, from the city's two cathedrals to the leafy grounds of Trinity College, you will be able to discover Dublin's highlights in just one day with this jam-packed itinerary. Better get your camera ready and follow along! Click here to see the itinerary with maps.
14. Travel to the Coast for Next to Nothing
With so much to see in the city, we sometimes forget that there is another side of Dublin worth discovering: its coastline. And for that, you don't have to go very far or spend a fortune on transportation. The coast is easily and quickly accessible thanks to the DART, a cheap railway line running along Dublin's coastline. And with a Leap Card, fares are 20 to 30% cheaper.
Where do you go then? Go North and visit Howth and Malahide, two charming coastal towns with heaps of cafés and restaurants. Or stop in Raheny for a refreshing coastal walk on Bull Island, a protected nature reserve. Go South to posh Dun Laoghaire's marina, picturesque Dalkey or tranquil Bray and enjoy fantastic sea views along the way.
Check out this post about the best lighthouses in Dublin Bay for more ideas on where to go.
Cheap Food in Dublin
Food is expensive in Dublin and you might not be able to afford going to the restaurant every day. This is how to avoid spending a fortune on food.
15. Eat on the Go
One way to keep your food cost down is to eat on the go. Dublin has many convenience stores selling cheap take-away sandwiches and salads. For a hot sandwich that feels you up, I recommend ordering a fresh sandwich directly from the counter; bigger and tastier than pre-packed and bland sandwiches on shelves, they are better value for money.
Another tasty but cheap option is the traditional fish n' chips. Leo Burdock and Beshoff are two well-known fish and chips with locations in Dublin city centre. Portions are usually quite big, they should keep you full for a while.
Street food is not a thing in Dublin. But food markets are. If you happen to stumble upon one during your visit, chances are somebody will be selling fresh burgers or delicious home-made hotdogs for a few euros. Temple Bar food market is one of my favourites. Howth and Dun Laoghaire also have recurring food markets worth checking out, especially during summer time.
16. Dine Early
You might want to eat some nice food at a restaurant while you are in town. To do so without breaking the bank, be on the lookout for early bird deals. Restaurants often have a discounted menu for those dining early, usually around sixish. The Larder in Temple Bar is one of them.
You then have the added bonus to dine at a much quieter time. Seven o'clock comes and the restaurants are very busy, so much so that it can be difficult to get a table if you haven't booked ahead.
17. Treat Yourself With Local Burgers
Burgers are another option to eat on the cheap in Dublin. I'm not talking about American fast food here. I'm referring to Dublin's home-grown burger scene. The last few years, the Irish city has seen new burger joints popping up around the city, attracting the crowds with healthier options made of locally sourced products.
Bunsen is one of the winners of this new trend. With a menu the size of a business card, the restaurant offers no-thrills, cheap and delicious burgers that have everybody talking. The success has been such that their Irish owners have opened six locations in Dublin alone.
More traditional and slightly more expensive than Bunsen's "straight up burgers", Bobo's is another burger joint I like to go to. The restaurant serves a broad range of Irish gourmet burgers made of locally sourced ingredients. The business has now expanded with three locations around Dublin.
Going Out in Dublin on a Budget
You can't come to Dublin and not experience its night scene, even if you are on a budget. Here come a few tips to enjoy a night out without losing your shirt.
18. Avoid Pubs in Temple Bar
After walking around Temple Bar's cobbled streets, it can be hard to resist the temptation of drinking a pint in one of its joyful pubs. Unfortunately these places are not cheap and every now and then we hear stories of tourists being ripped off.
Camden Street is often the place I recommend for a cheap night out in the Irish capital. With plenty of pubs and bars filled with locals and expats, Camden Street is a popular and more affordable entertainment district. Don't forget to follow the Irish pub etiquette once you have found your favourite establishment!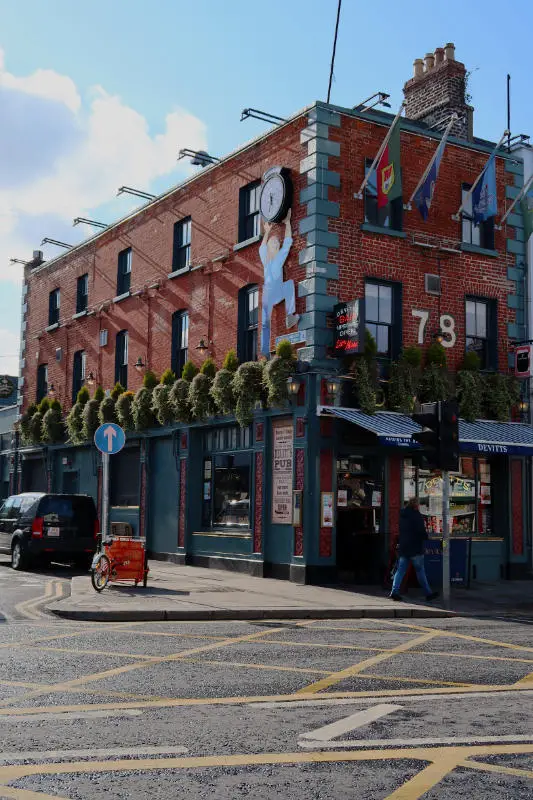 19. Stick to the Beer
If you want to avoid a hefty bill at the end of the night, stick to the beer. Take this advice from a cocktail aficionado. A simple rum & coke can be very expensive in Dublin. Same thing for a glass of wine.

Beer is your best option if you are on a budget. Guinness is the city's drink so you might want to try that one first. You don't have to order an entire pint of the black stuff either. Half a pint can be just enough to get a taste of it.
20. Don't Stay Out Late if Relying on Public Transport
If you are relying on Dublin Bus or the Luas to get back to your hotel, know that public transport doesn't run all night in Dublin. You won't catch a regular bus after 11:30pm and the last trams depart at midnight.
Having said that, there are several night buses called Nitelink running between midnight and 4am Friday and Saturday night. Departures are often (and only!) on the hour from a single pickup point. Not the most practical… And the fare is €6.60, no matter how far you are going.
If you miss your bus, you will have no other option but to get a taxi back to your hotel. And that will certainly be more expensive than a bus ticket, especially if you are travelling solo. A taxi ride from Camden Street to Smithfield Square could easily cost you around €10 if your taxi gets stuck in the traffic. You can check your taxi cost beforehand with this handy taxi fare estimator.
You can hail a taxi from the street but competition can be tough in the early morning. Your best chance to get a taxi is to queue at a taxi rank if you are in the city centre. You can also use the app Free Now to hail or book a taxi online. If you enter your payment card details, the taxi driver will deduct your fare directly from your card. Very handy!
I hope these tips will prove useful and you won't spend a fortune when visiting Dublin. It is actually possible to enjoy the city without breaking the bank thanks to a wide choice of free museums and affordable restaurants. For more things to do during your stay and travel inspiration, I would also suggest reading my Dublin travel guide. It is filled with recommendations from a local, a.k.a. me!
Disclaimer: This post may contain affiliate links. If you click on a link, I earn a little money at no extra cost to you.
RELATED POSTS