Jam-Packed Dublin Literary Walking Tour for Book Lovers
Are you an avid reader, a book lover, a self-proclaimed book nerd or even a self-styled bookworm? Then you are at the right place. Dublin has given the world some of its best and well-known writers: James Joyce, Oscar Wilde, Bram Stoker to name just a few. The Irish city is proud to promote its centuries old literary tradition through museums, tours and festivals, and attracts legions of passionate readers every year.
A Dublin literary walking tour seems therefore the best way to make the most of  the city's illustrious literary heritage. I used my in-depth knowledge of the city to create this self-guided walk for book lovers. One day might not be enough to see everything mentioned in this guide. But you are free to pick and choose whatever seems more interesting to you, be it museums, bookshops or libraries, and imagine your very own literary tour.
Disclaimer
This post may contain affiliate links. If you click on a link, I earn a little money at no extra cost to you.
Best Websites to Plan Your Visit to Dublin
Start your Dublin Literary Walking Tour on Dublin Northside
Begin your journey into Dublin's literary heritage at Dublin Writers Museum located in the North city centre before heading south of the River Liffey.
Dublin Writers Museum
The Dublin Writers Museum is located on Parnell Square, inside an 18th century mansion. The beautiful architecture of this historical house, decorated inside with portraits of Irish writers, is certainly worth a look.
However I was slightly disappointed with its exhibition that could do with some modernising to better promote its content. The museum will nonetheless please literature enthusiasts with its rare book editions (like the first edition of Dracula by Bram Stoker), letters and personal items that belonged to Yeats, Joyce, Beckett and more.
James Joyce Statue
As you make your way down O'Connell Street, you'll come across a life-size brass statue of James Joyce standing at the corner with North Earl Street, opposite the GPO. Leaning aloof on its cane, the "Prick with a Stick", as the statue is sometimes nicknamed (with humour), seems to observe Dubliners passing by as they get on with their daily business.
Although the Irish author spent a great deal of his life abroad, Dublin remained an immense source of inspiration for Joyce. Two of his most famous titles, Dubliners and Ulysses, are indeed both set in Dublin.
The Winding Stair Bookshop
At the end of O'Connell Street, take a right turn to Bachelors Walk. Follow the River Liffey for a little while. You will soon reach the Winding Stair, one of Dublin's oldest bookshops.
Overlooking the Ha'Penny Bridge, Dublin's most romantic bridge, the ancient facade of the Winding Stair gives the independent bookshop its timeless and charming character. Selling new and second-hand books, the establishment prides itself in stocking unusual works unavailable anywhere else. Go and have a peek!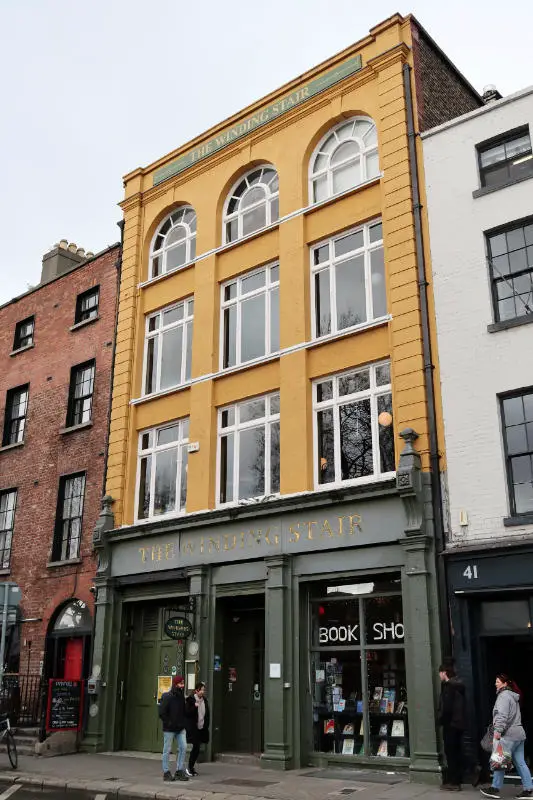 You might also be interested in:
– The Best Art Museums in Dublin You'll Want to Visit
– Irish Pub Etiquette | How to Avoid a Cultural Faux Pas
– 4 Working Distilleries in Dublin for Irish Whiskey Lovers
– Ireland Travel Books | The Best Guidebooks to Plan your Irish Adventure
Take Your Literary Tour Over to Temple Bar
Walk across the Ha'Penny Bridge (take a selfie while you are there), and continue your literary tour in colourful Temple Bar.
Connolly Books
In Essex Street East, a late 17th century building has become the home of a self-styled radical bookshop: Connolly Books.
Founded in the 1930's and named after one of the executed leaders of the 1916 Easter Rising, the bookshop settled at its current location in 1977 after being chased all over the city by angry mobs. Communist and left-wing literature didn't go down very well back then.
The shop has an interesting collection of books about Irish history, political figures and the Easter Rising. Well worth a browse.
The Gutter Bookshop
Further down the same cobbled lane on Essex Street West, the Gutter Bookshop is another worthwhile stop on your Dublin literary walking tour.
Named after a famous line by Oscar Wilde, "we are all in the gutter, but some of us are looking at the stars," the Gutter Bookshop prides itself on stocking exciting books you won't find anywhere else. Local literature is well represented here and makes a great souvenir to bring home.
TIP: Need a little break ? Stop by the Queen of Tarts in Cow's Lane to refuel with some delicious treats.
Take a Detour by Dublin Castle
Dublin Castle
From Temple Bar, cross Dame Street and take a peek in Dublin Castle's lower yard.
Across from the Chapel Royal, the building is used as an office for civil servants. It's here that Bram Stoker, author of Dracula, worked in the Registrar of Petty Sessions Clerks before finding fame as a writer.
In the basement of the same building, medieval remains of the castle were excavated, including several severed heads. Rumour has it that some dark influence might have played a role in the young Bram Stoker's inspiration.
The Chester Beatty Library
Located at the back of Dublin Castle, the Chester Beatty Library cannot be overlooked. This free museum of books is one of the finest in the world and maybe the best museum in Dublin.
Inside, two galleries are filled with the most beautifully crafted books. From 16th-18th Japanese painted manuscripts depicting fairy tales and religious legends to gold-covered, baroque 18th century Qur'an manuscripts from Turkey, there is a lot to look at.
Dublin owes this world class museum to Alfred Chester Beatty. Born in New York, this wealthy industrialist had retired in Dublin. A great collector of manuscripts, he had a keen eye for richly-illustrated material, fine bindings and beautiful calligraphy. Upon his death his collection was bequeathed to a trust for the benefit of the public.
Visit Saint Patrick's Cathedral and Its Neighbourhood
Return to Dame Street and head towards Christ Church Cathedral. Here, take a left turn on Patrick Street, St Patrick's Cathedral is just a mere 5-minute walk.
Saint Patrick's Cathedral
Jonathan Swift is known worldwide for writing Gulliver's Travels. But the famous author was also Dean of St Patrick's Cathedral from 1713 until his death in 1745.
Inside the cathedral, death masks of Jonathan Swift can be seen but more importantly, this is where he was buried. His grave can be found at the west end of the cathedral. His epitaph is on the wall nearby, words in Latin that he wrote himself.
Entrance to the cathedral is not free but you can purchase your ticket online here.
The Marsh's Library
Beside the cathedral, the Marsh's Library can be found hiding behind a wrought iron gate on St Patrick's Close. Founded by Archbishop Narcissus Marsh in 1707, this public library was the first to open in Ireland.
Amazingly, its interior has since remained largely unchanged. Sitting on their original dark Irish oak bookshelves 25,000 rare books from the 16th to the 18th century have been kept in the same position for the last three centuries.
An unexpected sight, cages possibly from the late 18th century have been kept inside the library. People back then were locked up behind a metal fence when consulting smaller books to avoid thefts.
The library offers short tours for a few euros during which you will hear creepy stories about the Archbishop's ghost or an unidentified mummy found in a closet. You will also see the Old Reading Room where Bram Stoker and James Joyce themselves sat. The Marsh's Library is no doubt one of Dublin's best hidden gems.
Finish Your Dublin Literary Walking Tour in Georgian Dublin
Walk down Kevin Street, then Cuffe Street and you will be in St Stephen's Green in just 10 minutes.
St Stephen's Green
Enter the leafy Georgian square through its southwest gate as you reach the park from Cuffe Street. Follow the path at the south of the park for a couple of minutes and you will soon see a statue of James Joyce (another one!) standing on the left side of the path.
Search for the next gate immediately on your right and exit the park. Your next stop, MoLI, is right in front of you.
The Museum of Literature Ireland – MoLI
MoLI is one of the latest attractions to open in Dublin. Based inside two exquisite Georgian townhouses, the historic home of the Catholic University of Ireland (now UCD), the museum is a homage to Irish writers. Its location couldn't be more suited as James Joyce himself studied between these walls.
MoLI has a permanent exhibition dedicated to Joyce where the first edition of Ulysses is kept under glass like a precious bible. Temporary exhibitions about slightly less famous writers offer the opportunity to broaden your literary horizon.
You can book a tour with an audio guide here. Although a little bit more expensive, the guided tour is money well-spent. I was blown away by the staff's expert knowledge in Irish literature.
TIP: You can access the picturesque Iveagh Gardens from the courtyard at the back of MoLI. They were the private gardens of the Guinness family. The perfect spot to chill out.
Ulysses Rare Books
From MoLI, cross St Stephen's Green south to north and take Dawson Street. The second street on your left is Duke Street where you'll find your next interesting bookshop.
If you have (lots of) money to spare, this is the shop to spend it. A fixture of Duke Street since the 1980's, Ulysses Rare Books (the name is clearly an ode to James Joyce) does what it says on the tin: it sells rare (and expensive) books. Have a look, you might find something worth breaking the bank.
Hodges Figgis Bookshop
Just around the corner from Ulysses Rare Books, Hodges Figgis is my favourite bookshop in Dublin. Although not always has its current location in Dawson Street, the shop has been around for 250 years. Its creaky wooden staircase will take you to several floors of books in every genre. Be careful not to lose track of time!
Hodges Figgis has notably an extensive collection of books about Ireland, from history to legends, travel and more. This bookshop is definitely a great place to browse and buy a gift for your bookish loved ones, or yourself.
Trinity College and the Book of Kells
If you love books, Trinity College and its Book of Kells exhibition must be firmly on your to-do list. Built in the early 18th century, the library of Ireland's oldest university is a real show stopper. You'll find one of Trinity College several entrances on Nassau Street, literally two steps away from Hodges Figgis. 
The tour starts on the ground floor with the permanent exhibition dedicated to the Book of Kells while the Long Room, the main chamber of the Old Library, occupies the second floor. 
Dating from the 9th century AD, the Book of Kells has been described as one of the most richly-illuminated manuscripts of the four Gospels. Its flamboyant golden, red, blue and green illuminations with interlocking Celtic spirals have turned the book into a real work of art.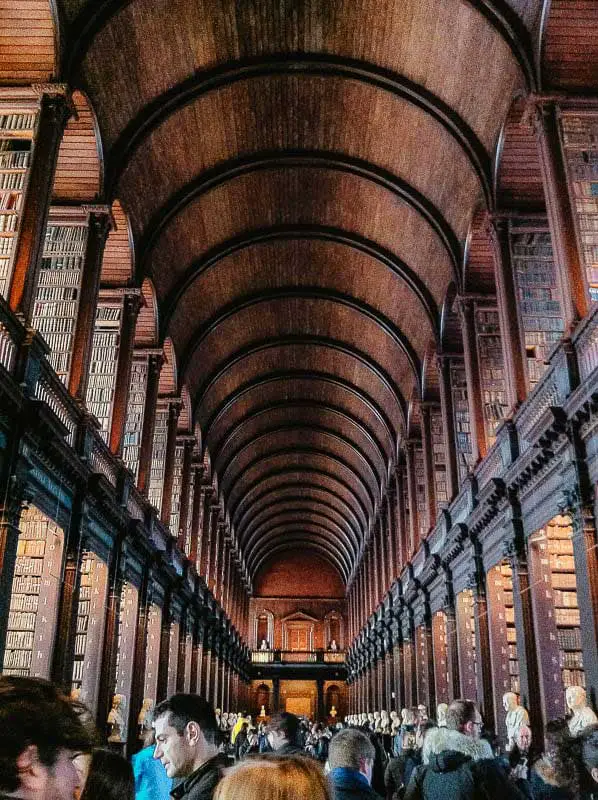 The Long Room is something else. The sheer dimension of the gallery is overwhelming: a 65-metre long gallery houses about 200,000 of the library's oldest books under a jaw-dropping barrel-vaulted ceiling. Placed along the gallery 14 marble busts of illustrious authors keep a watchful eye on visitors. You will recognise Socrates, Plato, Isaac Newton, William Shakespeare, Jonathan Swift or Francis Bacon.
Trinity College Old Library is one of Dublin's top attractions so booking ahead is highly recommended. You can purchase your ticket here.
The National Library of Ireland
Further down Nassau Street, you'll find Kildare Street, home to the National Library of Ireland. This free library is located in a sumptuous neo-classical building from the late 19th century.
Its interior was designed to inspire anyone, man or woman, protestant or catholic, to create great things thanks to a wealth of knowledge freely accessible. Inside the main reception hall, twelve literary masters are represented in vibrant stained-glass windows including Shakespeare and French playwright Corneille.
As you climb the stone staircase to the reading room, Leonardo da Vinci also makes an appearance dressed in glorious colours in more stained-glass windows. In the reading room, people's attention is drawn to a pastel green dome culminating at incredible height over circular walls covered with dictionaries and diverse encyclopedias. 
The National Library of Ireland became a repository in 1927 and therefore books cannot be taken out. The library is also famous for its great collection of Irish manuscripts, periodicals and photographs that can be consulted for free.
If you want to know more about its history, the National Library of Ireland has free tours available at the weekend. Visit the Library's event page for more details.
Sweny's Pharmacy
Back on Nassau Street, take a slight detour to Lincoln Place as you head towards Merrion Square. Take a look at number 1 where stands Sweny's Pharmacy, a shop dating from 1847 whose interior decor hasn't changed since Victorian times.
Sweny's Pharmacy owes its fame for being featured in details in James Joyce's novel Ulysses as its main character Leopold Bloom visits the shop. The place is now run by volunteers as the James Joyce heritage visitor centre. 
Oscar Wilde Statue
We are now in Merrion Square where sits the famous statue commemorating Oscar Wilde. At the park's north-west corner, Oscar Wilde is amusingly depicted reclining on a massive rock. The different stones used for the sculpture (green jade, pink thulite, blue granite) give the artwork its enduring colours. 
Oscar Wilde House
We end our literary walking tour at the childhood house of Oscar Wilde. Now the American College, the house at number 1 Merrion Square, across from Oscar Wilde statue, was the author's home during the first 10 years of his life.
The house was a hive of intellectual activities where Oscar Wilde's mother, a renowned poetess, writer and translator, hosted a weekly salon for the elite minds of Dublin.
Guided tours are organised usually at the week-end if you want to take a peek inside the historic house.
Dublin Literary Walking Tour Map
More Tips on Dublin for Book Lovers
Walking Tours with the James Joyce Centre
The James Joyce Centre is the specialist for anything Joyce related. They organise guided tours of Dublin based on James Joyce's novels. Connoisseurs will love retracing the footsteps of Leopold Bloom. But don't forget to bring comfy shoes!
Dublin Literature Festivals
Dublin organises several festivals celebrating literature during the year, another good reason for book lovers to visit the city. Check out these recurring festivals :
I hope this Dublin literary walking tour will be helpful to those with an interest in literature. The Irish city has plenty to offer to book lovers and self-confessed book worms. For more ideas on what to do and see in the Fair City, take a look at my Dublin travel guide! 
Disclaimer: This post may contain affiliate links. If you click on a link, I earn a little money at no extra cost to you.
RELATED POSTS