Is Temple Bar a Tourist Trap? Enjoy Dublin's Cultural Quarter Like a Local
"The smell of horse dung and rotten fish, and the ragged individuals lurking in the shadows of badly lit streets were all indicative that, when darkness fell, this part of Dublin was not for the genteel." This is Temple Bar in the 18th century in the words of Maurice Curtis, a local historian, in his book Temple Bar – A History.
Luckily Temple Bar has redeemed itself since those unruly days. Its cobbled streets and colourful pubs and shops have turned a place once of danger and sins into the most visited and photographed district of Dublin. A stroll down its medieval lanes is now firmly on every visitor's bucket list.
The crowds who flock daily to Temple Bar make you wonder though if that part of Dublin has just become another tourist trap. I don't know any local who would ever venture into its overpriced pubs. And I admit avoiding the area all together late at night, tired of dodging groups of inebriated lads and stag-dos on the loose.
Temple Bar's popularity has its drawbacks, no doubt about that. Despite the boozy crowd Temple Bar is still one of my favourite parts of the city. Beyond the pubs and the cheap souvenir shops, Temple Bar is a hub of activities for tourists and Dubliners alike. In fact, Temple Bar has evolved to become Dublin's cultural quarter. Let me guide you through so you can enjoy it without falling into the tourist (or booze) trap.
Disclaimer
This post may contain affiliate links. If you click on a link, I earn a little money at no extra cost to you.
Essential Tips for Visiting Dublin
Places to Eat in Temple Bar
There is more to Temple Bar than just fries and chicken wings. From reputable restaurants to delicious burgers, not to mention pecan tarts and other treats, Temple Bar has a lot to offer besides overpriced and not-always-tasty pub food.
The Restaurants
Looking for a good restaurant in Temple Bar? You'll find quite a few and most of them are affordable. If you want to save a few bucks though and make sure to have a table (especially on a Saturday night), think about eating out early and take advantage of the early bird option when available.
All sorts of cuisine can be found in Temple Bar. But if you're in Dublin for the full Irish experience, the Boxty House is the place to go to. This Irish restaurant in the business for more than 25 years has turned the boxty, a traditional pancake made of potatoes, into its very own speciality. The Boxty House is located on the street called Temple Bar.
For more continental options, I loved dining at the Larder on Parliament Street. The gnocchi were soft and melting in the mouth and the beef (100% Irish!) cooked to perfection. The service was also top notch. For the complete Italian experience, I stumbled upon Al Vesuvio, a restaurant tucked away on Meeting House Square. Housed in a vaulted brick and stone wine cellar, the atmosphere is romantic and the pasta delicious.
One of the latest additions to Temple Bar food scene is seafood restaurant Klaw. Despite having opened just recently, Klaw has already won the Best Seafood Experience Award at the Irish Restaurant Awards 2018. Seafood lovers, I think it is safe to say this place must be good. Klaw is on Crown Alley.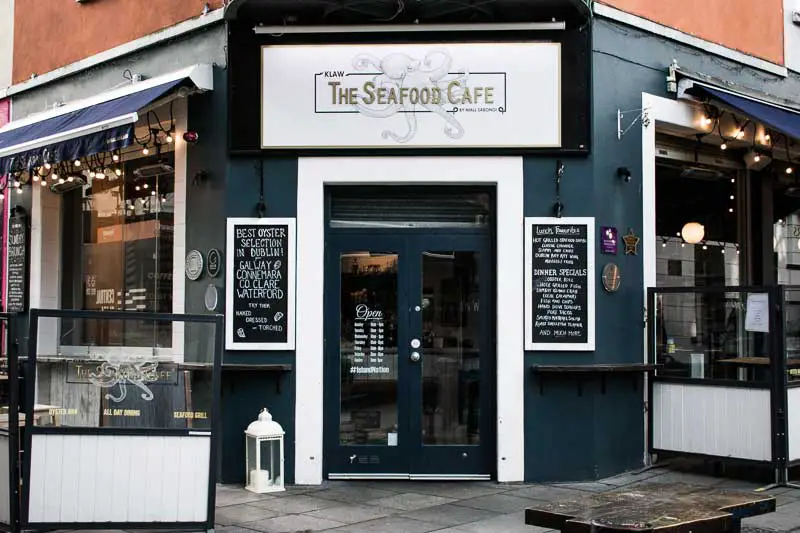 More restaurants in Temple Bar:
– Beshoff Bros – Fish'n Chips – Dame Street
– The Mongolian Barbeque – Asia Food – Anglesea Street
– Fish Shack Cafe – Seafood – Parliament Street
– Chez Max – French Food – Palace Street, off Dame Street (slightly outside Temple Bar but don't hold that against me, French cuisine…)
WHAT IS TEMPLE BAR?
Temple Bar is a district of Dublin city centre stretching from the River Liffey to Dame Street and from Westmoreland Street to Fishamble Street. It owes its name to Sir William Temple, provost of Trinity College in the 17th century, who had a house and gardens at the corner of Temple Lane and the street named Temple Bar. The house had some reclaimed land from the riverbank that formed a sandbank to walk on – a 'barr', later shortened to 'bar'. The embankment was then known as Temple's Barr and simply became Temple Bar.
The Burger Joints
It would be difficult to spend a few days in Dublin and not eat a burger. Dubliners love their burgers (and so do I!) and burger joints have been popping up all around town these last few years. If you're on a budget, they make a great option without losing out on the quality and taste of the food.
My preference goes to Bobo's located right on busy Dame Street and their extensive selection of burgers made of beef, chicken, pork and lamb. They also have the vegetarian option. Their burgers made from fresh, Irish and fully traceable meat are scrumptious.
Another very popular option for burgers in Temple Bar is Bunsen. No fancy menu with an endless list of burgers here. As the neon sign above the door simply puts it, Bunsen gives you "straight up burgers". Made from locally sourced beef, Bunsen's simple burgers are a hit so much that the Irish business has since opened restaurants in Cork and Belfast.
Zero provenance information but real value for money at Wowburger with burgers starting at €5.95. With its vintage red and yellow american diner decor, Wowburger is another native Irish burger chain that has recently taken the city by surprise. In Temple Bar, Wowburger can be found inside The Workman's Club, a trendy bar on Wellington Quay. I tasted it and I came back for more.
More burger places in Temple Bar:
– Ray's Pizza & Burgers – Fownes Street Upper
– The Foggy Dew – Fownes Street Upper
– Gourmet Burger Kitchen – Temple Bar Square
The Treats
I can't go without mentioning the iconic Queen of Tarts! Truly 'iconic'? Yes, everybody in Dublin knows the Queen of Tarts or has heard about it. This is the comfy place you go with friends to indulge in coffee and delicious treats (while ranting about life at the office). The menu is filled with hard-to-choose, mouth-watering crumbles, tarts and cheesecakes. And the brownies! Did I mention the brownies? You get the picture. Two locations: on Dame Street and on Cow's Lane.
Another place that causes my glucose to spike is the weekly Temple Bar Food Market. Every Saturday, local food producers take over Meeting House Square in the heart of Temple Bar. And that's where things get slightly blurry to me. After numerous attempts to evade homemade brownies (again!), giant strawberry scones, fresh cheesecakes, Nutella crêpes and more, I inevitably surrender to my sugar addiction.
More treats at:
– The Bakery – Essex Street West
– KC Peaches – Dame Street
You might also be interested in:
– 15 Sights in One Day | A Self-Guided Walking Tour of Dublin
– The Best Castles to Visit in Dublin
– Phoenix Park, Dublin | A Guide to Its Historical Treasures
– 4 Working Distilleries in Dublin for Irish Whiskey Lovers
Shopping in Temple Bar
Temple Bar is not short of souvenir shops and to be honest, a visit to one of those no matter how tacky they can be is always a bit of fun. Beyond that, Temple Bar is home to some unique and independent stores worth your time and money.
The Vintage Clothing Stores
With eye-catching facades, Temple Bar's vintage clothing stores are literally screaming for your attention. And that would be a shame not to visit them even for the fun of it. You never know what you'll find inside and that is exactly why I love them so much.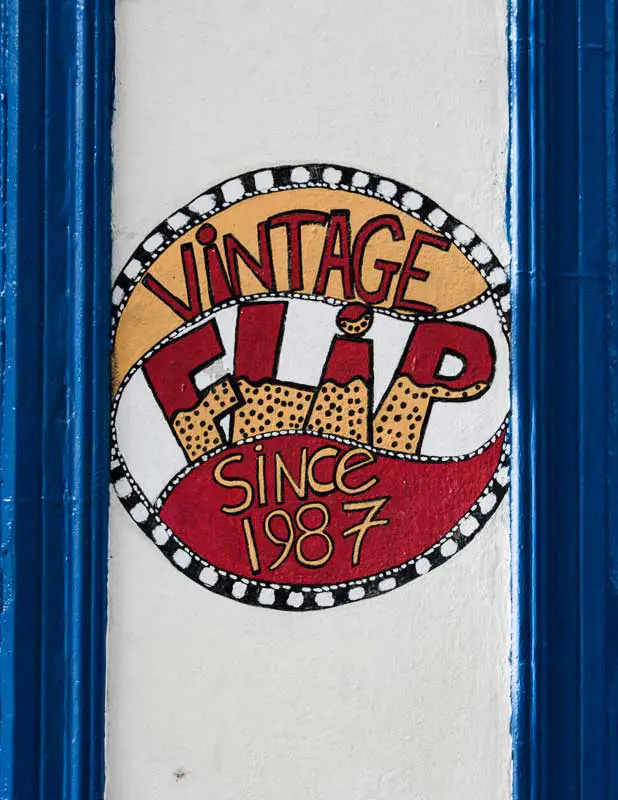 In Fownes Street Upper, you can rummage your heart out in three more vintage clothing shops. Sharp's Ville, Flip and Helter Skelter are waiting for you with racks and shelves full of old leather, military gear and crazy patterned shirts from a different era.
And that's not all. Down the same street in Fownes Street Lower, Tola Vintage specialises in 80's and 90's fashion. And the list doesn't end there; more vintage shops can be found down Temple Bar's cobbled streets.
The Bookshops
One thing I love doing when I am abroad is to visit the local bookshops. This is your chance to uncover authors you've never heard of before and to bring home books unavailable in your own country with the hidden satisfaction of a smuggler.
In Essex Street, one of the oldest buildings in Temple Bar (late 17th century) is the latest home of the most controversial bookshop in Dublin: Connolly Books. Founded in the 1930's and named after one of the executed leaders of the 1916 Rising, the bookshop settled in Essex Street in 1977 after being chased all over the city by angry mobs. Communist and left-wing literature didn't go down very well it seemed. The shop is full of books about Irish history, political figures and the Easter Rising. Well worth a visit.
'We are all in the gutter, but some of us are looking at the stars,' says the sign in the window. In Cow's Lane, another independent bookshop worth your time has made this quote from Oscar Wilde its motto. The Gutter Bookshop prides itself on stocking on exciting books you won't find anywhere else with staff handwritten recommendations to guide you around the shelves. Local literature is well represented here and makes a great souvenir to bring home. Spare some time in the Gutter, you might find what you were not looking for.
Prints and Stationery
I am a self-confessed notebook addict. I love notebooks in all shapes and forms, the smell of the cover and the sensation of paper under my fingers. I love them even more when they are locally made.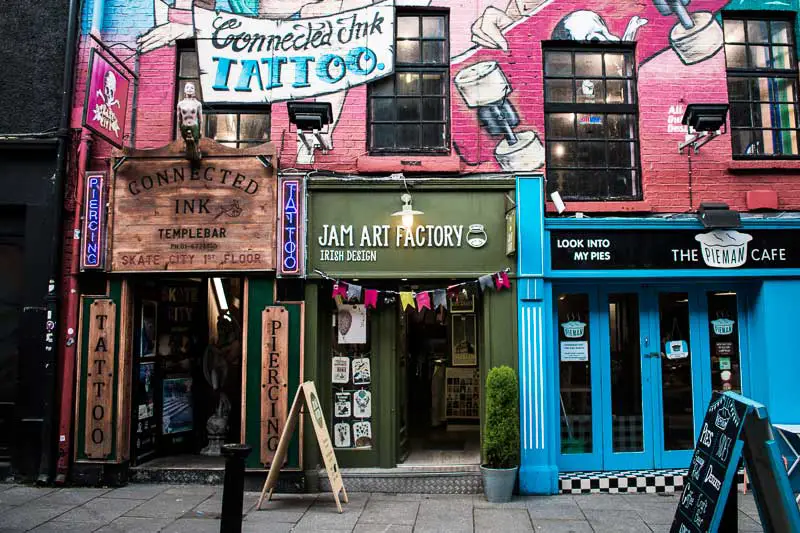 In Temple Bar, Jam Art Factory has opened a tiny shop in Crown Alley dedicated to Irish Art and Design. The store showcases local artists through original prints, ceramics and jewellery that will make you forget any cheap, made in China, Leprechaun hat. A print from Jam Art Factory that perfectly captures the spirit of the Wild Atlantic Way now hangs proudly in my home reminding me of the good times on the surfboard.
What about notebooks then? One came as a present. Beautifully crafted with a vintage feel, the notebook bears on its cover a quote from famous Irish author James Joyce "When I die, Dublin will be written in my heart". Sold by Jam Art Factory, this could be the simplest but most beautiful souvenir you could bring home.
More prints and Irish design:
– Design Lane – Essex Street West
Temple Bar, Dublin's Cultural Quarter
Temple Bar is often dubbed the "cultural quarter" of Dublin. This wee part of the city abounds in galleries, music venues and theatres hosting yearly festivals worth checking out if you happen to be in town at the right time.
The Art Galleries
Overlooking Meeting House Square can be found the Gallery of Photography. Self-described as "the national centre for contemporary photography in Ireland", the gallery houses exhibitions accessible for free (yep, don't be shy, climb up those stairs) and a bookshop that would delight any modern photography enthusiast.
At the corner of Temple Bar Square is Temple Bar Gallery and Studios. Housed in what used to be a disused shirt factory, Temple Bar Gallery helped establish Temple Bar's reputation as a cultural hub since its foundation in 1983. The building is the artistic home of 30 artists and holds an exhibition space accessible for free showcasing contemporary art.
The Theatres
2012 was the year of the rebirth for Smock Alley Theatre. Founded in 1662 under the name Theatre Royal, Smock Alley was the first custom-built theatre in Dublin. Back then it was entertaining crowds with the best actors of the time seven days a week. Falling into disrepair, the theatre closed in 1787 and a Catholic church was built on the site. After renovation, Smock Alley Theatre reopened in 2012. No more going to mass in Exchange Street Lower. Instead plays, music performances, stand-up comedy and dance shows are now taking place behind the stained-glass windows and under impressive ceiling plaster works.
It was a strange experience to queue for a show between shelves of books. Back in Connolly Books, the New Theatre has its entrance at the back of the bookshop. While waiting to take your seat, you have no other option but to browse the selection of books available, pulled towards them by a secret magnetic force (or pure awkwardness). Until an invisible door opens to a tiny, intimate, 66-seat-only theatre. What is unique and exciting about The New Theatre is its support for new writing, offering the chance to see brand new shows.
Live Music
Originally a music hall dating back to the 19th century, the Olympia Theatre on Dame Street saw celebrities like Charlie Chaplin and duo Laurel and Hardy grace its stage. Even though stand-up comedians including drag queens made famous by hit TV show RuPaul's Drag Race still perform at the Olympia, the calendar of this late Victorian institution (with the most impressive interior) is now mostly filled with music performances from international bands on their European tour.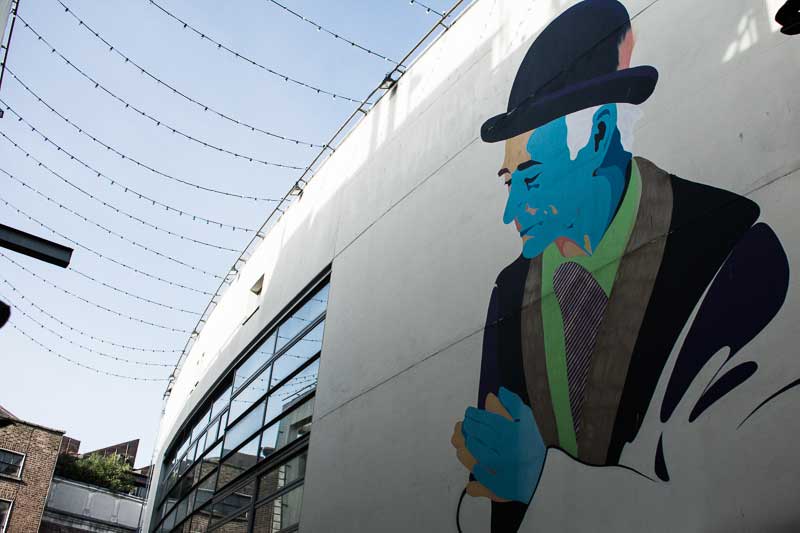 The Button Factory in Curved Street is another pillar of Temple Bar's live music scene. Formerly known as Temple Bar Music Centre, the Button Factory is a popular live music venue where local and more confidential artists perform. Check what's on at the Button Factory, you might discover a new artist you like.
As for the festivals, Temple Bar TradFest has been putting on a show every January since 2006 showcasing the best of traditional Irish music across various venues (including churches!) around Temple Bar and its vicinity. It's not all about traditional music though. Folk and even rock music are also represented. I attended the festival a few years back and I went home blown away by the energy and spirit of the musicians.
Two Pillars of Dublin's Cultural Scene
Temple Bar is also home to one of Ireland's most dynamic arts organisations: the Irish Film Institute. Showing indie, critically acclaimed movies and old classics in a vintage decor, the IFI is one of my favourite cinemas in Dublin. It also has a cafe if you ever need to treat yourself before your movie starts. A great place to chill out after a long day out and about in the city.
Its striking blue facade cannot be ignored. On Essex Street East stands a very modern building, home of one of Ireland's leading multidisciplinary arts centres: the Project Arts Centre. The centre is the venue for various festivals including Dublin Dance Festival, Dublin Theatre Festival and Dublin Fringe Festival. The Project Arts Centre is at the forefront of creative innovation. Its calendar is worth checking out if you want to be surprised and inspired.
As you can see, there is more to Temple Bar than overpriced pints of beers. Dublin's cobbled streets have become the city's cultural quarter with galleries, music venues and theatres to enjoy after a delicious meal in the neighbourhood. Would you like to do to more artsy stuff? Experience the city's cultural scene further with the best art museums to visit in Dublin.
Disclaimer: This post may contain affiliate links. If you click on a link, I earn a little money at no extra cost to you.
RELATED POSTS