10 Historic Places to Stay in Scotland for a Holiday You Won't Forget
You are planning a trip to Scotland and you wish you could make this experience as memorable as possible. Staying in unique and historic places in Scotland is certainly a way to achieve that. I love old properties myself, and I am irresistibly attracted by places that ooze history. And I admit, I often fantasise about staying in a castle.
I therefore did some digging, looking for some of the best historic places to stay in Scotland. I pored over Plum Guide, a great booking platform that allows you to stay in award-winning homes, curating the most memorable and quintessentially Scottish holiday rentals. These are the gems I found.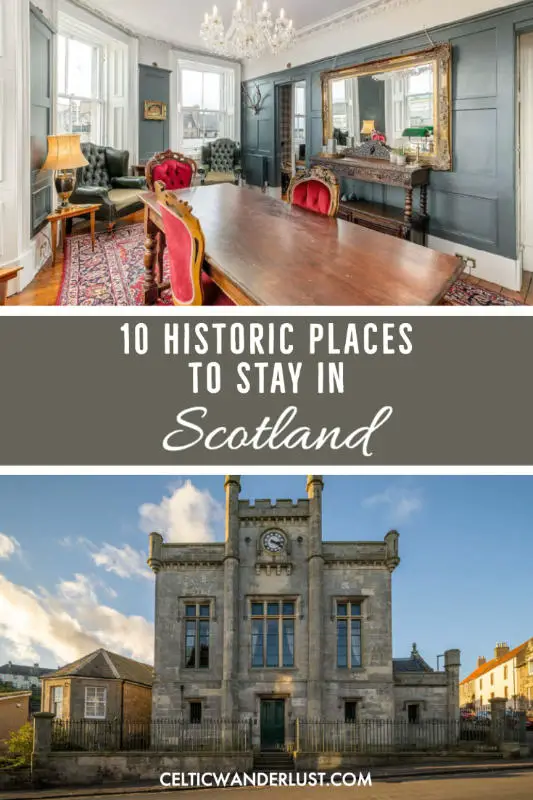 Disclaimer
This post may contain affiliate links. If you click on a link, I earn a little money at no extra cost to you.
Best Websites to Plan Your Visit to Scotland
Travel Insurance | Check Heymondo travel insurance, it comes with a nifty app to help you get the assistance you need while on the go.
The Gate House of a 16th Century Mansion
Mansions all over the UK had small houses built at their gates. People working on the estate would often live there with their family. These gate houses were not mere staff lodging though. Their delicate architecture would also announce to those passing through the gates the wealth and social status of their owners.
With its picturesque corner tower reminiscent of medieval times, the Baniel gate house just does exactly that. It is located on the north of the Balcarres estate whose main house dates back to the late 16th century. The lodge itself was built later in the 19th century, and overlooks the estate's stunning iron gates framed by lion-topped pillars. 
The gate house has now been turned into a snug holiday rental for two on the edge of the leafy and grand Balcarres estate. With its wood-burning stove and freestanding copper bath, this stylish retreat is the perfect destination for a romantic getaway and to soak up (literally) the history of the place. Woodland paths around the house lead to the stunning Balcarres estate, making for amazing walks in the surrounding countryside.
The gate house is also ideally located to explore Scotland's East coast. The historic town of St Andrews is only a 15-minute drive. Situated just 1 or 2 hours away, the medieval towns of Stirling, Dunfermline and the Scottish capital, Edinburgh, make for wonderful day trips. 
A Former Bothy with Amazing Lake View
Ancient dwellings in the Scottish wilderness, often abandoned and left in ruins, bothies have found today a new purpose. Patched up and left unlocked, bothies are now a welcome, although rudimentary, resting place for those enthralled with long distance hiking adventures in the remote Scottish countryside.
While its secluded location makes for the ideal destination to enjoy the wild outdoors, this bothy is nothing but basic. This two-bedroom retreat has all the modern comfort you need, including a wood-burning stove to keep you warm and cosy after a day out and about in the wild.
Located on the banks of Loch Earn in the Loch Lomond and the Trossachs National Park, you can't expect more panoramic views of the surrounding countryside. Full of character, this bothy also has an outdoor bar, so you can spend even more time outside taking in the incredible views.
Situated just under 2 hours from Glasgow or Edinburgh, this bothy is an excellent holiday rental for those who enjoy outdoor activities. Cycling, hiking, angling, loch cruises and more await visitors in the Loch Lomond and the Trossachs National Park.
A Top Floor Apartment on Edinburgh's Historic Royal Mile
The Royal Mile in Edinburgh is no doubt on every visitors' to-do list. The historic street running between Edinburgh Castle and Holyrood Palace is a tourist magnet thanks to its wonderful architecture, busy shops and cute cafés. There is so much to see and do that you'd wish you could stay several days to visit this neighbourhood steeped in history.
That's why this apartment right on the Royal Mile comes in handy. Located on the top floor of a gorgeous Georgian building, across from the historic St Giles Cathedral, this home is the perfect base to explore Edinburgh's centuries old sights, its medieval alleyways, its wonderful shops and restaurants.
Antique furniture, leather armchairs, chandeliers, wood panelling, this quirky apartment will send you back in time. Adding even more character, a narrow staircase leads to the bedroom, where you can snuggle under an A-shape roof with exposed beams. 
A 19th Century Victorian House with River View
Victorian houses are always full of character and personality, and this one is no exception. Designed by a prominent Scottish architect and lovingly restored, this house is a doorway to another era.
With its splendid plasterwork, grand fireplaces and antique furnishing, the house has a timeless charm that would delight any Scottish history enthusiasts. The house also has three bedrooms and is kid-friendly, the ideal home for a family holiday in Scotland.
Located in the pretty town of Helensburgh, just 40 km northwest of Glasgow, this holiday rental is easily accessible by road or train. Helensburgh is a sophisticated Victorian holiday resort favoured by wealthy businessmen from Glasgow who built villas in the locality in the 19th century. The town is especially charming in Spring with its cherry blossoms in full bloom.
Sitting at the mouth of the River Clyde and at the south of Loch Lomond & The Trossachs National Park, Helensburgh is the gateway to many outdoor activities. You can go kayaking, cycling, hiking and more in this fabulous corner of Scotland. 
A Gothic 19th Century Town Hall
Designed in 1826 in Tudor-Gothic style by Thomas Hamilton, a prolific Scottish architect, Kinghorn Town Hall stands out in the little seaside town on the East coast of Scotland.
Once council chambers and even a prison, this remarkable and historic building has been turned into a spacious and lavish holiday apartment well-suited for a family getaway.
The large windows, the antique furniture, the iron-made chandeliers, the marble fireplaces, the exposed beams are just some of the stunning features this house has to offer. Not mentioning the modern comfort to enjoy a relaxing stay in Scotland.
Kinghorn is brilliantly located on the north shore of the Firth of Forth, opposite Edinburgh, just 40 minutes from the Scottish capital by train. The picturesque seaside resort has a golf course, two beaches for invigorating walks and serene sea views, and plenty of cafés and restaurants to keep you well-fed.
A Top-Floor Apartment Within a Castle
Renting a castle for a holiday is not something people can usually afford, plus the size of it doesn't make it a very convenient choice. So why not simply stay in the best part of a castle instead?
That's what Dunksey Castle is offering to its guests. Built in 1900, this listed Edwardian castle in Southwest Scotland has turned one of its sections into a fantastic two-bedroom, penthouse apartment. Sleep in a four-poster bed and fantasise being the master of your own kingdom for a few days as you take a look out the bay-windows in the morning.
There is a lot to explore on the Dunksey estate including lochs, waterfalls and even a maze. Or take a walk to the nearby coast for incredible sea views. When feeling hungry, head to the seaside village of Portpatrick for a meal and a pint at a local restaurant.
A 19th Century Council's Chamber
Dating from 1815, this building in the market town of Cupar in Fife used to be the town council's chambers. Now transformed into a spacious and comfortable apartment, it has also retained stunning period interiors.
Luxurious mahogany flooring, antique pieces of furniture, chandeliers, large bay windows and cornice mouldings create a sumptuous homestay for a holiday out of this time. The bedrooms' wooden walls and brass bed frames are the final touch in this 19th century inspired holiday home.
The town of Cupar is just a 20-minute drive from the historic town of St Andrews and the bustling city of Dundee where the architecturally striking V&A, Scotland's design museum, awaits. 
The Gothic Chapel of a Monastery
A former Benedictine monastery built in the late 19th century, Fort Augustus Abbey gives you all the drama you need and more. Designed in Gothic-revival style on the shore of the mysterious Loch Ness, the sprawling abbey has all the arches, towers and stained-glass windows you would imagine.
Following financial difficulties in the 1990s, the monastery was turned into unique holiday rentals. You can now step into the former St Andrew's Chapel, surrounded by exquisite architecture under a spectacular vaulted ceiling. The modern furnishings throughout blend in extraordinarily well within the chapel's historic walls.
The complex also has a swimming pool, a sauna and steam room, a tennis court, a snooker table and even a giant chess set in the former cloister garden. The old boathouse has been transformed into a restaurant where you can dine at one of the most spectacular locations.
Fort Augustus Abbey is located at the southern tip of Loch Ness, just an hour drive from Inverness. This holiday rental is the perfect base to explore the Highlands, visit the Scottish pubs and, of course, spot Nessie.
A 19th Century School Master's House in Edinburgh's West End
On the western edge of Edinburgh city centre, the West End is a great location to experience the city's cultural life without the constant flow of tourists that besiege Edinburgh. Independent boutiques, cafés and restaurants abound in this bohemian and low-key part of the city. 
Perfectly fitting the spirit of the neighbourhood, a former school master's house built in 1852 has been converted into a city hideaway. Under its traditional slate roof, the little whitewashed stone cottage is inside a Scandinavian-like and minimalist heaven, a welcome respite from the hustle and bustle of the city. The choice of light wood and curved furniture for its interiors contrasts candidly with its sturdy outside appearance, transforming the house into a serene retreat right in the city centre.
At the heart of the city, Princes Street is just a fifteen-minute walk to the East from this holiday rental. Take a twenty-minute walk to the North instead, and you'll soon reach the picturesque Dean Village.
A 16th Century Castle in Remote Scotland
With antique furniture, exposed stonework and beams, barrel-vaulted ceilings and copper bathtubs, 16th century Kilmartin Castle has buckets of charm and character that will transport you back in time. Lovingly renovated by its owners, this historic home also has all the modern comfort you desire for a relaxing holiday in a quaint Scottish village.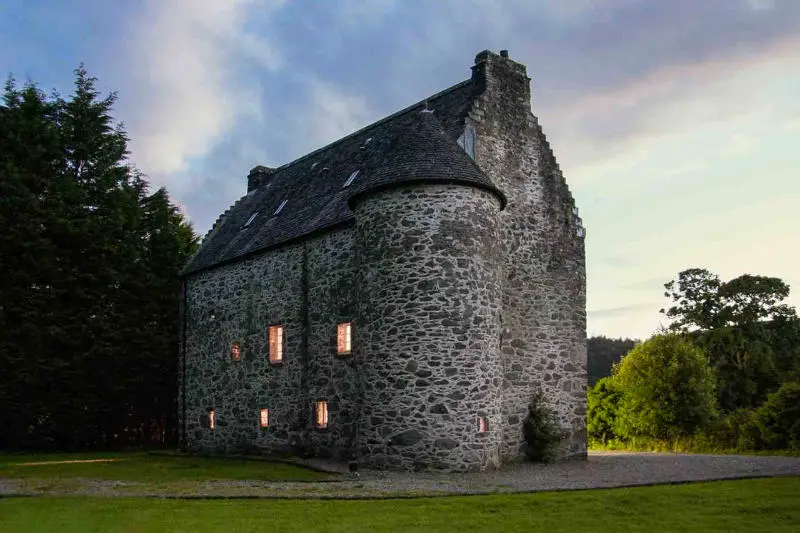 With 5 bedrooms, each with their own ensuite bathroom, this castle is a phenomenal home for an epic Scottish holiday with your extended family or a group of friends. Enjoy a glass of wine around the fire in the grand hall, or cook a pizza in the outdoor oven for a memorable meal under the sky. Or even go for a dip in the castle's wild pond!
Located in the village of Kilmartin in Argyll and Bute on the West coast of Scotland, this unique holiday rental is a fantastic base to explore a region rich in history and of outstanding beauty. 
Staying at a historic home while visiting Scotland is often a dream shared by many, but it is not always an easy-to-find or affordable option. With this curated list of beautiful Scottish homes, I hope history enthusiasts will find their dream holiday rentals for their next adventure in Scotland.
Disclaimer: This post may contain affiliate links. If you click on a link, I earn a little money at no extra cost to you.
RELATED POSTS