Where to Stay in Stirling, Scotland | Munro Guest House
While planning a visit to Stirling during the high season, I was slightly worried about finding affordable accommodation in this popular, medieval Scottish town. To be really honest I was worried about finding any accommodation at all. As I later found out while feverishly scavenging through booking websites, hotel rooms were in short supply in Stirling.
I like the privacy and services offered in big hotels, I have to say. Chilling in my own space after a day out and about travelling the country is something I look forward to when I check in. Planning my trip to Stirling I had to ponder the option of staying for the first time ever in my globe trotting life at someone else's house: I was about to book at a guest house. Angst.
After a deeply scientific and lengthy analysis of reviews and pictures left on travel not-always-worthy review websites, I made the decision to spend the night at Munro Guest House in the heart of Stirling. Here comes my review!
Disclaimer
This post may contain affiliate links. If you click on a link, I earn a little money at no extra cost to you.
The Location
As you could gather from my post about Uncovering The Real Battle of Stirling Bridge (if not, feel free to read it!), I journeyed to and from Stirling by train. Close location from the train station was therefore a must. Munro Guest House ticked the box, being located just 5 minutes away from the station.
The city centre location was also a prerequisite. Stirling's main points of interest should be easily accessible to a visitor on foot such as myself. Munro Guest House was ideally situated a mere 10-15 minute walk from the Old Town putting Stirling Castle at an easy reach.
What about food? After exploring the steep streets of Stirling and hiking to the National Wallace Monument, I didn't want to drag my empty stomach across unnecessary distances. The starving traveller in me rejoiced as Stirling's gastro/pub scene was just around the corner from the guest house.
Although in the city centre, the guest house was located on a very quiet street. I sensed that a good night sleep was indeed waiting for me as I knocked on Munro Guest House's white door.
The Room
Munro Guest House has 7 rooms ranging from single to family room. I was given a double room ensuite located on the ground floor with a view on the back garden. As I crashed onto the bed the quietness of my surroundings continued to enchant me.
The room was spacious enough with natural light beaming through a large window. The room felt homely and welcoming with a quirky side that I loved. The bathroom had been ingeniously built inside a box the size of a walking closet with a sliding door to access it. Everything was in there, towels, complimentary soap and shampoo included.
How did I sleep? I do have problem sleeping the first night in a new environment. Amazingly, that night I slept like a log. I just couldn't resist the comfortable bed and calm of the place. I woke up re-energised and ready to hit the road again.
The Lounge
On the ground floor, the lounge area occupied the front of the house. I couldn't resist one of the comfy chairs after a day on the road. Looking at my surroundings, it took me less than a minute to develop some jealousy towards my host. I wanted my living room to look just the same as his.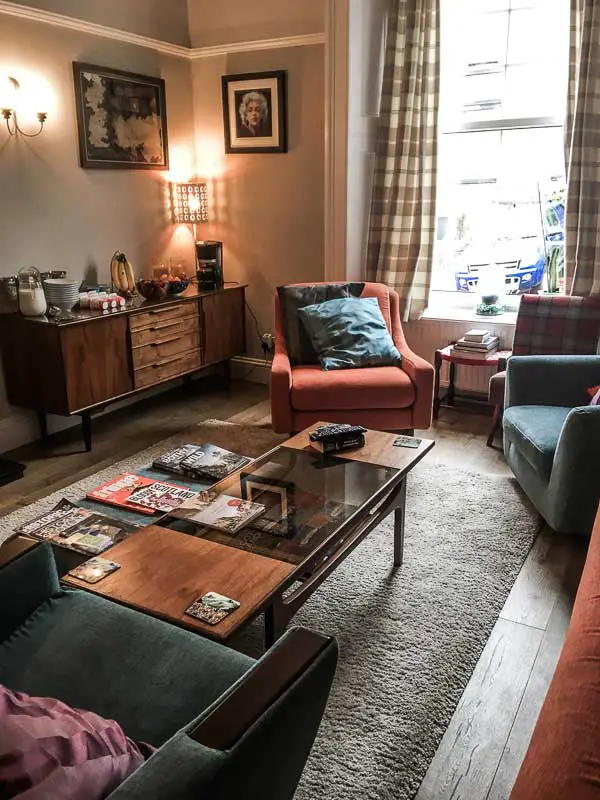 My host had evidently an eye for interior design. Marilyn Monroe's picture up on the wall was watching over the stylish, vintage lounge as I sank into a warm and welcoming sofa. In the corner of the room the flat screen TV seemed anachronic in contrast to the retro coffee table. I could have spent the evening comfortably reading if I had not been looking forward to having a nice dinner out.
The Breakfast
I love breakfast. Breakfast is my favourite meal of the day. The mere thought of a tasty slice of toast covered in butter can get me out of bed. Expectations were high as I sat at a table in the kitchen/lounge area with the other guests slowly emerging from their rooms.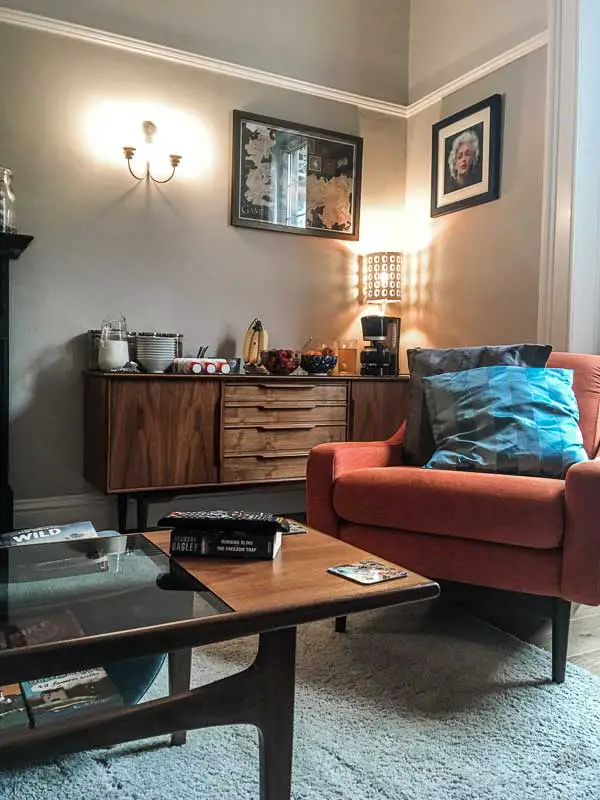 Looking intensely at the menu, I was waiting for my host to take my order. Brown toasts, scramble eggs, sausage, tomatoes, bacon and tea! I was served the full breakfast I was craving. And it wasn't all. A table in the lounge was laid with fresh fruits, cereals and even 0% fat yogurt. Breakfast was good and I returned to my room unashamedly stuffed!
The Host
The second he answered the door he knew who I was. You didn't have to be Sherlock Holmes to figure it out though since the guest list couldn't have been that long (and how many guests with a French accent?), but it made me feel expected and welcomed from the start.
Richard (his name!) was a man of irreproachable manners with a soft and friendly tone in his voice that inspired immediate trust. His quirky side was later revealed to me. To my greatest surprise the man wore a kilt as he served his guests their breakfasts. As unexpected as it was, it certainly added authenticity to my Scottish experience in Stirling!
The Verdict
I was slightly anxious when I booked Munro Guest House, being used to larger hotels. I couldn't have made a better choice however. I very much enjoyed the location and the quiet sleep. And no need to mention the filling breakfast!
Richard was a great host, making sure his guests were comfortable without being overbearing. He recently indicated on the guest house's Facebook page that the rooms were being renovated. Another reason to stay at Munro Guest House during your visit to Stirling.
MUNRO GUEST HOUSE
Address: 14 Princes Street, Stirling, United Kingdom
Check rates and availability here.
Still not sure where to stay in Stirling? More options on Booking.com.
Disclaimer: This post may contain affiliate links. If you click on a link, I earn a little money at no extra cost to you.
RELATED POSTS