A Weekend Trip to Glasgow | A City Break Guide for First-Timers
With tourists flocking to Edinburgh, underrated Glasgow is far less crowded than its rival and we won't complain about it! Long considered the engine of the industrial revolution in the UK, Glasgow has reinvented itself as Scotland's cultural hub. Free museums, landmark buildings, a thriving food scene: a weekend trip to Glasgow will not disappoint those with an interest in culture and history.
Disclaimer
This post may contain affiliate links. If you click on a link, I earn a little money at no extra cost to you.
Essential Tips for Visiting Glasgow
How to Get to Glasgow
Glasgow is the UK's third-biggest city, and as such it is easily accessible by train. Glasgow also has an international airport with airlines regularly flying in from abroad and the rest of the country.
Take the Train
With two train stations conveniently located right in the city centre, minutes away from hotels, restaurants and shops, travelling to Glasgow by train can't be made easier.
If you are travelling from cities situated north of Glasgow, you'll be arriving at Glasgow Queen Street station. The station opens up on George Square, one of Glasgow's main squares dominated by the City Chambers' grand building (more about it later).
Travelling from any location south of the city, you'll likely be arriving at Glasgow Central station, the busiest train station in Scotland. You will need at least 4.5 hours to reach Glasgow from London, and 3.5 hours from Manchester. With a journey time around one hour from Edinburgh, Glasgow is a clear winner if you want to escape the crowds of the Scottish capital at the weekend.
As you leave Glasgow Central, don't miss the old Booking Office dating from the 19th century. Its striking wooden, rounded facade contrasts sharply against the concourse's modern glass ceiling.
Fly into Glasgow
You can fly directly to Glasgow from many European cities like Amsterdam, Frankfurt or Paris. Emirates flies from as far as Dubai. Low-cost airlines like EasyJet and Ryanair fly all year long to Glasgow from London, Birmingham, Dublin or even Belfast turning Glasgow into an attractive destination for a weekend trip. Check Skyscanner for the best flight deals.
The Glasgow Airport Express service 500 is the shuttle bus that connects Glasgow airport to the city centre in just 15-20 minutes. The bus departs every 30 minutes 24/7 just outside the terminal. A single ticket costs £4.50 only. To save time, I usually buy mine online and show it to the driver when boarding the bus.
A VERY SHORT HISTORY OF GLASGOW

The story goes that Glasgow was founded in the 6th century by Saint Mungo, a Christian missionary who built a church where Glasgow Cathedral now stands. The rural settlement grew into a small town while it became a diocese with its own bishop.
Where to Stay During your Trip to Glasgow
The best option for a weekend trip to Glasgow would be to find accommodation in the city centre to stay close to everything the vibrant Scottish city has to offer. But like many European cities, centrally located hotels can be expensive. And like Dublin, Glasgow has a pub culture that could interfere with your sleep if your room overlooks a busy street. Believe me, I've been there…
I found a cheaper and quieter option on the immediate outskirts of Glasgow city centre with the Premier Inn Glasgow City Centre South Hotel. Premier Inn is not known for the memorable character of its hotels, I concede you that much. It is however a reputable brand with good quality standards. My double room was spotless and spacious, the bed very much comfortable.
Being located a good 20 minutes walk from Glasgow Central station, the Premier Inn hotel was significantly cheaper than similar accommodations in the city centre. The Merchant City and the East End were just 15 minutes away, making this hotel a good enough base to explore the city with restaurants nearby.
You can browse for other options on booking.com or read the latest reviews on TripAdvisor.
You might also be interested in:
– 10 Historic Places to Stay in Scotland for a Holiday You Won't Forget
– 10 Things to Do for the Most Relaxing Holiday in Newquay
– How to Spend 48 Hours in Belfast – Full Itinerary
What to Do During your Weekend Trip to Glasgow
Between free museums and architectural wonders, there is a lot to do and see during your city break in Glasgow. These are my top recommendations if you visit the Scottish city for the very first time.
Take a tour of the University of Glasgow
Founded in 1451, the University of Glasgow is one of Scotland's four ancient universities. Transferred from High Street to the West End in 1870, the "new" 19th century campus was built in flamboyant Gothic revival style that would leave any visitors gobsmacked.
To get there, you will to walk 30 minutes from Glasgow city centre heading west. Taking a stroll through Kelvingrove Park on the way makes the journey more enjoyable.
Guided tours were advertised on a big banner just outside the main building as I was approaching the University. I'm never against a good guided tour, so I seized the opportunity. They were organised and led by trained students for a fee, once a day at 2pm. During a good hour, my guide led her group through the University grounds, pointing out lots of interesting architectural features and diving into the history of her glorious university.
University of Glasgow // University Avenue, Glasgow // Book your ticket here.
Walk the Alleys of Glasgow Cathedral and the Necropolis
Glasgow Cathedral also called St Mungo's Cathedral lies at the heart of medieval Glasgow in the East End. Dating back to the 13th-15th century, the Cathedral is a great example of Scottish Gothic architecture. I was blown away by the height of its magnificent wooden ceiling.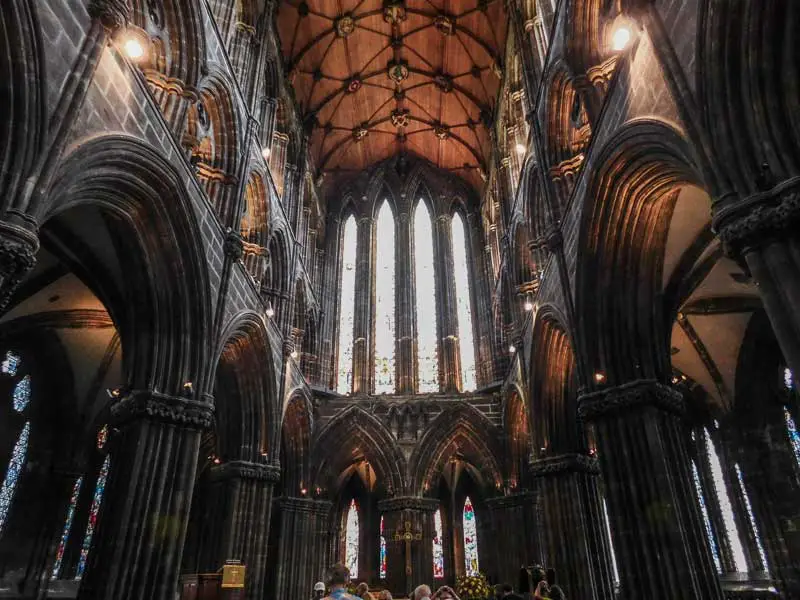 On the hill opposite the Cathedral is Glasgow's Victorian cemetery called Glasgow Necropolis. The cemetery was laid out as a park offering one of the best views over the city landscape. I took a stroll around this unusual cemetery and I promise you, it wasn't as gloomy as the name wanted me to believe.
St Mungo's Cathedral & Necropolis // Castle Street, Glasgow // Free
Lose Yourself in Kelvingrove Art Gallery and Museum
Built in red sandstone so characteristic of Glasgow but in Spanish Baroque style, Kelvingrove Art Gallery and Museum is truly remarkable. The gallery opened for the very first time in 1901 and has since become one of Scotland's most popular attractions.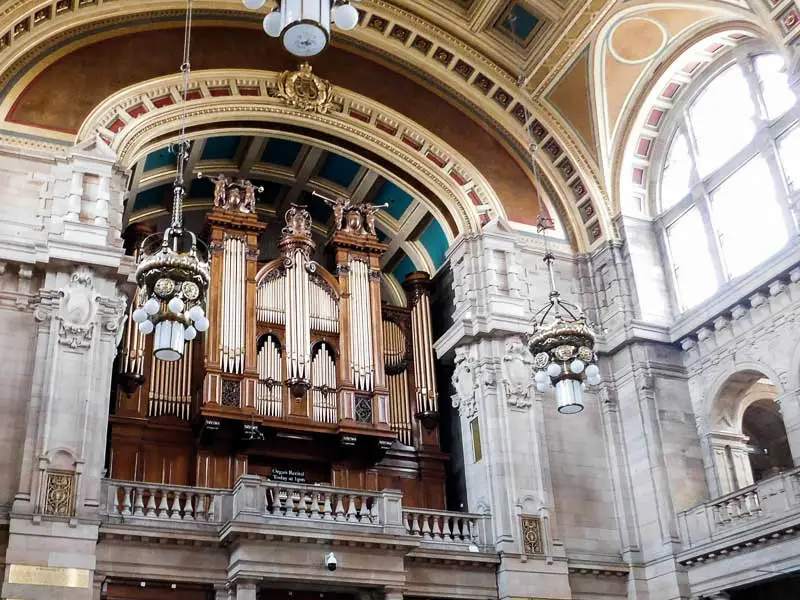 Kelvingrove has something for everyone as you wander its 22 galleries. From Scottish archeology to French Art, from Ancient Egypt to Natural History, an impressive 8000 items are on display in this monumental building. And the best of it, it is free!
Kelvingrove Art Gallery and Museum // Argyle Street, Glasgow // Free
Visit Glasgow City Chambers
Dominating George Square, Glasgow city hall, better known as City Chambers, offers free tours twice daily and shouldn't be missed. A highly knowledgeable local guide will take you through this grand Victorian building, sharing all sorts of anecdotes on the history of the place and the people who worked within its walls.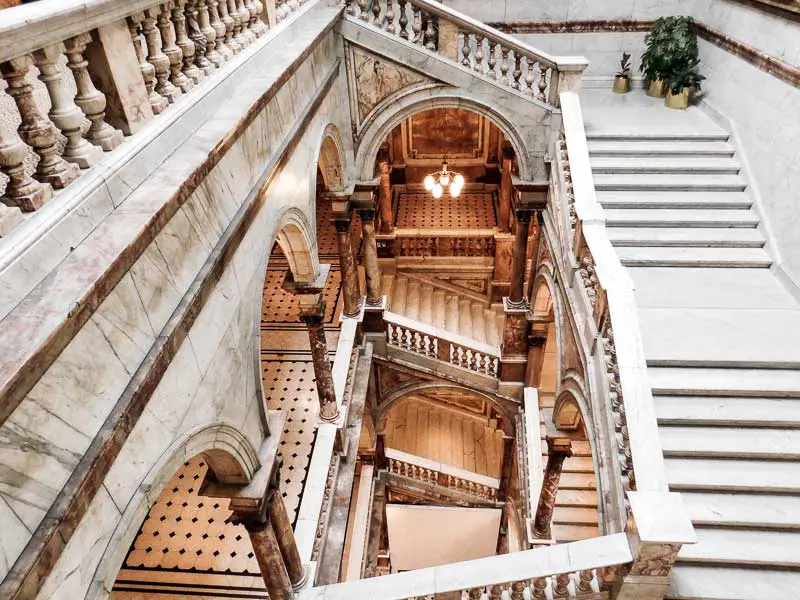 I climbed up its spectacular central staircase and discovered the portraits of the Lord Provosts hung in the Picture Gallery. I sat on the red leather benches of the Council Chamber and stared (a while!) at the richly decorated vaulted ceiling of the Banqueting Hall. A must-do!
Show up a bit early to make sure you get a spot for the tour as there is no booking system in place.
City Chambers // George Square, Glasgow // Free
Stroll Around the West End and the Botanic Gardens
At the heart of Glasgow West End is Hillhead, a neighbourhood with a village feel that attracts students and hipsters alike. From there, explore cobbled Ashton Lane where you'll find plenty of bars and restaurants to suit anyone's taste.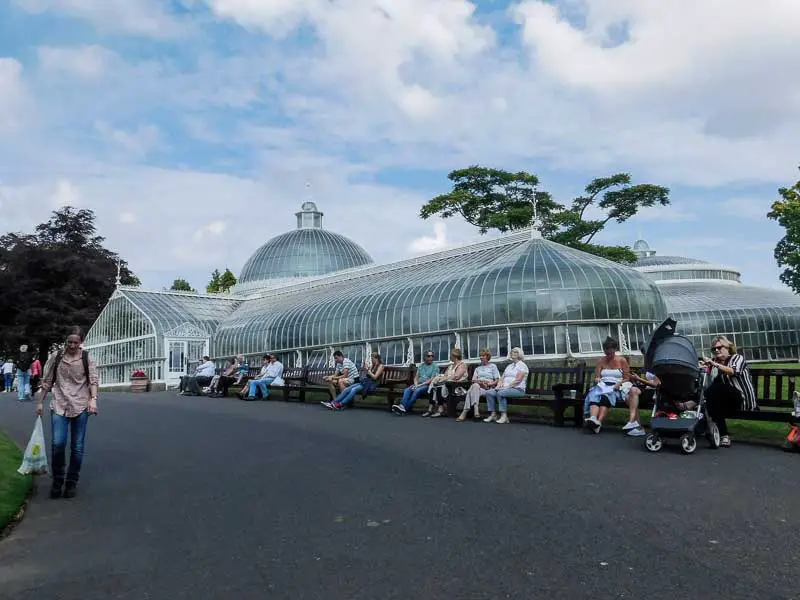 Don't forget to visit the Botanic Gardens at the top of Byres Road where you can enjoy the tropical atmosphere of Kibble Palace, a 19th century glasshouse. The gardens are very popular during the summer as locals take over the lawns.
You will to walk 40 minutes from the city centre to the Botanic Gardens. Alternatively, you can take the subway from Buchanan Street to Hillhead, you'll be there in 15 minutes. The University of Glasgow and Kelvingrove are very near, so you might want to visit these two great places while you are in the neighbourhood.
Botanic Gardens // 730, Great Western Road, Glasgow // Free
Browse the Shops in Buchanan Street
Victorian and modern design cohabit strangely well on Buchanan Street. The former villas and townhouses built in the 18th and 19th centuries are now home to trendy stores lining up the large, pedestrianised street.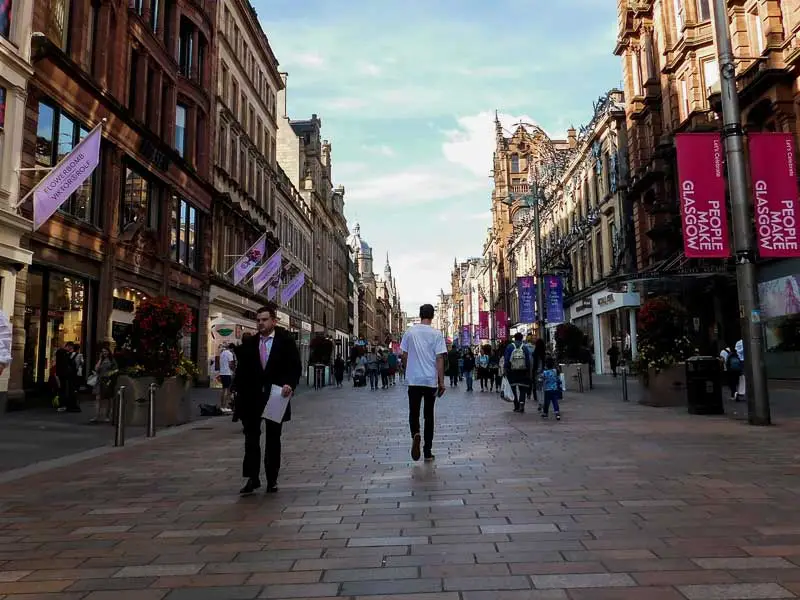 You'll surely be intrigued by Princes Square's historic facade turned artwork. Have a peek inside. Behind the yellow sandstone hides an upmarket shopping centre housed in a former 19th century merchant square covered in a glass ceiling.
Where to Eat in Glasgow
Byres Road in Glasgow West End is a definite hotspot for foodies. You'll find numerous acclaimed restaurants along the busy thoroughfare (Number 16) but especially around Ashton Lane, a small side street.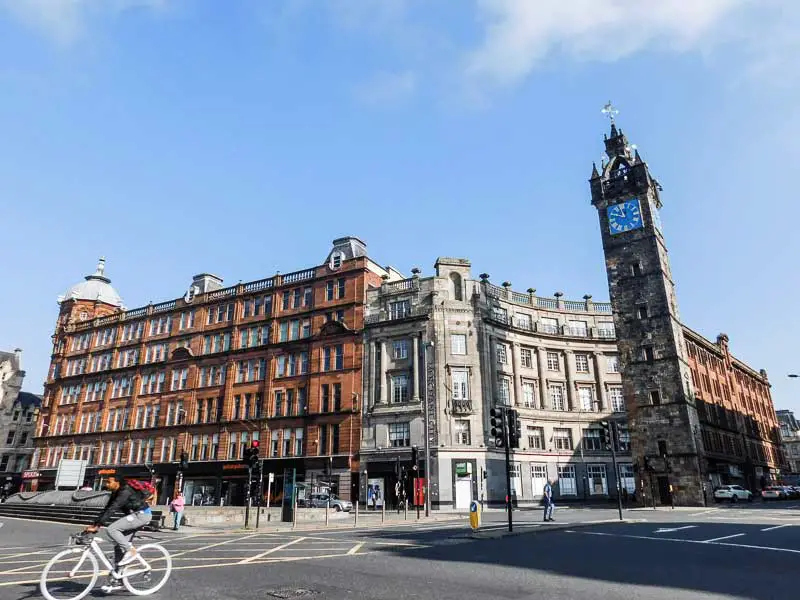 In the 18th century, warehouses were built by Glasgow's Tobacco Lords in a district stretching from Queen Street to High Street. The neighbourhood has now been rejuvenated and renamed the Merchant City. The warehouses have become restaurants, cafes, bars and clubs nested into stunning 18th century architecture. If you are looking for a cool place for an evening meal before a night out, this is a part of Glasgow you should explore.
Glasgow is a great destination for a weekend away. It is a buzzing city with tons of restaurants and bars to enjoy, great museums and galleries to explore. 
What next? Located just 30 minutes north of Glasgow by train, why not go to Stirling, a must-see for those who love a good Scottish castle to explore and an historic market town to visit.
Disclaimer: This post may contain affiliate links. If you click on a link, I earn a little money at no extra cost to you.
RELATED POSTS