5 Incredible Reasons to Visit Newquay, Cornwall
Vast golden sand beaches at the bottom of great cliffs, a picturesque harbour surrounded by turquoise water, romantic yet affordable meals with sea view. England might not strike you as a summer destination but Newquay in Cornwall is exactly that.
With a population swelling from around 22 000 to 100 000 during the summer, Newquay has become a major holiday destination among the Brits. Outside the UK though, Newquay is almost unknown to international travellers. So let me do some convincing as I reveal why you should give Newquay some serious thoughts when planning your next summer holiday.
Disclaimer
This post may contain affiliate links. If you click on a link, I earn a little money at no extra cost to you.
Newquay Is More Accessible than You Think
Looking at Newquay's location on the map, you may wonder how the hell you are going to get to that small town nestled on Cornwall's northern coast. On my very first journey to Cornwall from London a few years back, I spent five long, dull hours on the train. As the westernmost part of England, Cornwall could be perceived as too remote, too far from any major airports to be considered a convenient holiday destination.
Following the collapse of low cost airlines Flybe in early 2020, Newquay Airport (or "Cornwall Airport Newquay", as officially known) unfortunately lost several direct routes from the rest of the UK.
However, British Airways is still operating direct flights from London, putting Newquay under 1 and ½ hours from the British capital. Flying from the rest of Europe, you can easily catch a connecting flight in London and soon enough you'll be in sunny Cornwall. Departures from Newcastle are also available with British Airways.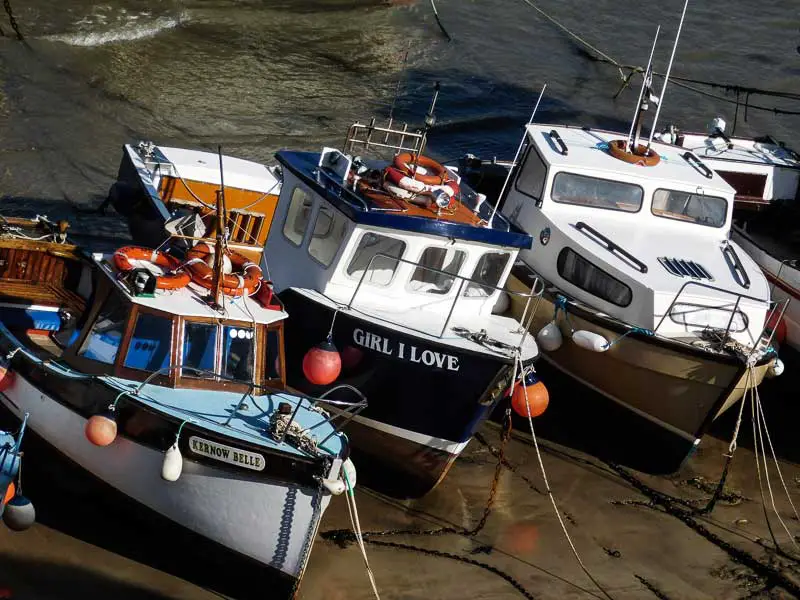 From Dublin, the national carrier Aer Lingus operates a cheap route through their regional partner Stobart Air. In just an hour you can be in Newquay. Beware though! More restrictive luggage allowances apply.
You might also be interested in:
– 10 Things to Do for the Most Relaxing Summer Holiday in Newquay
– Bundoran: How a Remote Irish Village Turned International Surfing Destination
– Visiting Tramore | An Irish Seaside Town With a True Summer Vibe
The Views Are Just Breathtaking
A spectacular crescent shaped bay with pastel-coloured beach huts, the perfect backdrop for romantic walks. A famous sea stack dominating the landscape with at its top a mystery house only joined to the continent by an elegant suspension bridge. A vast expanse of soft and golden sand backed by steep dunes so pretty that it was voted "Best British Beach" by BBC Coast 2013.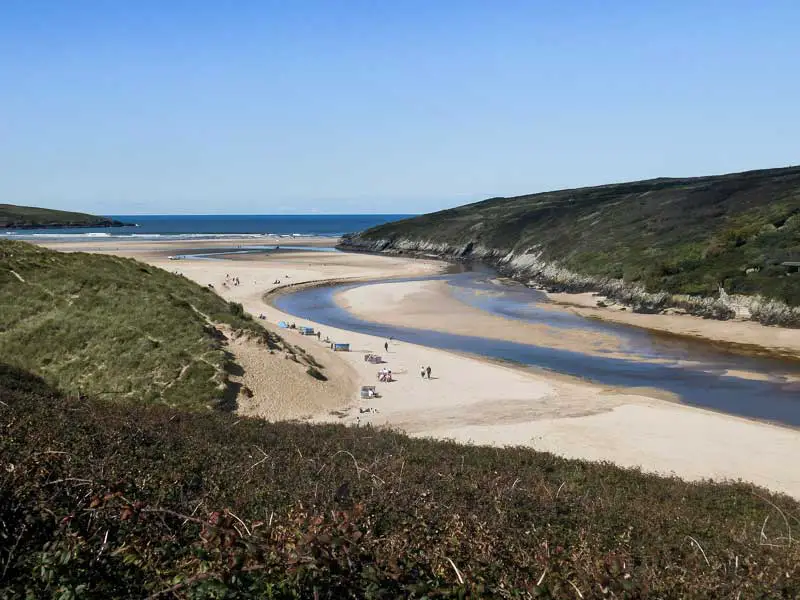 These are a few of the great features that make Newquay so breathtaking and attract thousands of visitors every year. Newquay's entire coastline offers a multitude of viewpoints and catching a different angle of the bay quickly becomes a game.
From the tall cliff of Tolcarne Beach to the sturdy walls of the Old Harbour, from the rugged and wind-swept Towan Headland to the lush and suntrap terrace of the Fern Pit Cafe over the Gannel estuary, I couldn't get enough of the panoramic views over the jaw-dropping Cornish coastline.
The Cornish Clotted Cream Is to Die for
Guilty of a sweet tooth? Companions of sin, I welcome you to my world! Wherever I go, I have this unquenchable need to taste the local treat.
Clotted cream is my greatest obsession every time I set foot in Cornwall. Alright, I might be slightly addicted to it. But nowhere else have I ever tasted clotted cream so delicious but in Cornwall.There is no shortage of tea rooms in Newquay where you can order the traditional Cornish cream tea, an afternoon meal consisting of tea, scones, jam and the mighty Cornish clotted cream. Between us, I would have clotted cream even at breakfast.
A popular address is Pauline's Creamery on Bank Street where their locally produced scones and cakes are a hit among the crowds. The tea room can be found on the first floor above the shop. I can't help but also recommend my favourite though: the Pavilion Bakery on Fore Street and their incredibly tasty scones.
Newquay Is the Undisputed Surf Capital of Britain
Surfboards neatly stacked against the walls of rental shops, guys in dripping wetsuits wandering the streets barefoot, narrow winding paths to the beach jammed with novice surfers heading to the water in pairs, a board under each arm. Welcome to the surf capital of Britain.
One of the great reasons to come to Newquay is the chance to get on a surfboard and get a taste of the surfer's lifestyle. Surfing is king in Newquay and it would be a shame not to indulge in this exhilarating activity.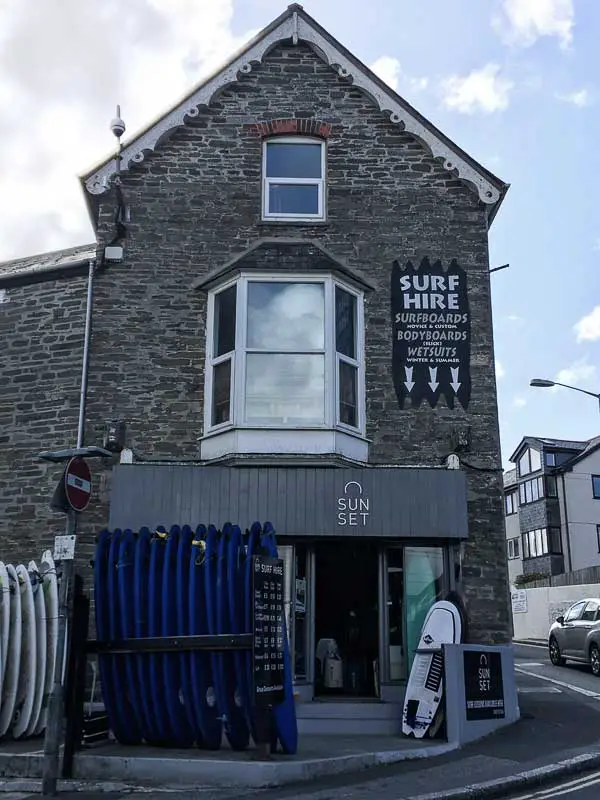 Surf schools can mainly be found in Fore Street and even straight on the beach. More schools are located on the iconic Fistral Beach, home of the annual and world famous surf festival Boardmasters. Shop around and compare prices before booking.
Some schools offer more advanced lessons if you wish to improve your burgeoning skills. Not sure which one to go with? I can recommend the Escape Surf School conveniently located right above Towan Beach and their friendly staff.
Newquay Is a Surprisingly Affordable Holiday Destination
With such amazing views and beautiful beaches, you may want to stay somewhere as close to the seafront as possible. We all dream of morning strolls on deserted beaches and swims in the late afternoon when the crowd has finally dispersed. Well, your piggy bank can live another day as it can be done here without giving up on your budget.
Having become so popular over the years, Newquay has plenty of affordable hotels and holiday rentals to choose from, some even with sea view. I stayed at the Great Western Hotel. Built at the top of a cliff towering high over the Great Western Beach, this comfy and affordable three-star hotel offers a direct access to the blue water via a steep path at the back of the building. But don't wait till the last minute to book!
More affordable options include budget hostels and surf lodges, cosy B&Bs and guest houses often at a walking distance from the beach. But if you want to go for the luxurious beach house sitting on top of a sea stack, I'll ask you to report to me and tell me everything about it!
The food scene in Newquay is also surprisingly affordable. Sold at every corner, the national dish fills the streets of Newquay with its flavours. The Cornish pasty, a baked pastry traditionally filled with beef and potatoes (my favourite!) is a hearty option to eat on the go or save a few bucks.
Classic British food is on the menu at many affordable pubs and restaurants like the Fort Inn and the Great Western Hotel. For pub food lovers, the Sailor's Arms on Fore Street will delight you with their burgers and craft beers served in a stylish decor.
Head to the Old Harbour for affordable and yet delicious seafood at the Harbour Fish & Grill or the Boathouse. Not in your budget? Why not try the quintessential British fish 'n chips at The Cod End on Cliff Road. A warning: the portions are massive!
Essential Tips for Visiting Newquay
Disclaimer: This post may contain affiliate links.If you click on a link, I earn a little money at no extra cost to you.
RELATED POSTS