Beach Haven House | A Chilled & First-Class B&B in Tramore
I visited Tramore on the southern coast of Ireland in the middle of the summer hoping to stock up on badly needed vitamin D. The Irish sun had been too elusive in Dublin and it was time to take the matter into my own hands. I booked a weekend in Tramore, a seaside town south of Waterford known for its very long beach and as a surfing destination.
I stayed at the Beach Haven House, a modern b&b, easily accessible by public transport and looked after by wonderful hosts in the heart of Tramore. Let me tell you all about it.
Disclaimer
This post may contain affiliate links. If you click on a link, I earn a little money at no extra cost to you.
The Location
Travelling by public transport from Waterford, I got off the 360 bus at the Riverstown roundabout stop beside the local GAA club. Handy enough, Beach Haven House was just 5 minutes away on Waterford Road, the main street leading to the town centre. If travelling with your own car, the b&b has its own car park at the back of the house.
Tramore was a charming little town. Shops, restaurants and cafes were found in its historic centre and along the seafront. Located on the main street leading to both, Beach Haven House was ideally placed with everything at a short walking distance. You could just don your flip flops and head to the beach, a towel under your arm.
The House
The palm tree in the front yard said it all. I almost heard it whispering "You can relax now, you have arrived at your summer destination". The hosts had made the choice to not cater for stag parties, I was guaranteed to chill out in peace.
Beach Haven House was a modern looking building with 8 ensuite rooms: double, triple and family rooms on three different floors. On the ground floor, a comfy lounge area overlooking the front yard was made available for guests with a selection of books waiting to be read. Breakfast was served at the back of the house, the morning sun flooding a large room overlooking a quiet residential area.
The b&b had been awarded four stars by the Irish Tourist Board and clearly deserved each of them.
The Room
My room was on the top floor. This small double room with comfy carpet throughout was equipped with a wardrobe, a desk and a flat screen tv. The small but quirky ensuite bathroom was spotless like the rest of the room.
I slept like a log on a very comfortable double bed. In the morning I caught a glimpse of the sea glimmering in the distance as I sat in front of my window. What a great way to start your day!
The Breakfast
The breakfast was hearty and the hosts generous in coffee. On the menu, traditional full Irish breakfast, pancakes, french toasts and more. It all sounded very delicious. Also available was a buffet with cereals, juices and fruits.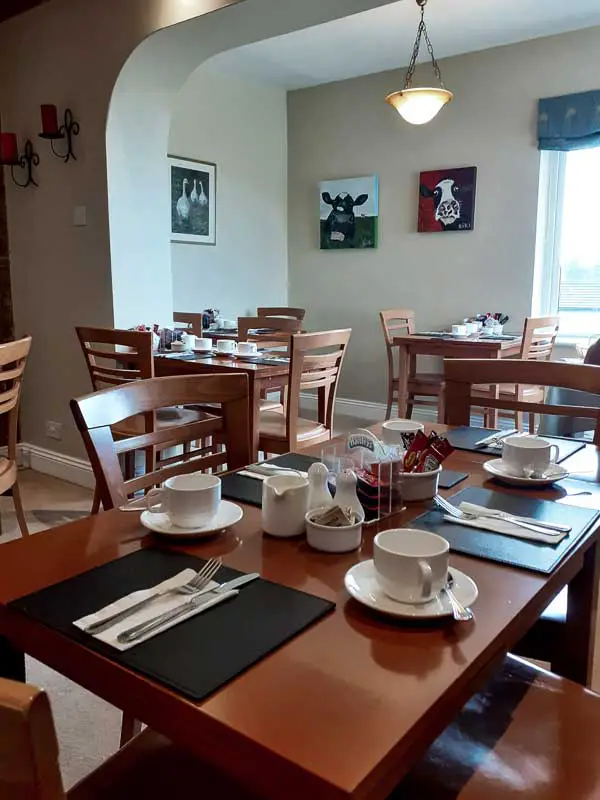 Curiously, I had to order my breakfast the day before and indicate to my hosts the time I wanted it to be served. With the busy summer season, I clearly saw the advantage. Just minutes after settling down at my table, heavenly pancakes were landing in front of me, shortly followed by maple syrup. That's what I call being efficiently looked after and I love it!
The Hosts
Niamh and Avery Coryell had a very laid back attitude that made you feel welcome as soon as you passed their door. They filled me in on the best places to eat and have a drink in Tramore. They recommended things to do in town without me even asking.
Breakfast was served with warmth and humour as we discussed quirky pieces of art on their walls painted by a local artist. They depicted colourful cows curiously staring at you as you dug into your plate.
The Verdict
I would recommend Beach Haven House to anyone visiting Tramore. The location of the b&b within walking distance to the beach and restaurants was a big plus while the quality of the service provided by Niamh and Avery was clearly outstanding. From check-in to check-out, I was carefully looked after and I left Tramore grateful to Beach Haven House for a relaxing stay.
BEACH HAVEN HOUSE
Address: Waterford Road, Tramore, Co. Waterford, Ireland
Check rates and availability here.
Still not sure where to stay in Tramore? More options on Booking.com.
Disclaimer: This post may contain affiliate links. If you click on a link, I earn a little money at no extra cost to you.
RELATED POSTS